Price saved best for Game 6 against Sens
Montreal Canadiens goaltender Carey Price delivered a standout performance in Game Six against the Ottawa Senators. Travis Yost shows how it could be considered Price's best game of the season.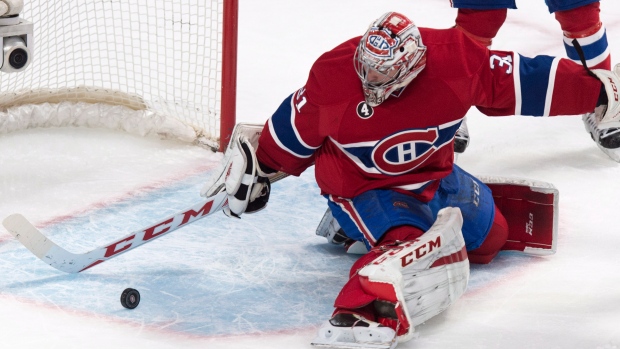 We have talked about Carey Price in this space before – specifically, my endorsement of him as the favourite for the Hart Trophy. Price was marvelous in the 66 games he played during the regular season for the Montreal Canadiens, and for my money, was the single most valuable player in the National Hockey League.
Part of the argument was that Carey Price was, obviously, quite good. But part of it was the general shakiness of the rest of the Montreal Canadiens, a roster with plenty of talent sprinkled around the lineup, but collectively a group that always leaves you wanting more.
Their first-round series against the Ottawa Senators was a microcosm of their regular season. Though they were playing a considerably inferior team in the win/loss department, the run of play at 5-on-5 was virtually dead-even by the conclusion of the series. And, for as many times as Montreal looked fantastic, there were times that Montreal looked like a mess – on full display at the Bell Centre in Game Five.
What was particularly interesting about this match-up was that, at least through the first five games (series 3-2 MTL), the combination of Andrew Hammond (who was shaky at best in his limited action) and Craig Anderson out-played Carey Price. The difference maker was in the shots against column, where Ottawa saw significantly more volume, and consequently, more goals against.
GOALTENDNG - OTTAWA vs. MONTREAL (THROUGH GAME 5)
| Player/Team | Shots Against | Save Percentage |
| --- | --- | --- |
| Carey Price – MTL | 155 | .923 |
| Andrew Hammond/Craig Anderson - OTT | 204 | .951 |
So, from two standpoints, the series was a bit of an oddity. Montreal's goaltending (though still quite good) hadn't touched its usual heights experienced during the 2014-2015 regular season, but their even-strength play was decisively better.
The script flipped in the decisive game six – perhaps in large part to an early Montreal goal from Brendan Gallagher. The lead signaled the beginning of significant score effect hockey, a prominent phenomenon in the sport that appears to strengthen with risk aversion in the postseason. Michel Therrien's strategy from then on was as clear as day: batten down the hatches, and hope to get out of Ottawa alive.
This strategy is obviously dicey – inviting teams to generate shot after shot is usually the pathway to conceding a lead. I will say, though, that if you're going to employ this kind of strategy, you had better have an all-world type of goaltender who can bail you out when things get hairy.
That brings us back to Carey Price. Recall that up until Game Six, he had been solid in the crease. Not spectacular, but good enough to win three of five games.
Enter Game Six. Carey Price saved perhaps his greatest performance for the highest leverage situation of the season, blanking Dave Cameron's team and putting an end to Ottawa's playoff uprising. It was Carey Price at his absolute best – an impenetrable goaltender facing a heavy shot and scoring chance volume, pushing the Montreal Canadiens through to the second round.
I think visualizing his performance highlights just how great he was after being thrown into the fire. Consider the below graph, which shows a few things – the horizontal axis sorting by goals allowed per game, the vertical axis sorting by number of 'high danger' shots faced, and the bubble size indicating the total number of shots faced.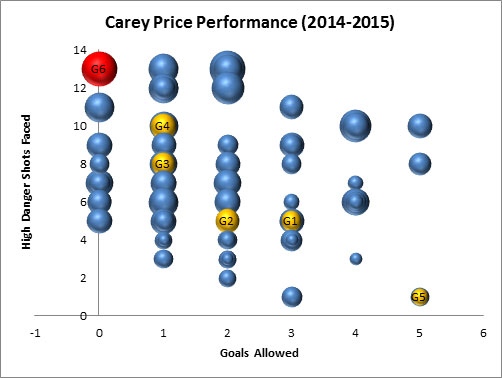 Carey Price sits on the top left, indicating (a) that he allowed no goals (at least not officially); (b) that he saw a high volume of quality chances against; and (c) by bubble size, that he saw a high volume of shots against. It's a pretty compelling argument that the Montreal netminder registered his best game for the season – no other game saw him post a shutout with such a high workload or burden, be it by high danger scoring chances (13 of them!) or shots against (43 of them!). As an aside, you can certainly make the case that his Game Five performance was his worst game of the season.
Montreal still has a lot to sort out in their lineup, but Carey Price remains the ultimate weapon. And his showing in such a crucial spot – with the deck somewhat stacked against him – speaks volumes to just how good this goaltender is.