Habs match home franchise mark, top Kings
Carey Price made 24 saves as the Montreal Canadiens beat the Los Angeles Kings 4-1 on Thursday night. The Habs are 9-0-0 at home this year, tying a 1953-54 franchise record for most consecutive home wins to start a season.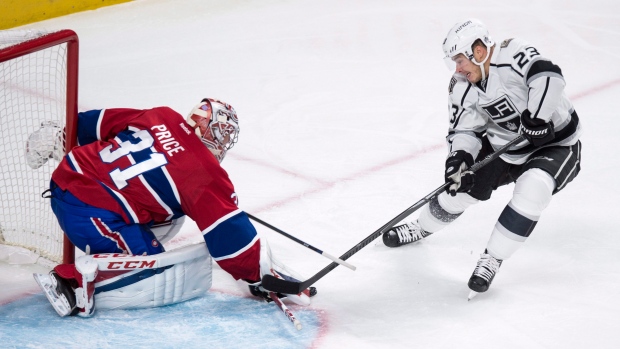 MONTREAL — Canadiens coach Michel Therrien made a minor tweak to his lineup and it worked like a charm.
The Habs bench boss shuffled his third line against the Kings on Thursday and the move paid instant dividends as Montreal beat Los Angeles 4-1 at the Bell Centre.
Therrien benched forward David Desharnais, who was without a point in his last nine games. Usually on the wing, Phillip Danault took Desharnais' spot at centre on the third line. Danault, centring Max Pacioretty and Andrew Shaw, scored Montreal's third goal of the night.
"I loved Danault's game," said Therrien. "For his first game at centre, he wasn't lost, he looked natural. Sometimes a player loses himself when he changes position. He was very comfortable out there."
With the Canadiens already leading 2-0, Danault put away Jeff Petry's rebound from a tight angle at 9:37 of the second period for his fourth goal of the season. Former Habs goalie Peter Budaj, out of position after the initial save on Petry, was impeded by teammate Nick Shore and couldn't get back to his crease.
Danault's linemate Pacioretty finished the game with two assists while Shaw was plus-2 with three shots.
"I had some excellent linemates today," said Danault. "It was more a question of playing defensively today. It just means you're playing against bigger lines. But that's just part of the game.
"Shaw and I are great along the boards, and Max has an incredible shot. We compliment each other really well."
The Habs are now 9-0-0 at home this year, tying a franchise record for most consecutive home wins to start a season since 1953.
Carey Price protected Montreal's (12-1-1) three-goal lead as the Kings (7-7-0) upped the pressure in the third period. Price made 11 of his 23 saves in the third period, including a mystifying stop on Anze Kopitar hallway through the frame.
After an initial save on Drew Doughty, a sprawled-out Price somehow got a glove on a shot from a wide-open Kopitar.
"I just threw a hand up and got lucky," said Price, who now has eight consecutive wins to start the season. "One of those things where you get lucky every once in a while."
Added Kopitar: "I don't know how he did it, but he did it. Obviously a highlight-reel save. You'll probably see that one for a while on TV."
Price is now 5-1-0 in his last six career starts against the Kings. Montreal's starting goaltender is also 19-2-0 in his last 21 starts dating back to last season.
Tyler Toffoli ended Price's shutout bid at 11:57 of the third period with Brendan Gallagher in the box for high sticking.
At the other end of the rink, Budaj wasn't as sharp in his first start against his former club since being traded by Montreal to Winnipeg in 2014.
Looking for his third consecutive shutout, Budaj hadn't conceded a goal in 140:57 when Paul Byron found the back of the net in the first period.
Daniel Carr added a second for Montreal 13:53 into the first period by deflecting Andrei Markov's shot from the point.
"Those first two periods, we just weren't good enough," said Kopitar. "Too many mistakes, too many turnovers, too many broken plays. A speedy team like them, they capitalize on that."
Alex Galchenyuk added a fourth for Montreal into an empty net. Forward Sven Andrighetto and defenceman Joel Hanley made their season debuts.
To honour the passing of Montreal icon Leonard Cohen, the Canadiens played two songs by Cohen during the game.
Notes: Greg Pateryn was a healthy scratch. … Former Habs & Kings goalie Rogatien Vachon was honoured in a pre-game ceremony. On Monday the league announced Vachon would be inducted into the Hockey Hall of Fame.