Projecting the Blue Jays' 2020 roster
There's no shortage of work to be done to get a seemingly directionless franchise back on course, Scott Mitchell writes.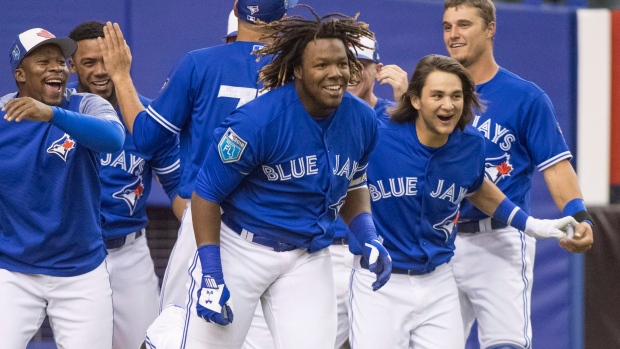 TORONTO — Another kick at the can with a veteran core did not work out for the Toronto Blue Jays.
Needing everything to go right, instead, everything went wrong once again and the aging, underperforming Jays are buried in the standings as the trade deadline looms.
From injuries to poor performance to legal troubles, there's no shortage of problems to point to and no shortage of work to be done to get a seemingly directionless franchise back on course.
If you're an optimist, that's what the next 24 months will be about if you believe midway through the 2020 season is the earliest the arrow could begin pointing up once again.
A pessimist would say that without a whole lot of luck even that would be an aggressive timeline.
It likely depends on your definition of contention.
If it's going punch for punch with the Boston Red Sox and New York Yankees, disappointment will likely follow.
If it's a roster full of upside and sitting on the outer edge of a wild-card race, 2020 might be doable.
By then, the Blue Jays roster will look awfully different.
With the obvious caveat that just about everything can change — for better or for worse, especially when it comes to prospect development — in two years, let's look at what that 2020 roster could look like.
---
Catcher
Now: Russell Martin
2020: Danny Jansen
Russell Martin is a shining example of what you get in free agency. You pay for the first couple of years, hopefully get some surplus value, and then you swallow the last couple.
Martin is currently riding out the five-year, $82-million deal he signed in the winter of 2014 by hitting .179 at the all-star break, making $20 million in the process.
He'll make another $20 million in 2019 in a diminished role before the contract expires and he hands over the everyday catching job to Danny Jansen on a permanent basis.
By the time April of 2020 arrives, Jansen will by 25 and more than ready for a full-time role. There's a good chance he's the de facto No. 1 catcher by this time next year.
---
First base
Now: Justin Smoak
2020: Vladimir Guerrero Jr.
Justin Smoak proved to be a huge bargain in 2017 for just $4.125 million, the same amount he's making this season as he sits on 16 home runs and a 130 wRC+ at the break.
There's a decision looming, though.
The 31-year-old will head into the second half needing just 30 plate appearances to trigger an escalator in his 2019 option, raising it to $8 million.
It would be a surprise to see the Jays walk away from that no matter how the roster looks, but it wouldn't be shocking to see them try to find a trade partner.
When you combine the way the new free-agent landscape has hit one dimensional corner-type bats with the fact most contenders have internal options at first base, there may not even be much of a market for Smoak.
Vladdy Jr.'s progress – or lack thereof – at third base will also help determine the future of the first base position.
The expectation at this point is that Guerrero will arrive in the majors next season at the hot corner, but that doesn't mean that's where he'll stay.
In his rookie season back in 2001, Albert Pujols, a minor-league third baseman, made 52 starts at third, 32 at first, and 70 in the outfield.
After 37 more starts at the hot corner in 2002, he didn't play the position again until 2011.
As you'll read again with the shortstop position, how long Guerrero stays at third may depend on the Jays' philosophy when it comes to offensive production versus defence.
They may be able to look the other way for a couple of years, especially while they're not contending, but the majority of prospect evaluators believe the cold corner is the long-term home for a player who could wield one of the most potent bats in baseball.
---
Second base
Now: Devon Travis
2020: Lourdes Gurriel Jr./Cavan Biggio
One thing that jumps out when perusing the Jays' pipeline is that there are a number of bat-first prospects that don't have a set-in-stone defensive home.
Lourdes Gurriel Jr. is getting his feet wet in the middle infield at the major-league level in his age-24 season, and there isn't a lot of positive evidence that he's going to stay there permanently, with footwork being the main issue.
Instead, he could be the in vogue super-utility type, moving around the diamond to various positions on any given day.
Two levels below in Double-A is another super-utility type, 2016 fifth-rounder Cavan Biggio, who's split his time between first, second and third in New Hampshire this season.
At the age of 27, it's too early to close the book on Devon Travis, but the next three months will be an important audition, as his lack of versatility precludes him from contributing in any sort of utility role.
---
Third base
Now: Josh Donaldson
2020: Kevin Smith
This one takes a bit of projecting and mixing and matching.
With the Josh Donaldson era almost over at the hot corner and Vladdy Jr. being pencilled in by most as the future at first base, third base could be Kevin Smith's future home.
A fourth-round pick of the University of Maryland in 2017, Smith has been one of the best stories in the system this year, clubbing a combined 17 home runs so far at Low-A Lansing and High-A Dunedin.
That production landed him on Baseball America's mid-season top 100 prospect list at No. 91.
While the bat may fit better up the middle, Smith's leather at third has impressed this season. The Jays have made it a point to develop him at all three positions and maintain his versatility.
Smith, however, is looking like a find.
---
Shortstop
Now: Aledmys Diaz
2020: Bo Bichette
Another player who evaluators are having trouble pinpointing a long-term defensive home for, Bo Bichette's bat is what matters.
While he hasn't taken to Double-A quite as quickly as Vladito, Bichette is still one of the youngest players at his level and the focus has been the glove.
One thing that points to the Jays keeping Bichette at shortstop — he'd be a plus second baseman if he shifted from the 6 to the 4 — for at least the early portion of his career is what they've run out there in 2017.
Aledmys Diaz, Gio Urshela, Gurriel, and even Martin have played the position, and none of them would be considered to be an exponentially better defender than Bichette.
If that's the philosophy, Bichette will be counted for the bat and the Jays will leave the future Ozzie Smiths for other teams.
It's been no secret the Jays have been stockpiling middle-of-the-diamond talent, and it will be interesting to see who shakes out as the long-term shortstop and how the middle infield puzzle unfolds.
Bichette, Smith, Gurriel, Diaz, 2017 first-rounder Logan Warmoth, Kevin Vicuna, Santiago Espinal, and Richard Urena are all options currently in the system.
There will also be an expensive contract on the books still, as Troy Tulowitzki will be owed $14 million in the last year of his deal, before the Jays buy out his $15 million 2021 club option for a cool $4 million at the end of 2020.
---
Left field
Now: Teoscar Hernandez
2020: Ryan Noda
The Blue Jays outfield has been a wasteland for the past two seasons, combining very little offensive production with a circus music soundtrack when it comes to defence.
They tried to plug those holes on a short-term basis this past winter, but it's a clear area of need both at the major-league level and organizationally, as well.
Just one of the consensus top 15 prospects in the system is an outfielder, which makes it hard to project anything other than the outfield being fixed via trade or free agency.
There's always a chance one of Dwight Smith Jr., Dalton Pompey, Roemon Fields or Jonathan Davis gets an opportunity and surprisingly runs with it, or maybe Ryan Noda, a 15th-round pick out of the University of Cincinnati in 2017, can carry a facsimile of his .425 on-base percentage through the high minors and into the conversation.
There's also always a chance someone like Gurriel or Biggio ends up in left field.
---
Centre field
Now: Kevin Pillar
2020: Anthony Alford
Once seen as a potential high-end centre fielder, Anthony Alford and his middling arm might fit better in left field when all is said and done, but right now he's the best internal option long-term.
Alford has struggled with injuries once again this season, and he's split his time between all three outfield spots in Triple-A.
It wouldn't be surprising to see the Jays add an upper-level outfield prospect or two in trades this year and then go troll the free-agent market for outfield help once again this winter.
If the Jays can find a trade partner for Kevin Pillar in the off-season, all three outfield spots could be in flux heading into 2019.
---
Right field
Now: Randal Grichuk
2020: Randal Grichuk
Really, you say?
The player hitting just .206 on the season will be around in 24 months?
Well, when the current options are few and far between, Grichuk starts to look like the best of a mediocre bunch.
Similar to Travis, the next three months are important for Grichuk.
He's turned things around over the past six weeks, and if he can continue that in the second half, he could at least earn the right to return as an incumbent starter next spring.
After all, there's still a tantalizing set of tools and maybe he can find some magic in his age-27 season.
If not, the Jays will move on.
Grichuk's ability to play a capable centre field and a really good right field gives him a leg up.
If you're looking long-term – and we're talking 2022 or beyond – current shortstop Miguel Hiraldo could be the right field future, but he won't even turn 18 until September.
---
Designated hitter
Now: Kendrys Morales
2020: Teoscar Hernandez
An outfielder by trade, Teoscar Hernandez's indifference while patrolling the grass has been evident in his first full season in Toronto.
If he just wants to hit, let him hit.
The power would play at the DH spot, but he could also dabble in left field a couple days a week.
That roster flexibility if something John Gibbons isn't currently afforded with Kendrys Morales and his three-year, $33-million contract locking up either DH at-bats or a bench spot.
The good news is that deal comes to an end after Morales earns $12 million in 2019, allowing the Jays to use the DH spot as a revolving door half-day for everyday position players, rather than roster a 1990s-style bat-only option.
---
Rotation
Now: Marcus Stroman, Aaron Sanchez, J.A. Happ, Marco Estrada, Sam Gaviglio, Ryan Borucki
2020: Marcus Stroman, Aaron Sanchez, Ryan Borucki, Sean Reid-Foley, T.J. Zeuch
This is one spot that's extremely hard to predict.
Stroman and Sanchez will both be approaching free agency at the end of the 2020 season, meaning the Jays would be well-served to make a decision on them well in advance of the 2020 trade deadline.
That could happen as soon as this off-season or next July, but both have suffered through down years, leaving GM Ross Atkins in wait-and-see mode.
Trading them now while their value is in the ditch would be a mistake, but that also makes it tough to plan on committing to them long term.
Expect to hear their names a lot this winter and leading into next year's trade deadline, especially if they're pitching well.
Sanchez's move to the Scott Boras camp all but rules out an extension, while Stroman openly admitted this spring that a new contract is something he'd be interested in, but shoulder woes and a high-maintenance personality complicate matters and the feeling may not be mutual.
Past Stroman and Sanchez, Borucki has shown up after a slow-burn development and pitched well in his first taste of the big leagues, leaving him in line for a full season in 2019.
Reid-Foley, currently in Triple-A, and Zeuch, who's pitching at Double-A, are fairly close to major-league ready, and they'll likely be broken in next season, as they eye a full-time starting role in 2020.
Had he not been set back by oblique and arm injuries this season, Nate Pearson, the top pitching prospect in the organization, may have been ready to join them, but that may be an aggressive ask after a lost year.
But there's always the chance he shows up in 2019 with his high-octane fastball and flies through a couple levels, putting him in position to make an impact in 2020, as well.
One thing is certain: In addition to developing homegrown options, trades and buy-low free agent signings will have to play a role in rebuilding the starting rotation, a la the Happ and Estrada acquisitions that helped them end the previous post-season drought.
If the Jays aren't on the right track in a couple of years, pitching is likely going to be the reason why.
---
Bullpen
Figuring out which arms will make up a bullpen on a year-to-year basis is an exercise in futility, let alone two years out, so we won't even make an attempt.
It's hard to envision Roberto Osuna being a part of it, and not just because of his current legal troubles. Without the legal issues, he would have likely been in play at this year's trade deadline, making it hard to envision him not being a potential trade chip this winter, or at the very least next July if he can rebuild his value.
Aside from Osuna, maybe Ryan Tepera will still be around.
Maybe Tim Mayza, too.
Other than that, there's likely to be a number of arms who are currently trying to make it as starters in the minors — Markham, Ont., native Jordan Romano, perhaps? — or veteran options added via trades or free agency making up the 2020 bullpen.