'Proud to wear the Maple Leaf,' Matthews signs five-year, $58M extension
The Maple Leafs wrapped up a key piece of the team's future on Tuesday announcing a five-year, $58.17 million contract extension through 2023-24 for pending restricted free agent Auston Matthews. His $11.634 million cap hit will be the league's second highest in 2019-20, Kristen Shilton writes.
Kristen Shilton, Toronto Maple Leafs Reporter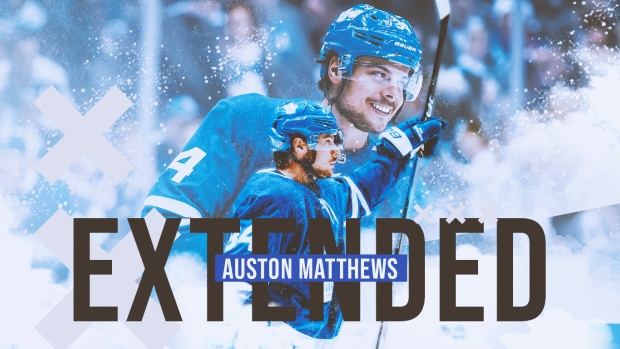 TORONTO — Auston Matthews didn't dream about playing for the Toronto Maple Leafs as a kid. But now that he's here, Matthews doesn't want to be anywhere else.
And for the next five seasons, at least, he won't be. Toronto took care of that Tuesday by signing the pending restricted free agent to a $58.17 million contract extension through the 2023-24 season.
"I'm extremely proud and I'm happy and I know my family is proud of me as well," Matthews said at a news conference Tuesday afternoon. "It's a special day. I love playing here. I love this city, my teammates, the whole staff from top to bottom. I'm proud to wear the Maple Leaf every night; I want to make my family proud, the city of Toronto proud."
According to TSN Hockey Insider Bob McKenzie, $54.5 million of Matthews' contract will be paid out in signing bonuses, while his actual salary sits at a total of $3.65 million over five years.
With an average annual value (AAV) of $11.6 million, the contract is a major investment by the Leafs in Matthews' future. In only his third NHL season, though, Toronto's first overall pick in the 2016 NHL Entry Draft has already proven to be among its most consistent offensive producers.
Over 182 regular season NHL games to date (he also has five goals and two assists over 13 career playoff games), Matthews has amassed 97 goals and 178 points, while establishing himself as one of the league's most dominant centres. With his new contract in hand, the Scottsdale, Ariz., native is in elite company around the NHL, ahead of teammate John Tavares and Los Angeles Kings defenceman Drew Doughty ($11 million) for the league's second highest average annual value in 2019-20.
"We know what he's capable of, and he's still only a very young man," said Leafs general manager Kyle Dubas. "He has a lot of potential we have to help him to reach. The contract signifies his talent level and his ability. What we owe him is helping him continue to develop on and off the ice as a young person… to grow and mature into his mid-20s and become one of the best players in the league."
Once he's being paid like one of the NHL's top stars, Matthews knows the pressure might ratchet up, too. But whether he's making "$1 or $11 million," Matthews is determined to keep being himself, and not lose sight of what drove him to reach hockey stardom in the first place.
"Individually, I hold myself to a higher standard than I think anyone else does," Matthews said. "All of [those goals] I keep personal, but in the end, you're measured on championships and that's what I want to be…and help this team in any way I can to win a championship. That's the ultimate goal."
While placing Matthews in the upper-echelon of the NHL, his deal does fall short of the eight-year term and $12.5 million cap hit garnered by 2015's first-overall selection, Edmonton Oilers' captain Connor McDavid.
Through the initial negotiations, Matthews' agent, Judd Moldaver, was looking for that kind of commitment from the Leafs, too. But with the Leafs staring down a cap crunch in future years, signing Matthews to a max contract wasn't in their best interest. And by agreeing to a five-year extension, Matthews can negotiate another big payday at age 26.
"That was certainly the intention at the beginning from Auston's side, they were focused on that [max-term deal]," Dubas said. "We're very thankful they were willing to move from their desired term. Everyone wants to be here for as long as possible. We were able to find an AAV that works for everybody and we were able to lock him in and maintain some flexibility as we move ahead."
"A lot of guys have done five years," Matthews added. "We went through everything from 3-8 [years] and kind of settled on five. I think both sides are obviously happy and happy to get this over with and move on."
Dubas can turn the page now, too, directly into another negotiation with another pending RFA, Mitch Marner. That deal, though, could take months to finalize.
The winger's agent, Darren Ferris, has publicly stated he doesn't want to negotiate an extension in-season, and according to Dubas he hadn't softened that stance in the immediate aftermath of Matthews' signing.
"We're respecting the wishes of Darren," Dubas said. "If they were to change their stance on it, then we're open to that. For right now, we'll respect their wishes and we'll carry on with the season here."
Right now, this is shaping up to be a career year for Marner. After 52 games, he leads the Leafs in points (63) and assists (42); if those numbers keep rising, Marner's prospective asking price could go up as well.
There's no question other teams would be interested in Marner's services, too. TSN Hockey Insider Darren Dreger reported earlier this month that NHL clubs were preparing to offer sheet Marner in the event he does hit restricted free agency.
Dubas wasn't able to get William Nylander re-signed last spring before he became an RFA in the summer, taking until Dec. 1 to get the job done. But now that the Leafs GM has two of the team's three core young players locked in, he can funnel his efforts into making sure that scenario doesn't play out again.
"If they want to talk, we're here, but we're respecting their wishes," Dubas reiterated of Marner's camp. "He's going to be a Toronto Maple Leaf for a long time, regardless of how we have to come to that."
Making sure the Leafs' core stays intact is an important prospect for Matthews, too. In order to help deliver the elusive championship Toronto has been chasing, the Leafs will need the best possible team around him.
"We've got so many special players," Matthews insisted. "We want to make this city proud, and that starts with all of us in the locker room. I want to be here for a long time, all the guys want to win, and give the city what they deserve, and that's a Stanley Cup."