Prust aims to prove he can still contribute
Veteran winger Brandon Prust is preparing for a training camp shot with the Maple Leafs after a disappointing season that ended in injury.
Kristen Shilton, TSN.ca Toronto Maple Leafs reporter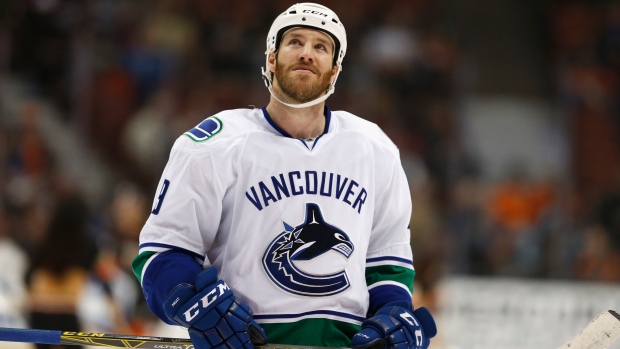 In his first occasion putting on a blue practice jersey adorned with the Toronto Maple Leafs' logo, rugged NHL veteran Brandon Prust was easily detectable in a sea of fresh-faced skaters.

Sporting a number 82 decal on his helmet, Prust, who signed a professional tryout contract (PTO) with the Maple Leafs last month and has 486 NHL contests to his name, joined a prospect-laden group at MasterCard Centre for Thursday's drills.

"[These are] pretty skilled guys, pretty fast guys," Prust said after the informal practice. "It was just a scrimmage out there but there was a fast tempo. The closer you get to camp, the hunger [increases] and everyone is stepping it up a bit."

If his first day in the building was any indication, Prust is here to work. After the hour-long team session, the 32-year-old winger spent one-on-one time with Toronto's skating coach Barb Underhill refining his technique. It's the continuation of Prust's accelerated off-season regime since undergoing ankle surgery in May to correct an ailment that ultimately ended a disappointing season.

Back on July 1, 2015, the Montreal Canadiens traded Prust to the Vancouver Canucks with one year left on his four-year, $10-million contract. Prust then put up the worst numbers since his rookie season – one goal and six assists in 35 games – before being placed on waivers and getting sent to the American Hockey League in February.
He played in nine games for the Utica Comets – where he also tallied one goal and six assists – before he and the Canucks mutually decided in March it would be best if he left the team to focus on rehabbing his injury. Prust became an unrestricted free agent in July.

As challenging as that stretch was, Prust has turned the page.

"I think that's what the summers are for," he said. "I've been off for a while, so it's good to reset and sit back and I guess regain that edge and that passion mentally and physically. [I've] definitely been ramping it up the last six weeks here. [The ankle] feels good out on the ice, no complaints on it. Feels like it is back to normal."

Now he's focused on getting his game right. Prust talked to Maple Leafs general manager Lou Lamoriello before signing his PTO and the expectations for him when Toronto opens training camp this month were made clear. As GM of the New Jersey Devils, Lamoriello saw a lot of Prust while he played for the New York Rangers from 2009-12 and called the signing a "no risk" move for the Maple Leafs. Toronto's assistant GM and director of player personnel Mark Hunter also has ties to Prust from when he was co-owner and general manager of the Ontario Hockey League's London Knights, where Prust skated from 2003-05.

"We're on the same page; I know what I have to do," Prust said. "I have to continue to do the things I've done my whole career that have made me successful. Right now you're just trying to get your speed up and get a feel out there, make sure I'm working on things I need to work on. Foot speed and tempo and obviously the physicality will come more in camp and exhibition games."

It's Prust's aggressive style that gives Toronto, an organization brimming with skill but lacking in big-bodied presence, a reason to give him a look at camp. While he's never scored more than 13 goals in an season, Prust has amassed more than 100 penalty minutes in five of his NHL campaigns and put up more than 200 in all three of his AHL seasons.
But the Maple Leafs already inked bruising left winger Matt Martin, 27, to a four-year, $10-million contract on July 1. Martin was signed in no small part because he plays with a toughness and edge that will balance and protect Toronto's youngsters. Having already made a commitment to Martin and with a deep pool of forward prospects ready to compete for spots, just where a player with Prust's attributes would fit on the Leafs' roster is a major question.

With players due to report to Toronto for pre-training camp medicals on Sept. 22, Prust will soon get answers. But for the London, Ont., native, who grew up cheering for Toronto, it will be a dream come true to try and show the coaching staff that he still has something to offer.

"[There will be] guys I've played against my whole career, that's kind of how the NHL works," Prust said. "Even guys that you might have even fought along the way. But we're all on the same side now."