PSG hosts Bayern with point to prove on TSN
Mike Beauvais, TSN.ca Staff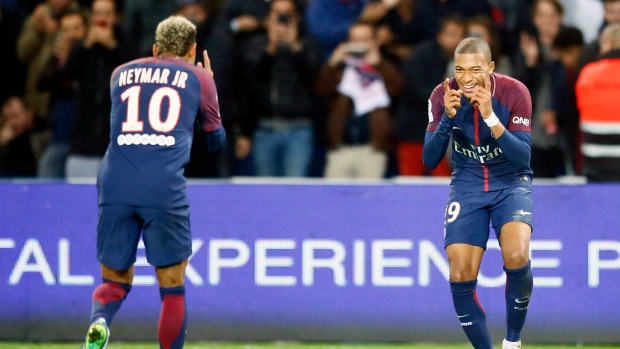 When it comes to spending power, there are few European clubs who boast the resources of Paris Saint-Germain.
Purchased in 2011 by Oryx Qatar Sports Investments, the team is essentially owned by the wealthy Qatari government. Since taking over the club, ownership has thrown money around wildly, signing the likes of Angel Di Maria, Thiago Silva and Edinson Cavani in high-priced transfers.
The culmination of this strategy occurred this past summer in the captures of Brazilian forward Neymar and French wunderkind winger Kylian Mbappe (in a loan deal that will eventually be made permanent in order to comply with FIFA Fair Play regulations) for an eventual combined total of just over £353 million.
Still, money does not buy respect. Like Manchester City and Red Bull Leipzig have also discovered, PSG's spending power has vaulted it among Europe's elite, but it has not given the club the same standing as the likes of a Barcelona, Juventus or Manchester United. They're Al Czervik at a Bushwood Country Club full of Elihu Smails. Status will come with winning.
Sure, PSG has won a number of Ligue 1 titles since QSI took over. In fact, when the club finished second to Monaco last term, it was the first time since the takeover that the club didn't win the league. But with no disrespect meant to Ligue 1, winning the French league does not a European heavyweight make. To be legitimized in the eyes of the footballing world, success in the Champions League is the only path for PSG.
It's with this backdrop, then, that one of Europe's old guard battles the nouveau riche in Group B action as Bayern Munich travels to Parc des Princes, where PSG has lost just ince in their last 43 European competitions, to take on Paris Saint-Germain in the Champions League.
You can catch Paris Saint-Germain vs. Bayern Munich LIVE on Wednesday at 2:45pm et/11:45am pt on TSN4 and on TSN GO.
Unai Emery's side is still looking to get the taste of last year's Champions League exit out of their mouths. Yes, they beat up Celtic 5-0 on Matchday 1 earlier this month, but that will do little to shed the memory of the greatest comeback – or collapse – in the tournament's history.
After a thorough 4-0 pasting of Barcelona at home in the first leg of the Round of 16, PSG certainly felt like it had one foot into the quarters when it travelled to Camp Nou for the return leg a fortnight later. As it turns out, they were far from it.
By the 50th minute, it was 3-0 Barca leaving PSG on edge. Surely, they wouldn't capitulate, though. In the 62nd, relief. A goal by Cavani seemed to put the tie to bed. It was now 5-3 on aggregate with PSG bagging an ever-important away goal. Barca would need three to advance…somehow, they managed. From the 88th onwards, Barca struck three times with a brace from Neymar and Sergi Roberto's 95th-minute winner to stun PSG and dump them from the Champions League.
Naturally, it's going to take an impressive showing this time around to try and erase the memories of that disaster. A result against perennial contenders Bayern Munich will go a long way in getting that ball rolling and the German giants are at a disadvantage in goal with their world-class goaltender sidelined.
Der FCB will be without the services of Manuel Neuer for the foreseeable future. The 31-year-old Germany international injured his left foot and is expected out until the new year, leaving Sven Ulreich as the first-choice 'keeper right now. Behind him, the situation is dire with 17-year-old academy product Christian Fruchtl and recently unretired academy coach Tom Starke, 36, as manager Carlo Ancelotti's other options in net.
Bayern will welcome back James Rodriguez to the squad. The Colombia winger has been out of action with a hamstring injury. Thiago Alcantara (pubic bone) and David Alaba (ankle) have returned to training and are expected to be available. Left-back Juan Bernat remains out, likely until later October, with a ligament tear in his ankle.
The home side's only injury concern is Javier Pastore (back), out yet again. Nobody will doubt Pastore's quality, but his fragility has made it abundantly clear that Emery cannot count on the Argentine going forward as anything more than a complimentary bit player. While wages aren't a problem for QSI, if PSG wanted to divest itself from one of its higher earners to focus on an area that could need shoring up, a sale of Pastore in one of the next couple of transfer windows could certainly be explored.
Even if injuries aren't a concern for PSG, the club isn't without worry. Team chemistry, or lack thereof, has reared its head early in the campaign. Now, keep in mind, we're talking about a team that has scored 26 goals through eight matches in all competitions, but much has been made of apparent discord between Neymar and Cavani.
Things came to a head during a 2-0 win over Lyon earlier this month. The pair argued over a free kick, as well as to who would take a penalty. Cavani has been PSG's designated penalty, but Neymar asked if he could step in against Anthony Lopes. After a brief, but animated conversation, Cavani took the penalty and was denied by Lopes. Later, Dani Alves seemed to prevent Cavani from taking a free kick to allow Neymar the opportunity. The pair, then, reportedly argued in the dressing room following the match.
Since then, the story has not gone away.
"I have told them to sort it out between themselves," Emery said after the match. "I think that they are capable of doing that and that they will both be our kickers. If they cannot reach an agreement, I will decide for them. I do not want this to become a problem for us."
Well, it's too late.
Former Manchester United and Uruguay striker Diego Forlan hit out at Dani Alves in a radio appearance.
"What doesn't make any sense is what Alves does, he doesn't give the ball to Cavani and then gives it to Neymar as if he were his b****," Forlan told Radio Sport 890. "Cavani deserves respect. He has been scoring goals for years, taking penalties. There has to be respect. Neymar would not have done that with [Lionel] Messi. He didn't want Cavani to take the penalty. He was like a little boy annoying him."
Dani Alves defended himself on Twitter.
"I don't know what match you were watching, but for your information, I didn't take the ball away from any of my teammates," Dani Alves wrote (as translated by ESPN FC). "It was just the opposite, it was taken from me!"
The latest on this regrettable incident is that Cavani was reportedly offered a €1 million bonus from club chairman Nasser Al-Khelaifi that was to be paid out if the Uruguayan finished as Ligue 1's top scorer, if he ceded penalty duties to Neymar. There have been round denials from all sides that such a deal was offered. Regardless, it's obvious that Cavani's influence at the club is waning with Neymar's arrival, but even more so Mbappe's, whose best days might be spent through the middle, rather than on the wing.
Yet Cavani is still a top talent with nine goals in all competitions already this season. For PSG, the goal now is to make hay while the sun shines. The team can worry about Cavani, Pastore, Di Maria or anybody else whose future at the club is in the balance come the summer. Right now, this team is built to win and a victory against Bayern would firmly ensconce PSG amongst the real contenders for this season's Champions League crown.
Until PSG can deliver a statement performance against a top club, they will be considered no more than tigers made of the same paper on which their vast stores of money are printed.
--
Probable PSG XI: Areola, Dani Alves, Thiago Silva, Marquinhos, Kurzawa, Verratti, Draxler, Rabiot, Mbappe, Cavani and Neymar
Probable Bayern XI: Ulreich, Kimmich, Boateng, Hummels, Rafinha, Thiago Alcantara, Vidal, Ribery, James, Robben and Lewandowski