Puljujarvi strong as Oilers take care of Jets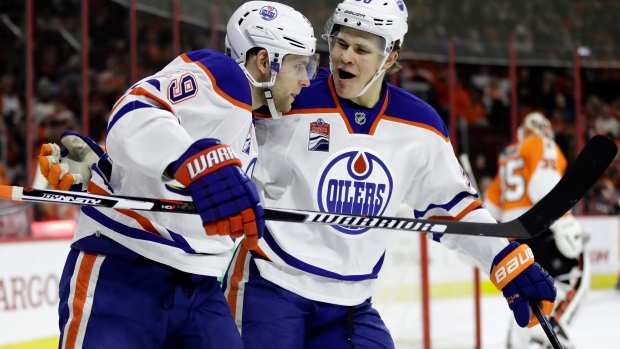 EDMONTON — Jesse Puljujarvi had two goals and an assist and Brad Malone also scored twice as the Edmonton Oilers remained perfect in pre-season play with a 6-2 victory over the Winnipeg Jets on Saturday.
Jussi Jokinen and Connor McDavid also scored for the Oilers, who improved to 5-0 in exhibition action.
Michael Spacek and JC Lipon responded for the Jets (0-3-1), who dressed a far more inexperienced lineup than Edmonton's for the game.
The Jets started off the scoring five minutes into the first period as Spacek slipped a backhand shot past Oilers goalie Cam Talbot on a power play.
Edmonton quickly took the lead a few minutes later with goals just 17 seconds apart.
After Jokinen deftly tipped a Matt Benning point shot past Jets starter Michael Hutchinson, Malone was able to smack home a rebound in the crease to make it 2-1 for the home side.
The first period also featured a spirited fight between Oiler Jujar Khaira and Jet Lipon.
The Jets tied the game midway through the second period on another power-play goal, as Lipon took advantage of a weird bounce off of Talbot and slammed it into the net.
Edmonton regained the lead early in the third as Puljujarvi's touch pass sent McDavid in alone, and he undressed Hutchison to make it 3-2.
Winnipeg appeared to have knotted it back up again, but had a goal disallowed on goaltender interference.
The Oilers scored on the resulting power play, as Puljujarvi lifted home a rebound in tight.
Edmonton made it 5-2 as Malone showed good hands in front to score his second of the game on a rebound.
Puljujarvi capped off a strong game with another power play goal with four minutes left, with McDavid picking up his second assist of the game.
Both teams return to action with home games on Monday, as the Oilers play host to the Carolina Hurricanes and the Jets return to Winnipeg to face the Calgary Flames.
Notes: The Oilers won the previous pre-season game against Winnipeg 4-1 last Wednesday, with the Jets having much closer to their NHL lineup for that game than the one in Edmonton… The Oilers won all three regular season games against Winnipeg last season.