Rangers awaiting word on Lundqvist injury
New York goaltender seeing a specialist after taking teammate Marc Staal's stick in the eye in the first period of Game 1.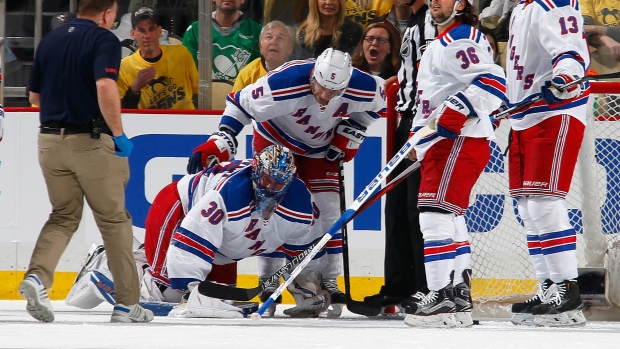 PITTSBURGH — The New York Rangers are anxiously awaiting word on goaltender Henrik Lundqvist, who will visit a specialist here on Thursday afternoon to examine his eye after it was struck by teammate Marc Staal's stick in Game 1.
Rangers coach Alain Vigneault said team doctors do not feel the injury is "anything too serious."
"There's a little bit of swelling in and around the eye, so he's going to see another specialist," Vigneault said. "We'll have more news for you [on Friday]."
Vigneault said Lundqvist must practise Friday in order to be considered for the start in Game 2 on Saturday afternoon at Consol Energy Center.
The Rangers recalled goaltender Magnus Hellberg from on Thursday as a precaution. Hellberg, 25, appeared in one NHL game this season. He would backup Antti Raanta, who allowed three goals on 19 shots in relief of Lundqvist.
"It's in case we get some bad news," Vigneault said of summoning Hellberg from Hartford. "At this time, we don't feel that way. It's just a matter of where the injury is and being on the safe side and making sure everything's all right."
Lundqvist, 34, has started 111 consecutive Stanley Cup playoff games for the Rangers, which is third all-time among goaltenders with one franchise. It's been a decade since anyone other than Lundqvist started a postseason game for the Broadway Blueshirts.
It wasn't just Lundqvist's uncertain status, but the way he went down on Wednesday that made the Game 1 loss feel like much more than a one-game hole in the best-of-seven series. New York didn't practise on Thursday, but there seemed to be a certain pall hanging over the team.
"You're not going to be able to fill those shoes," Rick Nash said. "He's won at every level. He's the face of this franchise."
Lundqvist writhed in pain on the ice, kicking his legs back and forth, when Staal's blade poked through the cat-eye cage on his mask. It was an uncomfortable flashback to Staal's own gruesome eye injury three years ago when he got hit in the eye with a slap shot from Philadelphia's Kimmo Timonen.
Staal ended up missing more than two months with a concussion and returned for one game of the 2013 playoffs before taking the remainder of the summer to recover.
"You never want to see any player on your team on the ice in pain, especially when he's the leader and your best player," Nash said Thursday.
Vigneault admitted he was racking his brain on the bench, wondering if he'd seen a similar injury before.
"How can a stick go through that little hole there?" Vigneault asked. "I don't remember who it was, but it has happened in the past."
In fact, Pittsburgh's Marc-Andre Fleury suffered a similar - but less damaging - injury earlier this season when teammate Ben Lovejoy caught him with a stick in November. Fleury sustained a small cut beneath his eye and didn't miss any time.
When asked on Wednesday whether Lovejoy felt for Staal injuring his own teammate, Lovejoy groaned.
"Not now," Lovejoy said. "Maybe after the series."
All is fair in the fog of the playoffs.
The injury occurred with 49 seconds left in the first period. After regrouping and taking eye drops from head athletic trainer Jim Ramsay, Lundqvist returned to the crease. Pittsburgh scored 31 seconds later.
"I think at that stage we're putting him in a very tough spot in the sense that there's not much time left on the clock, he's a good team guy [and] he doesn't want to put his backup in a situation where he's got to step on the ice with a little over a minute [left in the period]," Vigneault explained. "So he's convincing himself 'I'm all right.' "
Lundqvist went through his normal intermission routine, but told the team's medical staff he had "a tough time seeing," according to Vigneault. Derek Stepan said the players were notified with five minutes to go in the 18-minute break between periods.
"He couldn't go back," Vigneault said. "It was as simple as that."
Vigneault said he considered pulling Lundqvist on the spot with 49 seconds to go, saying he felt he wanted to get it checked out. It was Lundqvist who wanted to keep playing.
"He was adamant at that time and you've got to trust the player and his rapport with our medical staff," Vigneault said.
So now, the Rangers wait.
Vigneault will formulate a game plan, he said, when he hears from doctors. He is also considering swapping in defenceman Dylan McIlrath for Game 2, among other options, anything to avoid heading back to Madison Square Garden in an Empire State-sized canyon.
The injury only compounds the real pressure that exists to win now on Broadway with their playoff window rapidly closing as Lundqvist and the rest of the core ages.
"It's not like everything's over," Nash said. "It's just a matter of getting behind Raanta …We all know now is the time to win and we all put pressure on ourselves to produce."
Contact Frank Seravalli on Twitter: @frank_seravalli