Rangers sign Stoll to one-year, $800K deal
The New York Rangers have signed Jarret Stoll to a one-year contract worth a reported $800,000. Stoll, 33, has spent the last seven seasons with the Los Angeles Kings with whom he won the Stanley Cup in 2012 and 2014.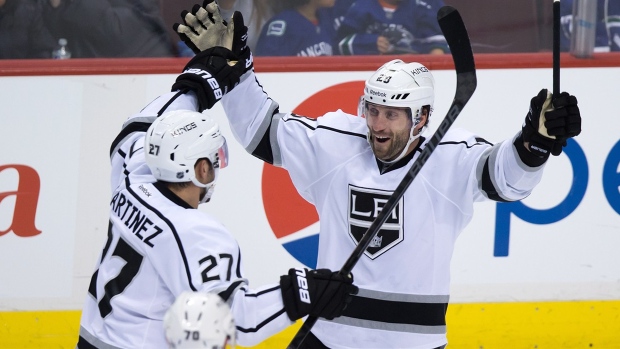 NEW YORK, N.Y. - The New York Rangers are giving former Los Angeles Kings centre Jarret Stoll a second chance a few months after he pleaded guilty in a felony cocaine case.
The Rangers on Monday signed Stoll to a one-year, $800,000 contact in a deal that gives the NHL's best team in the regular season in 2014 a centre who is outstanding on faceoffs, good on the penalty kill and a veteran who knows what it takes to win the Stanley Cup.
The negative is obviously Stoll's recent problems off the ice.
The 33-year-old pleaded guilty in June to two reduced misdemeanour charges to resolve a felony cocaine case stemming from his April arrest at a Las Vegas Strip swimming pool. A felony charge of cocaine possession was dismissed.
Security guards at MGM Grand's Wet Republic pool found what police believed to be 3.3 grams of cocaine and several ecstasy capsules in Stoll's pocket on April 17.
Stoll has completed the required 32 hours of community service. He's also starting a program to help others understand the dangers of using alcohol and controlled substances.
Rangers general manager Jeff Gorton said he spent a lot of time with Stoll talking about the incident, adding he is not worried about him based on how he has handled things so far. The franchise also talked to those who knew him before he got to the NHL.
"It all comes out the same, as a real character guy who made a mistake," Gorton said. "We all want to move forward. Once we hit the ice I don't think it is going to be an issue."
Stoll refused to discuss the circumstances surrounding his arrest. When asked whether people had a right to be concerned that the team was signing someone associated with a cocaine charge, he said:
"I know what kind of person I am," he said. "I know what kind of hockey player I am. People around me know what kind of person I am. For the outside world to think what they think, it really doesn't have an impact on myself or the way I play hockey. That's not who I am. That is not the person I was brought up to be. Anybody who is important in my life knows that."
Stoll said his goal is to play for the Rangers and help them try to win their first Cup since 1994. He did not want to discuss the past.
Stoll has played in 792 NHL games over parts of 12 seasons with Edmonton and Los Angeles, with 140 goals and 239 assists.
Stoll has won 55.4 per cent of faceoffs in his career, and has posted a faceoff win percentage of 51 per cent or higher in every season.
The 6-foot-1, 215-pounder played in three Stanley Cup finals, and won two with the Kings, in 2011-12 and 2013-14. In 93 N