Raps enact 'Valanciunas rule' to further JV's development
Naturally, the Toronto Raptors would prefer to get Jonas Valanciunas the ball as close to his final destination as possible. And as TSN Radio 1050's Josh Lewenberg writes, the team even have guidelines in place to enforce it.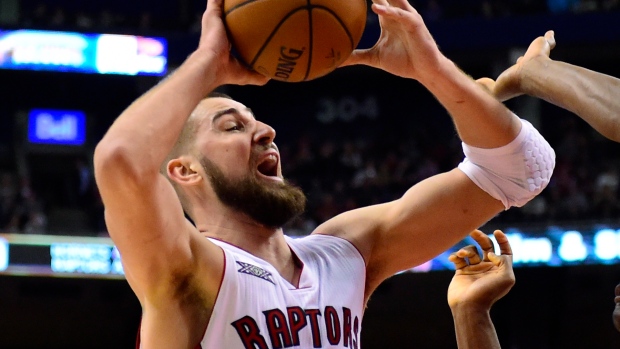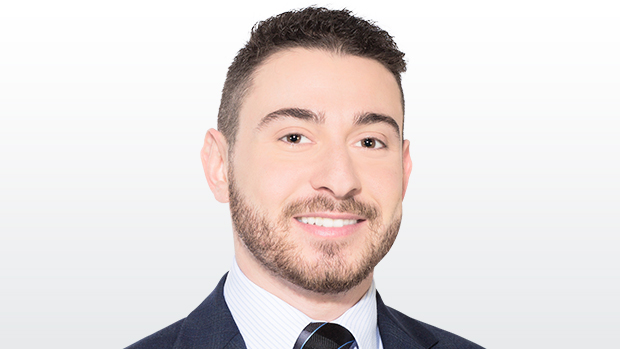 TORONTO - Naturally, the Raptors would prefer to get Jonas Valanciunas the ball as close to his final destination as possible. They even have guidelines in place to enforce it.
"We have a rule," said head coach Dwane Casey ahead of Saturday's 117-116 overtime loss to Boston. "If [Valanciunas] gets pushed out at the logo, don't give it to him. It's a rule of ours and it makes him work to get deep post position."
Only 14 teams, less than half the league, still have small team logos adjacent to the paint on their home court. Many newer designs, including the hardwood at the Air Canada Centre, have a cleaner look. However, 'the logo' - as Casey points out - is a common NBA term that refers to a spot on the elbow, between the key and three-point line, roughly 16-18 feet from the rim.
"If I said to JV right now, 'get inside the logo', he'll know where to go even if there's no logo out there."
In practice, Casey used to put a piece of tape down, stretching from the edge of the free throw line down to the baseline creating a triangle-shaped barrier outside of the paint. This is where the Raptors' young centre would go to work.
With the 6-foot-11, 265-pound Jamaal Magloire - a former NBA bruiser and current team staffer - pushing him off his mark and out of the paint, Valanciunas would fight for position, inside that barrier, before receiving a pass and going into his post-up.
"That's my job, to be inside the paint," said the 22-year-old Lithuanian. "I have to be comfortable. That's my home."
"We've had [that rule] all the time to implore him to get deep [position]," Casey elaborated. "Every big man I've ever coached, we've implored him to get deep in the paint. It's kind of a fundamental outlook if you have a big man."
It's a relatively basic concept, one the good humoured seven-footer laughed off following a Monday morning practice session.
"I'm not asking for the ball at the three-point line," he joked, as if to say, 'duh'. "For me, it's better to get the ball inside of the paint. It's easier to score, so that's what we're trying to do."
From an offensive standpoint, this is a crucial step in his continued development.
Valanciunas is shooting 60 per cent from inside eight-feet, where more than three-quarters of his shots come from. He's only taken 33 shots outside 16-feet, 11 since the all-star break. As a result, only two players - teammate Amir Johnson and Clippers' centre DeAndre Jordan - have hit a greater percentage of their field goal attempts this season.
Still, Valanciunas is generally the third option in Toronto's guard-oriented, jump shot heavy attack, at best. With Kyle Lowry out nursing a sore back, the coaching staff is making a concerted effort to get him more involved. Over the last eight games he's getting 11 shots per night, up from his season average of eight.
"I think we're getting him more touches," said Tyler Hansbrough, who started alongside Valanciunas in place of the injured Amir Johnson against the Celtics. "I can see us running more plays for him and designing plays to keep him in closer around the basket."
By establishing better post position, something Casey and the coaches have been praising him for, Valanciunas gains a distinct advantage over the defence, which is forced to play him straight up or fully commit to sending a second man. While it could, and usually does produce a higher percentage look at the basket, it also sets him up to make a better read on the play.
"He had one assist to [Greivis Vasquez] the other night, which was a great read," Casey pointed out. "But it was because the defence had to collapse because he was so deep. Good things happen when you get deep post position."
"His kick outs have been getting much better," Raptors' second-year assistant coach Bill Bayno added. "Your eyes are a weapon. Don't drop your eyes in the post. You're reading your man but your eyes are up so you can see the help."
Since Bayno was brought on as a member of Casey's staff prior to last season, nobody has spent more time working with Valanciunas. When setting up in the post, Bayno has the young centre focus on three things: positioning, court vision and what he calls "ass hits" - using his hips and lower body, not his shoulder, to back his way into the lane, a legal maneuver that rarely elicits a charging call from the officials.
With spherical pads attached to his arms, Bayno will hit Valanciunas in midsection attempting to simulate the beating he gets from NBA defenders and push him out of the paint. Having Magloire on the payroll is also beneficial.
Around this time a year ago, Bayno posted a checklist in Valanciunas' locker emphasizing the primary responsibilities at his position, in his role - boxing out, setting hard screens, out-working and out-running his man.
Bayno would go over to his home so they could watch film together after games or on off days, but their routine has changed this season, Valanciunas' third in the NBA.
"What we've done the second half of this year, I'm making him watch film on his own and then I quiz him," Bayno told TSN.ca. "I'm having our film guys give him [tape] and instead of me walking him through everything, I have him watch and then he comes and tells me [what he observed] and I'll quiz him."
The Raptors' assistant also has him watching other NBA games every night, all of this in an effort to increase the 22-year-old's basketball intellect.
"Did you see this, what did you see here?," Bayno will ask him after he reviews the game footage. "And he's been pretty diligent. In the last quiz before the [previous] game, he watched every clip and he knew [what he did wrong], so that gets him more proactive."
"I think all players, the great ones get to where they're watching their own film. The young guys, I think you have to spoon-feed them and babysit them with the film but then as they get older the vets all watch their own film and they all know [what to look for]. So he's becoming more of a vet there and he's becoming more of a thinker of the game, having to make reads."
It's almost impossible to talk to Bayno or Casey about Valanciunas without the conversation circling back to defence. For all of his growth offensively, if he's not defending at the level they expect from him, he's sitting and watching from the bench, particularly at the end of games.
"The other thing we're really working with him on is when teams go small, like Houston did [last week], our big thing is you've got to show [Casey] you can guard [smaller players like] Josh Smith," Bayno said. "And if your plus-minus is good with you guarding Josh Smith you're going to stay in the game, and he did. And the same thing the other night with [Celtics big man Kelly Olynyk]. He had a pretty good stretch there where we kept him in the game and he guarded Olynyk. That's been a focus and I think he's getting better at that as well."
Valanciunas is averaging just five minutes in the fourth quarter this season, 10th-most on the team, and that doesn't even include the 20 fourth quarters in which he did not play at all. But true to Bayno's point, he did log 11 fourth-quarter minutes against a smaller Celtics team on Saturday.
He's shown strides as a rim protector this season, and the numbers reflect that. Opponents are shooting 46 per cent against him around the bucket, ranking 12th in the league among big men (minimum 20.0 minutes per game) and down from 51 per cent a year ago. Although his size often limits his effectiveness stepping out and guarding the pick and roll, it's not for a lack of effort.
"He's probably our best talker," Bayno said. "He calls out the pick and roll earlier and louder than anyone. It's just hard for a seven-footer to play pick and roll. But his effort is there, his intensity is there, he's in his stance, he's doing what we ask him to do."
Is Valanciunas as far along as the team had hoped nearing the end of his third campaign? They'll tell you he is, and then some. Offensively, defensively, the mistakes he makes are mostly a result of his youth and inexperience. They're usually well-intentioned. That's the one thing those close to him are consistently raving about: his work ethic, his drive and passion for the game. You can see it in his eyes as he plays the game and that is the biggest reason for the organization's continued optimism in regards to the young centre's NBA future.
"The one thing about [Valanciunas] is he brings it every night," Bayno said. "He tries, his heart is in the right place, he's so coachable and I do think he's been focusing on all those things: playing harder than his man, out-working his man, out-running his man. People still forget, he's 22-years-old. I think [Casey] is happy with his progress, I think we're all happy with his progress."