Raps clinch playoff spot despite loss
Isaiah Thomas scored 23 points, Evan Turner added 17 and the Boston Celtics beat the Toronto Raptors 91-79 on Wednesday night. But with the Chicago Bulls' loss to the New York Knicks, the Raptors clinched a third straight playoff spot.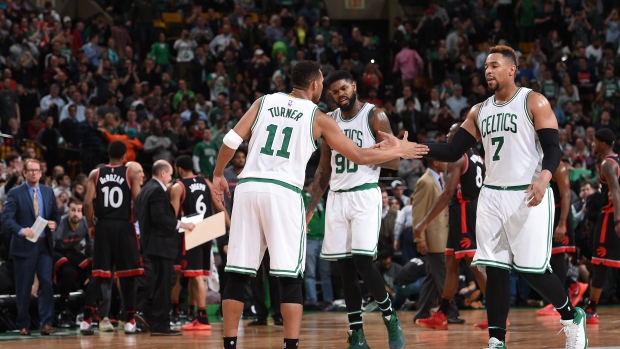 BOSTON - The Toronto Raptors lost a game but clinched a playoff spot anyway.
Isaiah Thomas scored 23 points, Evan Turner added 17 and the Boston Celtics beat the Raptors 91-79 on Wednesday night. Toronto clinched its third consecutive post-season berth moments later thanks to a 115-107 loss by Chicago to the New York Knicks.
That was little consolation for Raptors coach Dwane Casey.
"They beat us. They spanked us," Casey said. "We talked about how good of a team they are if we don't play with force. When you don't play with force you're going to have trouble scoring, and we had trouble scoring."
Avery Bradley finished with 16 points and eight rebounds as the Celtics won their third consecutive game and first this season over one of the Eastern Conference's best teams.
"It's big," Thomas said. "We wanted some confidence and momentum going into this tough West Coast trip and we got it. We wanted these three games and we got them."
Boston had what had been an eight-point lead at the start of the fourth quarter cut to a point. But the Celtics responded with a 10-4 run to get the separation they needed to close it out.
DeMar DeRozan led the Raptors with 21 points. Point guard Kyle Lowry sat out, resting a sore right elbow.
Toronto had a four-game winning streak snapped and fell 2 1/2 games behind Cleveland for the best record in the Eastern Conference.
In addition to Lowry, Toronto also played without forward Patrick Patterson, who missed his second straight game with a sore left ankle. The Celtics remained without starting forward Jae Crowder as he recovers from a right ankle sprain.
Toronto trailed 69-58 late in the third quarter before using a 10-0 run to get back into the game. The Celtics missed eight straight shots during the run.
But Boston responded with its 10-4 spurt, getting its lead back up to 79-72.
The first half was tight throughout, with 10 lead changes and neither team holding more than a three-point lead.
The victory ensured the Celtics will finish with at least a .500 record — its first since coach Brad Stevens took over three years ago.
"I feel like there's real progress. And it's pretty consistent progress," Stevens said. "But...you don't sign up to come to the Boston Celtics to win 42 games. So we've got a long way to go."
TIP-INS
Raptors: Loss ends a franchise-record streak of 33 straight wins when holding a team under 100 points. ... Shot just 34 per cent from the field (31 of 89). ...Was 6 of 22 from the 3-point line.
Celtics: Thomas has scored 20 or more points in 11 straight games. ... Boston has won 16 of 18 at home. ... Crowder missed his sixth straight game.
RESTING UP
Casey isn't above resting his players heading into the final month of the season. In fact, he will prioritize that over anything that has to do with the standings. "Health is more important," Casey said. "I think we are all fighting for it, but if it comes between a guy fighting a sore ankle, a sore calf, a sore knee or whatever fighting for that spot. My team's health is more important than putting him out there and maybe further damaging him."
SHOOTING WOES
Marcus Smart continues to struggle with his shot. One of the offensive anchors of the second unit, Smart was 1 for 8 from the field against the Raptors. He is now just 16 for 62 in his last six games.
INJURY UPDATE
Stevens said the plan is still for Crowder to travel with the team on its upcoming five-game road trip. But he said Crowder isn't expected to be available during the early part of it. Crowder was able to do some light shooting prior to Wednesday's game.
CELEBRITY WATCH
Actor Mark Wahlberg, a native of nearby Dorchester, sat courtside.
MOMENT OF SILENCE
There was a pre-game moment of a silence in honour of the victims of Tuesday's terrorist attacks in Brussels, Belgium.
UP NEXT
Raptors: Visit Houston on Friday.
Celtics: Visit Phoenix on Saturday.