Raps' new-found versatility should come in handy
It took just one night to see the difference. Head coach Dwane Casey has more tools to work with this season on his Raptors roster, particularly at the end of games.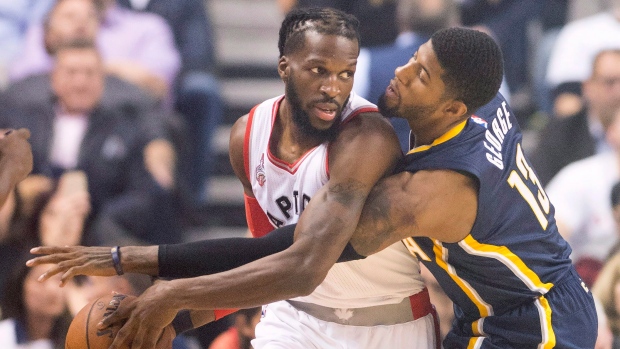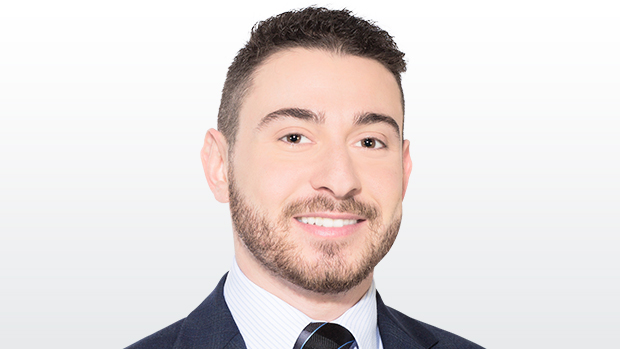 TORONTO - For all the speculation over who would start at power forward on opening night, Luis Scola or Patrick Patterson, it didn't matter much in the end, as neither player was on the court to close the Raptors' 106-99 win over the Indiana Pacers.
With the Pacers using their small lineup, featuring Paul George at power forward, Dwane Casey opted to do the same.
Toronto's two point guards, Kyle Lowry and Cory Joseph, shared the backcourt for all but three minutes of the fourth quarter. DeMar DeRozan and Jonas Valanciunas joined them down the stretch, while DeMarre Carroll matched up with George at the four.
Even with Joseph and Carroll playing out of position, their versatility, particularly on the defensive end should give Casey more flexibility in these situations throughout the season. This could be one of the Raptors' most productive lineups and a staple for them at the end of games.
"That's what the NBA is going to come to," Casey said after the win. "That's more traditional; when other teams go small you try to match them."
"We have a lot of options in that situation. We didn't get to Anthony Bennett tonight; he could've played in that situation [too]. I think we're better equipped to play small than we were last year."
Small ball has officially spread throughout the league. If the Warriors' title run wasn't proof in and of itself, take these new-look Pacers as Exhibit B. For years, as most teams began to emulate the small-ball trend, Indiana stayed big. With the traditional low-post duo of Roy Hibbert and David West, they were one of the lone outliers in a changing game, the Memphis Grizzlies being another notable exception to this new rule.
Since we last saw them, Hibbert has landed with the Lakers after being forced out of Indiana, while West is coming off San Antonio's bench and the Pacers have finally given in. In fact, while most teams still start out with somewhat traditional lineups and go small later in the game, Indiana is forcing opponents to adjust right out of the gate.
"I think the NBA now has become a [position]-less league with the small-ball coming in," Casey said. "They're one of the few teams that start small. Everybody eventually gets to that but they present a challenge by starting small and they either adjust to you or you adjust to them."
"It was a little surprising [to see them change philosophies]," said Scola, who spent the last two seasons with the Pacers. "When I got there, they were talking about smash-mouth basketball [a lot] and big men, never playing small. They changed. They adapted to the new NBA. It was different. It was a little bit surprising, but in a good way. Teams are adapting to whatever works best. Somebody does it, and everybody else tries to copy. And then in four or five years or two or three years, somebody else will come up with something slightly different. It's going to be successful. And everybody else will copy. That's the way the game goes."
While coaches are often criticized for not sticking to their guns by matching up with the opponent, there's something to be said about being able to adapt to the pace of the game, provided you have the personnel that allows you to do so.
By adding a couple versatile, two-way players in Joseph and Carroll, the Raptors have more flexibility to play that way this season, without necessarily surrendering the upper hand. It should be noted that even though Casey choose to match Frank Vogel's small lineup, Valanciunas still played most of the game's final five and a half minutes, a rarity over the last couple seasons.
"That's what we've been waiting for," Casey said of Valanciunas, Toronto's most effective player on Wednesday, scoring 21 points on 8-of-11 shooting to go along with his 15 rebounds. "Everybody's wanting him to play at the end, that's what he's got to do down the stretch."
Scola, who earned the starting job after a strong preseason, didn't score or attempt a shot in a quiet 17 minutes of action. Conversely, Patrick Patterson, who had lost that same job with a disappointing preseason, played a crucial role in the team's third-quarter run, helping Toronto erase what had been a 16-point deficit.
"Scola's been playing well," Casey said post-game. "Nothing is etched in stone, but I like Pat's energy coming off the bench right now. That could change but Scola has been playing great. He didn't score tonight but he's that old soul who can score in the post, do the job and in training camp he was the better player."
Although it may not be long before Patterson reclaims the starting gig, Casey seems intent on sticking with his opening-night rotation, at least for now. But it's a long season and the fact that he has more tools to work with should come in handy, particularly at the end of games.
BOSTON REUNION
It's been over six years since DeMar DeRozan last played against good friend and former teammate Amir Johnson, outside of practice.
He remembers it well. The Raptors guard was 19, appearing in Summer League before his rookie season even began. Johnson, a couple years older but with four seasons of NBA experience under his belt, was there playing for Milwaukee.
One month later, Johnson was traded to Toronto. He and DeRozan spent the next six seasons playing together for the Raptors before the forward signed with Boston as an unrestricted free agent this past summer.
With the Raptors visiting the Celtics on Friday, the two will square off against one another for the first time as NBA players. DeRozan is looking forward to seeing his old friend and having some fun competing.
"It's always fun to be able to talk trash with him," DeRozan said following Toronto's Thursday afternoon practice. "There's going to be some funny things said during the game. It should be interesting."
"I think I know him better than he knows himself. It should be fun. He'll go out there and do the stuff Amir do. You've just got to be aware. He's crafty at getting guys open, understanding how to play when he's out there on the court. He's been in the league a long time, so outside of scoring he does a lot of other things that helps out the team."
Johnson made his Celtics debut Wednesday, coming off the bench to score 15 points and grab seven rebounds in 20 minutes. True to form, his team outscored the visiting 76ers by 16 points with him on the floor.
"It's definitely different [without him here]," DeRozan said of Johnson, who averaged 8.8 points and 6.3 rebound, shooting 57 per cent in six seasons with Toronto. "I think Amir is a unique individual, not just to myself but to everybody. His attitude, his demeanour towards everything, he automatically keeps you in a good mood. It's tough to find people like that."
"He's just a great teammate," Casey added. "He's a good person, great teammate. He gives you everything he has. He played through injuries. He played through a lot of stuff just to help us win. Without him I don't know if we could have made those last two playoff runs."
"It's really strange to see him in number 90 in Boston but it'll be great to see him. I have nothing but total respect and love for him. He was kind of the heart and soul the whole time [he was] here. But tomorrow night he's going to be the enemy."