Raps' Patterson highly motivated entering contract year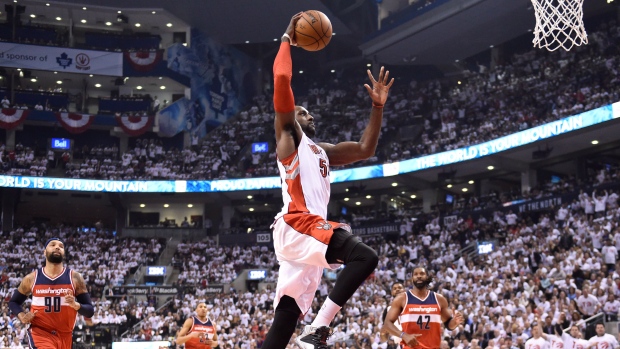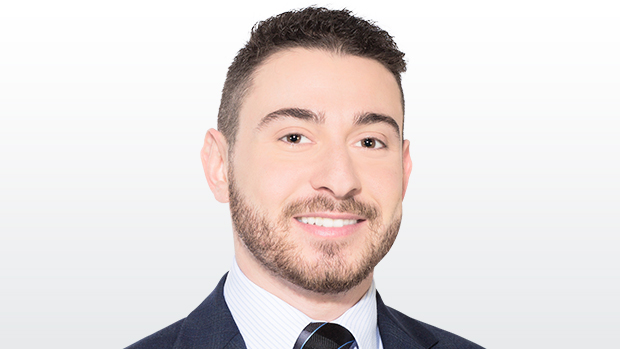 TORONTO - We're so accustomed to professional athletes dodging questions about their upcoming free agency that it was sort of refreshing to hear Patrick Patterson acknowledge the obvious: this is a big season for him.
"It's a contract year," said the Raptors' forward as practice let out on Tuesday. "Everybody wants to get paid and I'm one of those guys included. I want to be successful. I want my team, most importantly, to be successful. I want this to be a successful year for all of us, myself included."
"So going into this year the focus is a lot more different. My attitude, my demeanour and the way I carry myself on and off the court is just going to be drastically different than the years before."
Some will almost certainly take issue with his admission but before his words are twisted, misinterpreted or entirely taken out of context, let's clarify shall we?
Patterson IS NOT suggesting that he's been dogging it to this point. He's not saying that he hasn't been playing hard, working to improve or approaching his job with professionalism until now, and those familiar with his body of work should know better.
What we have here is a player being - get this - honest. Yes, pro athletes make a lot of money and, as such, should always be working hard at their craft. They're also human and who among us wouldn't find some extra motivation in knowing that they could triple their annual salary with a productive six months of work?
That's the enviable position Patterson finds himself in entering his seventh NBA season, the last of a three-year, $18 million contract he signed in 2014, which - by league standards - has made him grossly underpaid.
Despite an inconsistent jumper and drop in his counting stats in 2015-16 - he averaged 6.9 points and 4.3 rebounds, down from 8.0 and 5.3 the year before - Patterson may have had his best season to date, particularly on the defensive end where he took a big step forward. His value isn't always plain to see, especially when his shot isn't falling.
In addition to stretching the floor for Toronto's three most crucial offensive players - Kyle Lowry, DeMar DeRozan and Jonas Valanciunas - Patterson does the little things that often go unnoticed, not unlike the man he replaced, Amir Johnson. He's a versatile defender with a knack for being in the right place at the right time, he sets good screens, doesn't miss games and has a high basketball IQ.
Although he came off the bench exclusively during the regular season, a role the team feels he's better suited to, he logged the bulk of the minutes at the power forward position and was generally on the floor to close meaningful games. Quietly, he's become one of the Raptors' most valuable players. Last year, Toronto outscored opponents by 403 points when he was on the floor, 9.3 points per 100 possessions - the highest marks on the team. While some of that is a credit to those he played most of his minutes with - namely Cory Joseph and Bismack Biyombo - note that of Toronto's 11 five-man units that logged at least 75 minutes together, Patterson is the only player that appeared in all five of the lineups with a positive net rating.
His timing could not be better. With an influx of data and advanced metrics available to teams and their front offices, players like Patterson have never been worth more and, thanks to a growing salary cap, there's never been more money out there waiting for them.
How big of a raise is he in line for? That depends on how this season plays out for him but, given the market and his coveted skill set, even a sub-par campaign should see him double his $6.05 million annual salary. If he has a big season that figure could jump closer to $20 million. What a time (to be an NBA player).
Last summer Solomon Hill, Jon Leuer and Meyers Leonard - stretch bigs without Patterson's versatility and defensive chops - netted four-year deals that now pay them between $10-12 million per season. Ryan Anderson, who's a better shooter than Patterson but far inferior defender, got a whopping four-year, $80 million contract from Houston.
Whether the Raptors are willing to spend that kind of money on a player they clearly don't feel comfortable starting - even if he does get starters minutes - remains to be seen. Unlike the situation with Biyombo this past summer, where their hands were tied, they will at least have that option. Because they own their Bird rights the Raptors are able to exceed the cap, and perhaps go into the luxury tax, to retain Patterson and Lowry, who will also hit the open market in July.
Doing so might make more sense than you would think. Once the Raptors are over the cap, and they will be if they pay Lowry, they won't be players in the free agent market for the foreseeable future. They won't be able to simply add a replacement for Patterson, at least not a high-priced one. Their only means of external improvement would be through the trade market, using the players and the salaries they have on the books.
Whether his intention is to stick around in Toronto or look for a new home in the summer, Patterson knows he will need to have another strong campaign. He has already come a long way since the Raptors acquired him from Sacramento in December of 2013, and even further since the Kings got him in a trade from Houston 10 months earlier. After knocking down 257 threes in two and a half seasons with Toronto - shooting them at a 37 per cent clip - it's hard to believe he didn't make his first until his third year in the league. He's expanded his range and, more recently, his defensive repertoire. Now he's hoping to add more to his game in this, his most important season.
Patterson says he spent most of the summer focusing on his rebounding - one of the weaker areas of his game - and isolation offence, being able to put the ball on the floor and score off the dribble when defenders chase him off the three-point line.
"Patrick is doing a great job of playing with the basketball off the dribble," Dwane Casey said of the 27-year-old forward. "He's got the step-back move. Last year at this time he was turning down three-point shots and now he's taking what the game's giving. He's doing a much better job of taking it. I think last year this time he was working on his pump-fake drive, but now he's taking the shots, he's knocking it down, he's doing a good job of mixing it up. He's really maturing into a very seasoned, veteran type player even though he's still pretty young."
You'll also notice that when Patterson talks about having a big year he acknowledges the importance of the team having a big year. For a role player like Patterson they're one in the same and he will need both to play out that way in order for him to really cash in on the open market.
And yes, he wants to make as much money as he can. Why shouldn't he? We're all thinking it, we know players in his situation are thinking it, so we shouldn't have a problem with one of them saying it.
Patterson and Lowry are taking different approaches to their upcoming free agency, at least publicly. Lowry has opted not to address it, ducking a contract year question on media day and promising to do the same if and when it comes up again throughout the season. He says he's not thinking about it. Sure. That's not a knock on Lowry or the way he's handling his situation, it's the way most high profile players would handle it. It's text book, actually - defuse and deflect. 'It's not about me, it's about the team,' and other such cliches. Surely that's the approach the organization prefers.
Patterson has always been a different cat. He's a straight shooter, through and through. He will give you the same answer whether the camera is on or off, whether it's the one you wanted to hear or not. In the 2014 post-season series loss to Brooklyn he was the only Raptors employee who was critical of the officiating on record. Last season he expressed concern over the way the league sensors players on Twitter. This fall he's been one of the team's most vocal players in the fight against social injustice throughout the Unites States.
If we're going to criticize athletes for lacking personality, for being robotic and toeing the company line (script), credit one who isn't.
Patterson wants to get paid. Of course he does. And he will.