Raptors' bench hasn't been bad but could use a tweak
It's a brand new Raptors bench this season, with Lou Williams and Greivis Vasquez out and Cory Joseph and Bismack Biyombo in. As TSN Raptors reporter Josh Lewenberg explains, the new additions are doing fine but with Toronto's injuries so far the unit could use a boost.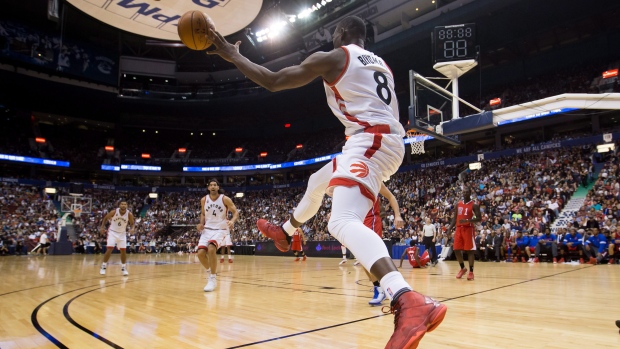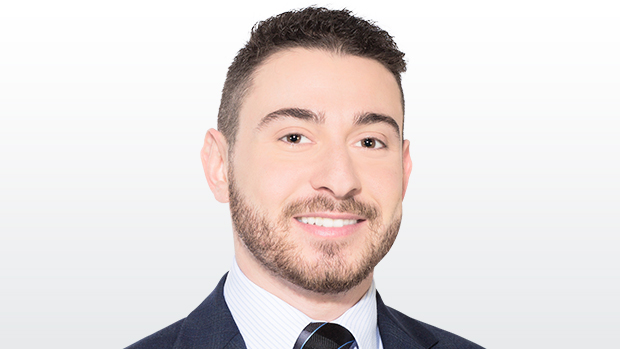 TORONTO - No, the Raptors aren't necessarily disappointed and certainly not surprised by what they've gotten, or haven't gotten, from their bench nearly a third of the way into the campaign.
It's exactly what they signed up for when general manager Masai Ujiri and his front office staff opted to sacrifice offence in favour of defence during an off-season makeover that completely changed the identity of the team's second unit.
Gone are Sixth Man of the Year winner Lou Williams and back-up point guard Greivis Vasquez, who combined to average 25 points per game last season, almost exactly what Toronto's entire bench is contributing this year. Even at full strength, before injuries knocked a pair of starters out of the lineup, the new group of reserves was having trouble putting points on the board.
Ranked fifth in bench scoring a year ago, Toronto has fallen to 29th, ahead of only Detroit. So, they've been bad, right? Not exactly. The Raptors are a top-six team in net rating off the pine, meaning their subs are still out-scoring the opposition by 3.9 points per 100 possessions. Although they had placed second in that category last season, their current standing is better than expected and speaks to the improvements they've made on the defensive end.
It begins with Cory Joseph, the team leader in defensive rating. In 2014-15, the Raptors gave up the third-most points to opposing point guards. This year, they're tied with Miami, allowing the fewest in the NBA — a credit to the play of Kyle Lowry and improved rim protection, but, most of all, the defensive upgrade from Vasquez and Williams to Joseph.
Bismack Biyombo has helped to solidify that aforementioned interior defence, while James Johnson continues to make a positive impact in spot minutes. Patrick Patterson, despite his lengthy shooting slump, has quietly been one of the team's most reliable defenders.
While fans may miss Williams — who, to his credit, was excellent in his lone season with the Raptors, winning them a handful of games with his offensive heroics — the team is not having seller's remorse. That said, the composition of their retooled second unit has put more pressure on head coach Dwane Casey to manage his rotation effectively. Gone are the days where he can confidently open the second quarter with five reserves on the floor and run the offence through Williams. One of Lowry or DeMar DeRozan almost has to be on the court at all times.
Now, with Jonas Valanciunas and DeMarre Carroll sidelined indefinitely - they've missed the last 12 and five games, respectively - a team that was already lacking in depth, particularly in terms of scoring and outside shooting, appears to be in need of a boost.
On Monday, facing the Pacers in the second night of a back-to-back, the Raptors coughed up an early 21-point lead en route to their disappointing 106-90 loss. The bench was a catalyst for Indiana, scoring 25 points before Toronto's second unit even recorded one. Overall, the Pacers finished the game with a commanding 47-27 advantage in bench scoring.
Naturally, the eventual return of Valanciunas and Carroll will help a great deal, allowing everybody, namely Biyombo and Terrence Ross, to reprise their intended roles off the bench. As the February trade deadline approaches, Ujiri may have to look elsewhere for an additional upgrade. But what can be done to balance the two units in the meantime?
The solution may be one that the team has been contemplating since training camp - moving Patterson back into the starting lineup and bringing veteran forward Luis Scola in with the second group.
Swapping the power forwards, which has been discussed here before, would not be an indictment of Scola's work to this point, nor is it an endorsement of Patterson's. It's simply a matter of fit.
At 35-years-old, Scola can't be counted on to carry a heavy workload every night — he played just 18 minutes in Indiana 24 hours after scoring a season-high tying 22 points against Philadelphia — but his experience as the focal point of Argentina's offence each summer and his ability to create scoring opportunities in the post would be a welcomed addition to the second unit. He has had good chemistry with Joseph early in the season — Toronto is out-scoring opponents by 9.1 points per 100 possessions in 175 minutes with them sharing the court — and could continue to play alongside Patterson in small lineups late in games.
Meanwhile, Patterson — a superior defender and spot-up shooter, who is still searching for his offence — would benefit from additional time with Lowry and DeRozan. That trio has a net rating of 15.6 in 191 minutes together (Lowry, DeRozan and Scola - the team's most used three-man combination has a net rating of just 0.9 in 491 minutes). Although defensive rebounding would be a concern with Patterson starting, presumably his presence gives Lowry and DeRozan more space to operate while their ability to suck in the defence frees the sharpshooting forward up for better, cleaner looks on the perimeter. A 47 per cent shooter for his career, 37 per cent from three-point range, Patterson is hitting just 38 per cent of his attempts from the field this season, 34 per cent from beyond the arc.
With the team getting off to better starts of late - they've won their last five first quarters after losing the previous five - Casey may be reluctant to make a change at this juncture, especially with the defence playing at such a high level.
However, Scola is a pro, one that is unlikely to be fazed by a move to the bench. After losing the starting gig in camp and struggling to start the campaign, Patterson is beginning to turn the corner, but in order to get the most from its weakest position Toronto will need more out of him moving forward. What do they have to lose by giving it a shot?