Raptors could break up 'core four' this summer
Money to sign free agents is expected to be tight in the NBA this summer, with many teams up against the cap or facing sizable luxury tax bills. As such, there's a reasonable chance Toronto's 'big four' – DeRozan, Lowry, Ibaka and Valanciunas – has played its last game together, writes TSN Raptors Reporter Josh Lewenberg.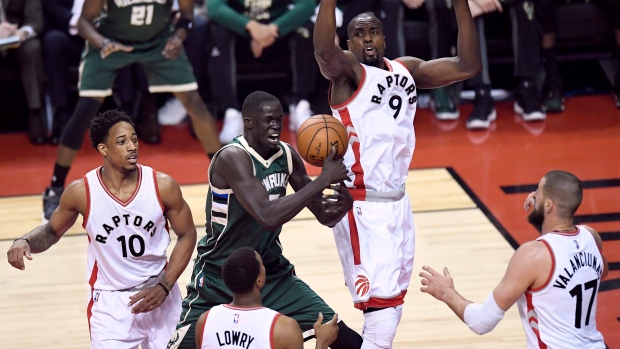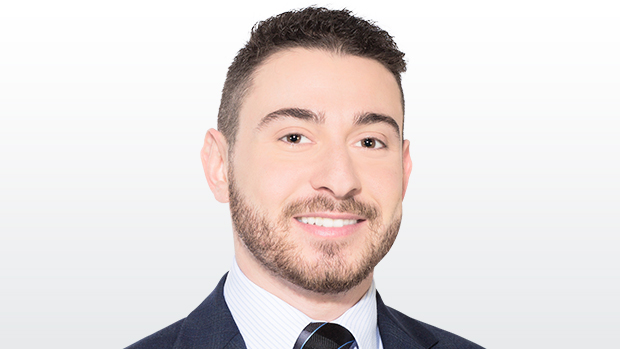 TORONTO – Happy NBA New Year.
July 1 marks the start of the 2018-19 fiscal season, and as of midnight on Sunday morning teams are permitted to negotiate and reach verbal agreements with free agents.
At noon on July 6, once the league completes its internal audit, sets the salary cap and the annual moratorium is lifted, those deals can be made official. In other words, the most fun and unpredictable stretch on the NBA calendar is just around the corner.
However, as we were recently reminded, the off-season doesn't really begin until LeBron James says it does.
Assuming he opts out of the final year on his contract, and it's expected that he will, James will hit the open market and have a chance to completely shift the balance of power in the league, again. His decision looms large.
For the first time since 2003, zero veteran players were traded on draft night last week. To put that into perspective, 40 experienced players were moved at the draft the previous three years combined.
The current NBA economy surely had something to do with it. Money is expected to be tight this summer, with many teams up against the cap or facing sizable luxury tax bills. Draft picks, and the cheap labour they produce, have never been more valuable. Still, the LeBron factor is real. With so much uncertainty going into July, teams seem reluctant to pull the trigger on something big. Maybe Tuesday's Austin Rivers-Marcin Gortat swap opens the floodgates, but don't bet on it.
Without a pick in last Thursday's draft, the Toronto Raptors were "shut out", as general manager Bobby Webster put it. Given the circumstances, their inactivity tells us very little about what they're planning for the coming weeks.
This is a big summer for the Raptors. That's not to say the last few haven't been, but this one seems especially important after kicking it off with the firing of long-time head coach Dwane Casey and the subsequent hiring of Nick Nurse.
Each of the last three off-seasons saw president Masai Ujiri make substantial financial commitments to the team's core: a $165 million investment in Kyle Lowry and Serge Ibaka last summer, the near-maximum salary deal for DeMar DeRozan in 2016, as well as a new contract for Casey, and Jonas Valanciunas' extension the year prior.
With the exception of Ibaka, who was added in the middle of the 2016-17 campaign, that group had been together for six seasons. This was the first time we've seen Ujiri pivot away from it, and it seems unlikely that Casey was sacrificed in vain. As the calendar turns to July and the trade market re-opens, the question becomes: who is the next domino to fall?
There's a reasonable chance Toronto's 'big four' has played its last game together.
As many have reported over recent weeks, the league-wide sense is that the Raptors are open for business. No one on their roster is off limits and, while they're not actively shopping them, they're willing to listen to offers for their two all-stars, DeRozan and Lowry.
Publicly and privately, management continues to insist they have no intention of entering a rebuild or taking a step back in the short-term. If that's the case, we can assume they aren't prepared to trade either guard at a discount simply to unload their contracts or acquire picks or prospects. If they move those guys it will be for fair value and a return they believe puts them in a better position to compete.
That's where things get complicated. How many teams value DeRozan and Lowry as much as the Raptors do, are willing and able to take on high-priced players – in Lowry's case, on the wrong side of 30 – and have the requisite pieces to send back, allowing Toronto to remain competitive atop the Eastern Conference. It's a short list, if there's even a list at all.
Of the two, moving DeRozan seems more conceivable. At 28, turning 29 in August, he's younger than Lowry (32), makes less annually and plays a position that's of greater need to most teams – meaning his market value is likely higher. He may also be more expendable. Although DeRozan proved adaptable last season, at least more so than many expected, Lowry still projects as being a better fit in Nurse's system – predicated on three-point shooting and positional versatility on the defensive end.
Still, factoring in everything that would need to fall into place to make a blockbuster, franchise-altering type of deal work, the safe bet is on both DeRozan and Lowry remaining with the Raptors.
If Ujiri is looking to make a significant change to his roster, particularly in the starting lineup, a frontcourt shakeup is more likely.
Even after a season and a half, the Raptors are not sold on the Ibaka-Valanciunas pairing, according to team sources, believing both are better suited playing centre at this stage of their careers.
If it simply came down to preference, Toronto would gladly move on from Ibaka following his inconsistent 2017-18 season and disappointing playoff performance. However, finding a trade partner willing to absorb the $44.9 million he's owed over the next two seasons would almost certainly require them to take back a bad contract, or cost them additional assets – picks or young players, something Ujiri may be reluctant to do after parting with a first and second-rounder to unload DeMarre Carroll's contract a year ago.
The Raptors shopped Valanciunas last summer, only to find there was a substantial disparity between his market value and his internal value. Perhaps that gap has narrowed after the 7-footer's strong campaign. The NBA is still trending away from traditional big men, but Valanciunas took steps towards becoming a more versatile player last season – adding a three-point shot and growing as a rim protector – and, at age 26, there's still room for improvement.
Last summer they would have been happy to merely dump his contract, helping them duck the tax, but now he could (and would probably need to) return an asset.
Ibaka spent 33 per cent of his minutes at centre during a 23-game stint with Toronto in 2016-17, but saw just 13 per cent of his court time there last season – a result of the team's depth at the five, with Valanciunas starting, the emerging Jakob Poeltl coming off the bench, and Lucas Nogueira (a free agent this summer) getting spot minutes.
If they decide to split up their starting frontcourt, it might make sense to trade Valanciunas and keep Ibaka, at least from an asset management standpoint. Losing Valanciunas and what he brings would hurt – particularly on the boards, where he's become elite. The hope would be that Poeltl continues to grow in an expanded role and Ibaka starts to resemble the player they thought they were getting from Orlando with a full-time move to his optimal position – neither of which is a sure thing.
The Raptors have almost $97 million tied up in those four players – Lowry, DeRozan, Ibaka and Valanciunas – for next season. That's 77 per cent of their payroll, which currently sits roughly $3 million over the NBA's projected tax line, and that's without factoring in restricted free agent Fred VanVleet.
By all accounts, VanVleet wants to remain in Toronto and the Raptors would like to have him back, and can match any offer he gets (and they have his Early Bird rights, which allow them to go further into the tax to retain him). Thanks to the two-year deal he's coming off of, and the Gilbert Arenas provision, no team (Raptors included) can offer him more than mid-level exception (projected to be around $8.5 million) in years one or two of a new contract. While it's not especially likely in this tight cap climate, Toronto's fear is that a team likes VanVleet enough to backload a four-year offer sheet, making it tough for the Raptors to justify matching, given the tax they would have to pay on that money.
Tax is charged on an escalating scale. The more you spend, the greater percentage increase you owe. If, hypothetically, you pencil VanVleet in for an annual salary of $8.5 million, the Raptors would pay roughly $21 million in tax for the 12 players they'd have under contract, with two more roster sports to fill.
Unless they let VanVleet walk and dump another salary or two, this will be the season the Raptors finally dip into the luxury tax – they've yet to do so in the franchise's 23-year history. Of course, that doesn't mean you should expect MLSE to give Ujiri a blank cheque, especially for a team that – as it stands – isn't a legitimate title contender. Even if they do end up paying the tax, they'll look for ways to mitigate cost.
Earlier this month, TSN reported that the Raptors were gauging the market on Norman Powell ahead of the draft. His four-year extension, which will pay him $9.4 million next season, kicks in on July 1 and will make him more difficult to deal but, even after his underwhelming third NBA season, he might be young and talented enough to draw some interest.
The league issues its tax bills at the end of the season, based on team salaries after Game 82, so the Raptors could decide to start the year with a more expensive roster and still have until the February trade deadline to unload players or make moves, although those things are almost always easier to do during the summer.
As for this off-season, they've got limited resources with which to add talent or make major changes. They don't have cap space to make a run at LeBron or any big name free agent. Even if that were a realistic option, creating enough space would drain the Raptors of several assets that might make them a desirable destination to begin with.
They've got three trade exceptions, two of which expire in mid-July, including one for just under $12 million that was acquired in the Carroll deal. They can't be combined or packaged with players, but can be a useful tool if Toronto is interested in absorbing salary in a trade, perhaps from a team looking to unload useful players in order to sign a big-name free agent like, say, LeBron. However, you still have to pay tax on that money so they would have to really like that player.
All of that is to say, it's hard to envision a scenario in which the Raptors drastically alter their roster without breaking up the core four. So far, Ujiri's five-year tenure at the top of Toronto's front office has been characterized by patience and an emphasis on continuity. This could be the summer he finally veers away from that.