Raptors hand out end-of-season team awards
We asked each of Toronto's 15 players who they'd pick to win four different team awards - Defensive Player of the Year, Most Improved, Sixth Man and Most Valuable Player. So, who did they choose?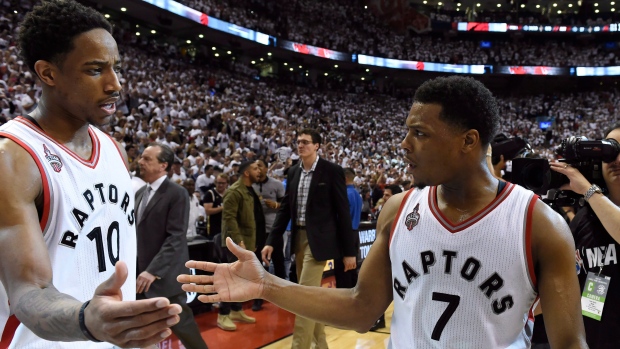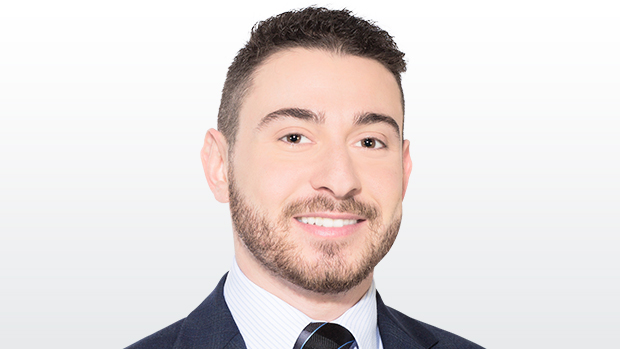 Up until recently, the Raptors were a relatively uninteresting regular season team. With the exception of a few tweaks here and there, the roster had not changed much since their breakout campaign in 2013-14. Their core remained intact and their head coach went unchanged. With continuity came anonymity and the organization was pretty thrilled about it. They just went about their business, facing little adversity along the way. You could confidently pencil them in for somewhere north of 48 wins and a top four seed in the Eastern Conference before tuning back in for the playoffs, where the narrative would finally heat up again.
Say what you will about their 2016-17 season but it certainly wasn't boring. There were ups and downs, twists and turns, injuries, trades, some infighting and - when it was all said and done - the makings of a team that just might be the best in franchise history.
That brings us to TSN.ca's annual year-end Raptors awards, which proved more challenging this season with so many guys in and out of the rotation and, for some, the lineup. We asked each of Toronto's 15 players who they'd pick to win four different team awards - Defensive Player of the Year, Most Improved, Sixth Man and Most Valuable Player. No guidelines were given. Players could vote for anyone that had appeared on the roster this season, including themselves (and a couple of them did). It's a subjective process, this season even more than in years past, with different players valuing different things. Here are the results:
MOST VALUABLE PLAYER
Players pick: DeMar DeRozan
DeMar DeRozan: 79% (11)
DeRozan/Lowry tie: 14% (2)
Kyle Lowry: 7% (1)
Fan pick: DeMar DeRozan
DeMar DeRozan: 58%
DeRozan/Lowry tie: 25%
Kyle Lowry: 17%
TSN.ca pick: DeMar DeRozan
For almost three quarters of the season this was shaping up to be a pretty tight race. DeRozan versus Lowry. Both of them were enjoying career years - DeRozan with his scoring and Lowry doing everything - that made him the consensus winner season. Then, Lowry went down and the Raptors season appeared to be on life support.
However, not only did they tread water without their star point guard, they thrived. There are several reasons why they were able to go 14-7 in his absence - Joseph, Wright, Dwane Casey, the trades for Ibaka and Tucker among them - but none bigger than DeRozan, who put the team on his shoulders. This was DeRozan at his absolute best. He wasn't just putting up numbers, he was making an impact in almost every facet of the game. His defence was improved and he was making his teammates better.
Those that voted for a tie are not wrong either. Both of these guys are crucial to the Raptors' success, now and in the future. It's hard to imagine either of them becoming this good, this valuable without the other and it's equally as difficult to envision a scenario where the team reaches its potential unless they're both healthy and playing at a high level.
Last season
Players pick: Kyle Lowry
Fan pick: Lowry
TSN.ca pick: Lowry
DEFENSIVE PLAYER OF THE YEAR
Players pick: P.J. Tucker
P.J. Tucker: 57% (8)
DeMarre Carroll: 14% (2)
Serge Ibaka: 7% (1)
Patrick Patterson: 7% (1)
Cory Joseph: 7% (1)
Kyle Lowry: 7% (1)
Fan pick: P.J. Tucker
P.J. Tucker: 61%
Serge Ibaka: 20%
Patrick Patterson: 14%
Lucas Nogueira: 5%
TSN.ca pick: P.J. Tucker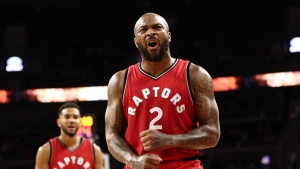 The argument against Tucker here is simply that he's only been in Toronto for seven weeks. The counter: Up until he (and Serge Ibaka) arrived, the Raptors' defence wasn't good enough to justify rewarding anyone that had been around longer. They went from the 16th ranked team in defensive efficiency prior to the trade deadline - below league average - to third in the 24 games since, just behind the NBA's elite: Golden State and San Antonio.
So why Tucker over Ibaka? While Ibaka leads the team in blocks since the all-star break and has solidified the backend of their defence, he also has a tendency to take the occasional play off, something you won't see Tucker do. Tucker is a nightmare for opposing players. He's a tough, physical and relentless defender, who takes great pride in his work on that end of the floor. The Raptors are allowing 99.2 points per 100 possessions with the veteran forward on the floor - the best mark on the team among players that have logged at least 600 minutes. Over the course of a full season, his defensive rating would rank sixth in the NBA - just ahead of Draymond Green - and third among non-bigs.
Although some players were clearly reluctant to give this unofficial honour to someone that just got here, it's telling that more than half of them settled on Tucker while only one selected Ibaka. Tucker's leadership qualities are what put him over the top in this category. He's raised the bar defensively and, as a result, he's brought out the best in his new teammates, particularly DeMar DeRozan, who's called Tucker one of the top three perimeter defenders he's ever faced. What Tucker brings is contagious: the effort, intensity and passion - things the Raptors had desperately missed without Bismack Biyombo, last season's consensus winner of this award.
Last season
Players pick: Bismack Biyombo
Fan pick: Biyombo
TSN.ca pick: Biyombo
MOST IMPROVED PLAYER
Players pick: Delon Wright
Delon Wright: 36% (5)
Norman Powell: 29% (4)
Lucas Nogueira: 14% (2)
DeMar DeRozan: 7% (1)
Jonas Valanciunas: 7% (1)
Jakob Poeltl: 7% (1)
Fan pick: DeMar DeRozan
DeMar DeRozan: 49%
Delon Wright: 30%
Norman Powell: 11%
Lucas Nogueira: 10%
TSN.ca pick: DeMar DeRozan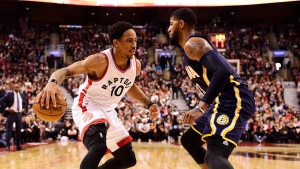 How many times have you put a ceiling on DeRozan's upside over the years? We're all guilty of it. How many times has he broken right through it? At 27 years of age and in his eighth NBA season - by far his best yet - the three-time All-Star continues to get better. The evolution of his game has been a joy to watch. DeRozan's blossomed into one of the NBA's elite scorers. He's fifth in the league averaging 27.3 points per game and, despite attempting more field goals than all but one player (Russell Westbrook), he's still shooting an efficient 47 per cent, the highest since his rookie year. He recently broke Vince Carter's single season franchise record with 32 games of 30 or more points. He's also got seven 40-plus point games, five more than he had in his first seven seasons combined.
There was a time when the thought of him putting the ball on the floor or taking a crucial shot late in the game would make people nervous, justifiably so. Now, he's tightened his handle and has little difficulty getting to his sweet spots on the floor, even in the clutch. DeRozan is shooting 49 per cent in crunch time (leading or trailing by five points or less in the final five minutes of the game) this season. That's the highest of any player ranked top-10 in shot attempts in those situations and an impressive 10 per cent increase on last year. In 21 games without Kyle Lowry, DeRozan's maturity and growth as a player came through. He faced more defensive attention than ever before, yet rarely looked flustered, often acting as the team's de facto point guard.
Although Delon Wright and Lucas Nogueira also showed improvement this season, their emergence was mostly a function of opportunity, and the sample size for both was relatively small. Meanwhile, the Raptors don't win 50 games or finish in third place in the Eastern Conference if not for the significant step forward DeRozan took this year.
Last season
Players pick: Patrick Patterson
Fan pick: Jonas Valanciunas
TSN.ca pick: DeMar DeRozan
SIXTH MAN
Players pick: Cory Joseph
Cory Joseph: 86% (12)
Patrick Patterson: 7% (1)
Jakob Poeltl: 7% (1)
Fan pick: Cory Joseph
Cory Joseph: 55%
Norman Powell: 21%
Patrick Patterson: 17%
Terrence Ross: 7%
TSN.ca pick: Cory Joseph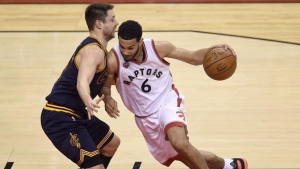 A clean and well-deserved sweep for Joseph, who earned the player and fan vote while also getting the nod from us. After a disappointing first half to his second season as a Raptor, Joseph actually ran away with this award during his stint as a starter. Ironic as that may be, he still came off the bench in 58 of the 80 games he played (73 per cent) so he certainly qualifies and there's no one that stepped up more when the team needed him the most - the mark of any great sixth man. Joseph was tasked with filling in for Lowry after the All-Star point guard underwent surgery and he didn't look out of place, averaging 11.2 points, 3.8 rebounds and 5.0 assists on 48 per cent shooting. Toronto outscored opponents by 71 points with the local product on the floor - a team-best over the 21-game stretch Lowry missed.
Over the past two seasons, Joseph has established himself as one of the league's premier backups, at any position. He probably won't get much love for the real award because he's not a high volume scorer like the guys that tend to fare well in Sixth Man voting - the Jamal Crawford, Lou Williams, Eric Gordon types - but he's proven to be every bit as valuable on account of his defence and versatility.
Patrick Patterson is the runner up here but missed 17 games with a knee injury and hasn't looked like his old self since, at least not consistently. Terrence Ross and Tucker both gave Toronto a spark off the bench, albeit on opposite ends of the floor and for half a season each, as did Norman Powell when he was able to crack the rotation.
Last season
Players pick: Cory Joseph
Fan pick: Patrick Patterson
TSN.ca pick: Patterson
PLAYER BALLOTS
Kyle Lowry
Defensive Player: Joseph
Most Improved: Wright
Sixth Man: Joseph
MVP: DeRozan
DeMar DeRozan
Defensive Player: Carroll
Most Improved: Wright
Sixth Man: Joseph
MVP: Lowry
DeMarre Carroll
Defensive Player: Patterson
Most Improved: Nogueira
Sixth Man: Joseph
MVP: DeRozan
Serge Ibaka
​Declined to participate having only been with the team for 24 games.
Jonas Valanciunas
Defensive Player: Tucker
Most Improved: Wright
Sixth Man: Joseph
MVP: DeRozan
Cory Joseph
Defensive Player: Carroll
Most Improved: Wright
Sixth Man: Joseph
MVP: DeRozan
Patrick Patterson
Defensive Player: Ibaka
Most Improved: Valanciunas
Sixth Man: Joseph
MVP: DeRozan
P.J. Tucker
Defensive Player: Lowry
Most Improved: Wright
Sixth Man: Joseph
MVP: DeRozan
Norman Powell
Defensive Player: Tucker
Most Improved: Nogueira
Sixth Man: Joseph
MVP: DeRozan/Lowry tie
Jakob Poeltl
Defensive Player: Tucker
Most Improved: Poeltl
Sixth Man: Patterson
MVP: DeRozan
Delon Wright
Defensive Player: Tucker
Most Improved: DeRozan
Sixth Man: Joseph
MVP: DeRozan
Lucas Nogueira
Defensive Player: Tucker
Most Improved: Powell
Sixth Man: Joseph
MVP: DeRozan/Lowry tie
Pascal Siakam
Defensive Player: Tucker
Most Improved: Powell
Sixth Man: Poeltl
MVP: DeRozan
Fred VanVleet
Defensive Player: Tucker
Most Improved: Powell
Sixth Man: Joseph
MVP: DeRozan
Bruno Caboclo
Defensive Player: Tucker
Most Improved: Powell
Sixth Man: Joseph
MVP: DeRozan