Raptors even series with Cavaliers
Kyle Lowry scored a game-high 35 points and added five assists and five rebounds to lead the Toronto Raptors past the Cleveland Cavaliers 105-99 on Monday in Game 4 of the NBA's Eastern Conference final.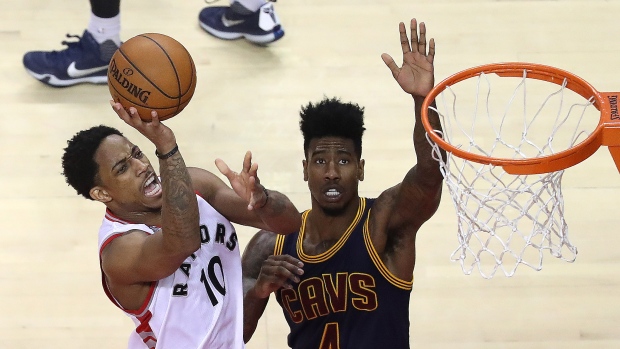 TORONTO — The Toronto Raptors say they never stopped believing — even when it seemed like no one else did.
On a night that marked their most dramatic game of this historic post-season run, the Raptors clawed their way back to even up the NBA Eastern Conference finals with a 105-99 victory over Cleveland on Monday.
"Someone mentioned that we were in it just to win one game, we're in it to compete for a championship," coach Dwane Casey said. "Nobody gives us a snowball's chance in you know where to beat Cleveland."
Kyle Lowry scored 35 points, while fellow all-star DeMar DeRozan added 32. DeMarre Carroll chipped in with 11 points, while Bismack Biyombo hauled down a game-high 14 rebounds in a thrilling victory that came just two games after the Raptors had been all but written off.
"Honestly, we've been playing with our backs against the wall. We never cared what nobody else thought," DeRozan said. "It was a challenge for us every single day. We've been counted out, and we liked that challenge."
Few picked the Raptors to steal more than a token win against the Cavs, who roared red-hot into the conference finals having swept Detroit and Atlanta.
Toronto dropped Games 1 and 2 in Cleveland by a combined 50 points, and it seemed the Raptors were writing their obituary. But bolstered by the hometown crowd, they won Game 3 in dominant fashion.
Backed by Lowry's sharp-shooting on Monday, the Raptors raced out to an 18-point first half lead. But the Cavaliers, who'd made just three of their 22 three-point shots in the first half, started hitting from long distance. And when Kyrie Irving drained two in a row, he pointed at Drake — the Toronto rapper and Cavs heckler — as he ran back upcourt.
The Raptors led 78-69 to start the fourth, but when Channing Frye drained three straight threes, and James scored on a driving layup with 8:20 left, the Cavaliers took their first lead of the game.
"At the beginning of the fourth quarter, we lost our composure," Casey said. "When we put the starters back in, they regained their foothold. I thought that was huge for us. I've always said: compete with poise, stay consistent with your emotions. That's paying dividends for us now as we go through this tough series with a great Cleveland team."
Toronto hit back with five straight points to take a three-point advantage into the game's final three minutes. The Raptors were up by four with a minute to play and their defence came up huge, with a couple of key rebounds and a Biyombo block.
Lowry drove to the hoop for a basket with 23 seconds left, to the ear-splitting roar of the Air Canada Centre crowd, and was fouled on the play. He missed both free throws, but crowd didn't care — they saluted him with chants of "M-V-P!"
"No matter what, we're confident," Patrick Patterson said. "When we were down 0-2, we were still confident. We're always going to believe in ourselves. We're always going to have faith that we can win — whether we're down, whether we're on the road, whether we're home, we're going to constantly believe that we can win."
Game 5 is Wednesday in Cleveland, then the series returns to Toronto for Game 6 on Friday.
The post-season has been a roller-coaster for the Raptors, especially Lowry and DeRozan. The two were asked what has been their steadying force.
"Understand the work that we've put in. I know the work he's put in and I know the work I've put in," Lowry said. "You can't go away from that. The things that we've learned is one game, two games erases everything that has happened before."
"We can take the bad with the good any day," DeRozan added. "It's life, man. You can't get too down when things not going your way, but you understand the work that you put in all summer, all throughout the season, for moments like this.
"I always told this guy (Lowry) when we were struggling, it's not about now, as long as we've got an opportunity to keep playing, we've got an opportunity to make up for this."
A day after Casey was fined US$25,000 for criticizing the officiating, the referees drew the ire of Toronto fans once again.
The Raptors didn't go to the free throw line once in the first half — a rare occurrence. According to Elias Sports Bureau, the last time a team led by at least 15 at halftime in a conference finals without a free throw attempt was Milwaukee in 2001 versus Philadelphia.
When the Cavs were whistled for their first foul, the crowd gave the referees a sarcastic standing ovation.
The ACC crowd, all in white, was in full voice from the opening tipoff, and included NFL legend Terrell Owens and Buffalo Bills running back LeSean McCoy, Edmonton Eskimos quarterback Mike Reilly, Toronto FC star striker Sebastian Giovinco and actor Stephen Amell, star of the superhero TV drama Arrow.
The Raptors raced out to another strong start, shooting 52 per cent in the first quarter, and holding the Cavs to 21 per cent from three-point range. Toronto took a 27-24 lead into the second.
The Raptors kept up a torrid pace in the second, and when Lowry scored on a step-back jumper with 32 seconds to play in the half, the bucket boosted Toronto's advantage to 18 points. They headed into the locker-room up 57-41.