Raptors hold off Wiggins, Timberwolves
The Toronto Raptors spoiled the Andrew Wiggins homecoming Wednesday night and continued their recent mastery of the Minnesota Timberwolves in the process. Jonas Valanciunas had a double-double with 15 points and 15 rebounds and DeMar DeRozan added 21 points in a 105-100 Toronto victory.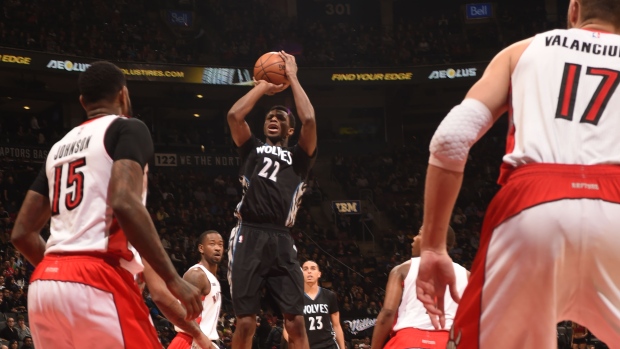 TORONTO - All eyes were on Canada's Andrew Wiggins on Wednesday night for his first game in Toronto as a pro.
But it was teammate Kevin Martin who nearly stole the show as a feisty Minnesota side gave the hometown Raptors all they could handle before coming up just short at Air Canada Centre.
Greivis Vasquez hit a key three-pointer with 55.9 seconds left to play to help Toronto hang on for a 105-100 victory. Jonas Valanciunas had a double-double with 15 points and 15 rebounds and DeMar DeRozan added 21 points for the Raptors.
It was a sloppy game loaded with turnovers and missed opportunities. Toronto appeared to be playing down to its opponent and it nearly proved costly.
"We didn't set the tone defensively," said head coach Dwane Casey. "We allowed them to come out and set the tone offensively. They got a rhythm offensively and once you let a great scorer like Kevin Martin get going, it's kind of contagious and the rest of the guys start shooting the ball well.
"We waited until the end to try to turn the heat up and you can't do that in the NBA."
Martin led all scorers with 37 points. The Timberwolves, last in the Western Conference standings and missing seven players due to injury or illness, trailed by 10 points midway through the fourth quarter but cut the Toronto lead to two with 2:01 to play.
DeRozan answered with a rainbow jump shot and after a quick steal, Lou Williams scored on a layup to give the Raptors a six-point lead. Minnesota came back again before Vasquez hit a three-pointer as the shot-clock expired to let the sellout crowd of 19,800 breathe easier.
"It was a close game but we had to come down, execute, get stops and rebounds," DeRozan said.
Wiggins, the 20-year-old forward from nearby Vaughan, Ont., showed flashes of his sky-high potential but was hampered by early foul trouble. The first overall pick in last year's NBA draft had 15 points on the night.
"It felt welcoming, I already love playing in Toronto," Wiggins said. "I'm already loving playing where I'm from ... even though we didn't win the game, I still feel appreciated and had fun."
Toronto guard Kyle Lowry left the game midway through the third quarter with a back contusion and did not return. Casey said he'll be re-evaluated Thursday.
The Atlantic Division-leading Raptors improved to 41-27 by beating the Timberwolves for the seventh straight time and 11th time in a row at home.
Toronto remained a half-game up on fourth-place Chicago in the Eastern Conference standings as the Bulls beat the Indiana Pacers 103-86. Minnesota fell to 14-53.
The Raptors led by as many as seven points in the early going but Martin's hot shooting kept the Timberwolves close. He hit four three-point attempts and had 18 points in the first quarter, the most by a Toronto opponent in any quarter this season.
The Timberwolves led 32-31 after one quarter. Early in the second, Lowry hit a three-pointer to put Toronto ahead 41-36 but miscues and missed shots let Minnesota hang around.
Lorenzo Brown hit a putback at 2:18 to give the Timberwolves a 50-48 lead. A sloppy half marked by 18 turnovers closed with the teams tied at 54.
Valanciunas provided some spark early in the third quarter, using his size in the low post and scoring back-to-back buckets to cap an 11-2 run that put Toronto ahead 65-56.
In the fourth, Terrence Ross hit a three-pointer with 9:25 left and fed Amir Johnson for a dunk on the next possession as Toronto stretched its lead to double digits. Martin hit one of his five three-pointers to cut the deficit to four points with 7:39 left to play.
Minnesota forward Anthony Bennett of Brampton, Ont., didn't play due to an ankle injury. Former Raptors head coach Sam Mitchell ran the Minnesota bench with Timberwolves coach Flip Saunders away from the team for personal reasons.
Notes: Lowry and Minnesota's Chase Budinger were assessed technical fouls after jawing at each other at the end of the first quarter. ... Prime Minister Stephen Harper was in attendance. ... The Raptors will visit Chicago on Friday before returning home for a game Sunday against the New York Knicks. The Timberwolves will continue their road trip Thursday in New York. ... Toronto improved its all-time record vs Minnesota to 25-12 and 17-3 at home. ... Wiggins became the 15th Canadian to appear in a regular-season game in Toronto since 1995.
___
Follow @GregoryStrongCP on Twitter.