Raptors' Ibaka excelling in new centre role as a full-time five
After being used almost exclusively as a power forward last season, Serge Ibaka has been an early-season standout with the Toronto Raptors in his new position – playing centre in the team's first four games, which has increased not only his production but also his comfort level, TSN Raptors Reporter Josh Lewenberg writes.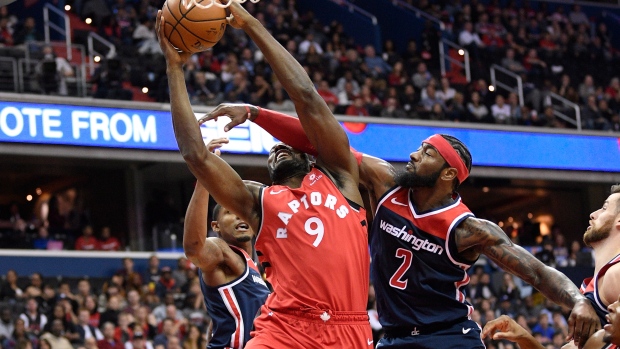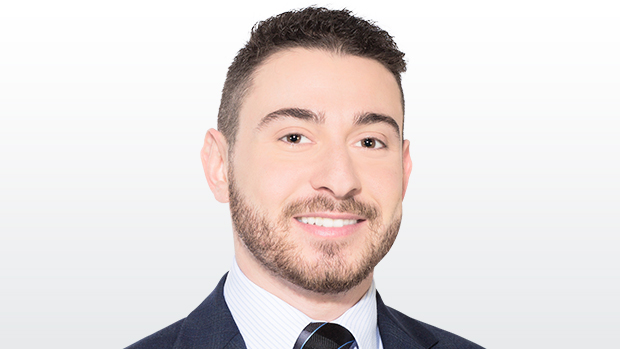 TORONTO – In the weeks following his mid-summer promotion to head coach, Nick Nurse travelled around to meet with each of his players face-to-face.
Of course, after five years as an assistant with the Toronto Raptors, he already had a level of familiarity with most of them. This was more about getting on the same page and sharing his vision for the team ahead of the upcoming season.
The last player he visited was Serge Ibaka, but it was also his longest, and arguably most important, stop on the tour. Nurse spent nearly a full week with Ibaka in Miami, where the veteran big man trained for most of the summer.
Among other things, they discussed a possible position change that would alter Ibaka's role in Toronto's rotation. Nurse proposed the idea of using Ibaka at centre more often in 2018-19, a plan the 29-year-old was on board with, even if it meant having to split time with Jonas Valanciunas or come off the bench. After all, it's something he had been clamouring for since the Raptors acquired him from Orlando in February of 2017.
"I was happy," Ibaka recalled. "I didn't expect to play [centre] full-time, but I was expecting to play [it more]."
Through four games, Ibaka's been an early-season standout, and he's done it exclusively at his new position. All 113 of his minutes have come at centre, where he and Valanciunas have alternated starting duties. Despite the platoon, his production is up, and so is his comfort level.
"I'm playing the way I like to play basketball," said Ibaka, the last player in the gym after getting a long workout in following Tuesday's practice. "It's not like you only have to pop or do certain things. Now I can be myself. If I want to pop I'm just going to have to read and then pop or roll. Even on defence sometimes I'm playing inside of the paint, sometimes I'm outside. So I like that better."
Ibaka's move to the five had been a long time coming. He and the team first talked about it in his exit meeting following the 2016-17 season, and then again after they re-signed him a few months later. With the league trending towards a smaller, quicker, more versatile brand of basketball each passing year, both parties agreed it was becoming Ibaka's optimal position.
The only thing that stood in the way of making it happen a year ago was Toronto's frontcourt depth. With three traditional centres on the roster, Ibaka was almost exclusively a power forward last season, whether he – or the team – liked it or not.
Only 13 per cent of his minutes came at centre, according to basketball-reference.com, with the rest of them coming alongside one of Valanciunas, Jakob Poeltl or Lucas Nogueira.
With one of the seven-footers occupying valuable real estate in the paint, Ibaka was relegated to the perimeter, on both ends of the court. Defensively, he would often be tasked with guarding the opposition's stretch big, pulling him away from the bucket and essentially negating his biggest strength as a rim protector. On offence he was asked to create space, which usually meant waiting to spot-up on the elbow or at the top of the arc and launching threes.
The evolution of Ibaka's jump shot is certainly not a bad thing, especially in the modern NBA. It's given him another valuable weapon that he didn't have earlier in his career. However, it can also take away from some of the things that made him such a dominant force around the rim during his time with Oklahoma City.
"It's hard when you have to play in a way you are not used to playing," he said of the last few seasons, having been converted to a stretch big after years of playing off his athleticism in OKC. "And it's like 'Oh, you have to do this' when you feel like you can do more than just that. It's good that people think I can shoot, but I can also roll, I can finish inside, I can shoot two pointers. And same with defence: I can switch, which is good, but I can also protect the paint, too. So it's just giving me more flexibility to play my game."
As the lone big on the floor for the Raptors this season, Ibaka's had more freedom to operate and utilize his entire skill sit. It's still early and the sample size is very small, but so far he's taking fewer three-pointers (2.3 per game, down from 3.9 last year), getting to the line more often (4.8 attempts, up from 1.6), and scoring more in the paint (9.0 points, which leads the team, up from 4.6).
He's also looked more aggressive. Whether that's a product of the additional space he has to work with or his off-season training, it's a welcomed sight for the Raptors. His screen assists are way up (3.8 per game, 12th best in the NBA, up from 1.4 last year, ranked 100th in the league) and he's crashing the offensive glass more than ever before (grabbing nine per cent of available offensive rebounds, up from 3.7). Defensively, he's also had a bigger impact.
"The biggest thing for him is letting him block more shots, or at least rim protect, and allowing him to rebound a little bit more," Nurse said. "With all of the switching going on, he's doing a nice job of punishing smaller players on the basket off the rebounds."
Initially the plan was to try and find more minutes for Ibaka at centre, here and there. When Nurse met with him in mid-July, the Raptors were looking at replacements for Poeltl, including Greg Monroe, who they ultimately signed to serve as the backup centre behind Valanciunas. That was the expectation until training camp, when Ibaka began to shine in his reps at the five, so Nurse and the coaches made the call to use him there full time.
"I think he looked good there," Nurse said. "Watching the games, watching practice and watching the pre-season, I just think he looked very good there, maybe better than he looked at the four. We just kind of kept rolling with it."
So far, it's worked. Ibaka's averaging 15.3 points, 7.5 rebounds and 1.5 blocks on 50 per cent shooting – all significant improvements on his numbers from last year. Although he's come off the bench in a couple contests, he's averaging 28.3 minutes and was on the court to close all three of the games that were competitive in the fourth quarter.
"I'm going to be honest with you, it's not that easy," Ibaka said of coming off the bench. "It's a little tough. But if it's good for the team, we are winning right now, so I just have to focus on that and just be ready when my name is called."
Meanwhile, Valanciunas has also remained productive, albeit in limited time, averaging 10.8 points and 8.5 rebounds on an efficient 59 per cent shooting in 18.3 minutes.
After playing 1,476 minutes and starting 72 games in the frontcourt together last season, the two bigs have yet to share the court this year. Instead, Nurse is using the matchup and game situation to dictate when he goes with the more traditional look in Valanciunas, and when he turns to the more defensively versatile Ibaka.
Coming off a disappointing campaign, Ibaka went into the summer hell-bent on bouncing back. By all accounts, he had a strong off-season. His conditioning remains excellent and he put in plenty of work on his game. Not lacking in motivation, Ibaka hopes to have the season many were expected from him last year. A full-time move to his optimal and preferred position puts him in the best spot to do that.
"I am enjoying it," Ibaka said. "Yeah, I'm enjoying it, of course. That is the only way, man. That is the only way. And after what happened last year, that's the only way, is to forget about last year, just focus on today, come with a fresh mind, enjoy it and try and play hard."