Raptors ink Powell to $42M extension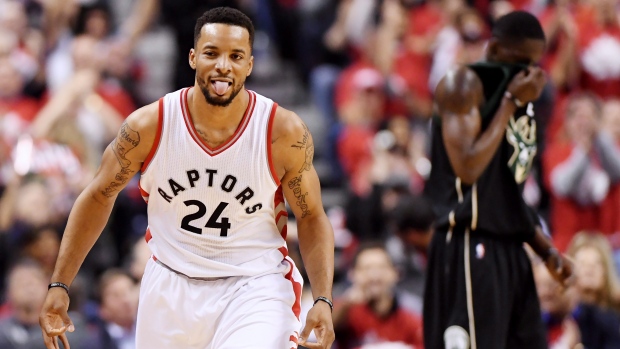 TORONTO – In a deal that makes sense for both parties, the Toronto Raptors agreed to a four-year, $42-million extension with emerging guard Norman Powell on Thursday, as reported by ESPN.
This is the maximum extension Powell was eligible for going into his third NBA season and the final year of his rookie contract. It's also an offer that's been on the table since July, team sources told TSN. For Powell, it came down to whether he was comfortable with the risk/reward scenario of playing out his contract season unsigned.
In the end, the 24-year-old opted for long-term security. A second-round pick in the 2015 NBA draft, Powell made just over $1.5 million in his first two seasons with Toronto but stands to earn roughly $43.5 million over the next five. Powell is expected to have an opt out ahead of the fourth year in this new deal, allowing him to become an unrestricted free agent in 2021, when he'll be just entering his prime at 28.
Meanwhile, the Raptors get great value on a player they're high on and one who could have been more expensive to retain next summer. In extending him now, the Raptors prevent Powell from hitting restricted free agency, where he may have been able to score a more lucrative offer, especially if he breaks out this season as many are predicting.
Powell averaged 8.4 points, 2.2 rebounds and 1.1 assists, playing 18.0 minutes in 76 games (18 starts) as a sophomore last season. However, those minutes were sporadic as his role fluctuated throughout the year and into the playoffs, not unlike his rookie campaign.
With the departure of several veteran rotation players over the summer, Powell is in line for an expanded role this season. Whether he starts at small forward or comes off the bench as a focal point of Toronto's young second unit, the former 46th pick should see consistent playing time for the first time in his career.
His value, at least to this point, is speculative in that no one can know for sure how he'll fare as a regular rotation player. However, the Raptors have always been enamoured with Powell's approach, maturity and work ethic – qualities that should ensure a successful transition in this new opportunity and the biggest reason they are comfortable betting on him.
"I'm ready for it," Powell told reporters on media day last month. "It's what I've worked for. It's what I've fought for my first two years. I've worked; I've pushed myself in a totally different way this off-season. I'm preparing myself for a full 82-game season, for increased minutes, taking care of my body, just training and trying to improve. So I'm ready for it. I'm approaching it the same way I approach everything. So I'm excited to get the season started."
While the Raptors project to avoid the luxury tax this season, their estimated $124 million in guaranteed contracts for 2018-19 is well over it, meaning they could be in the market to unload salary - perhaps the contract of Jonas Valanciunas - again next summer.