Raptors know better than to take Bucks lightly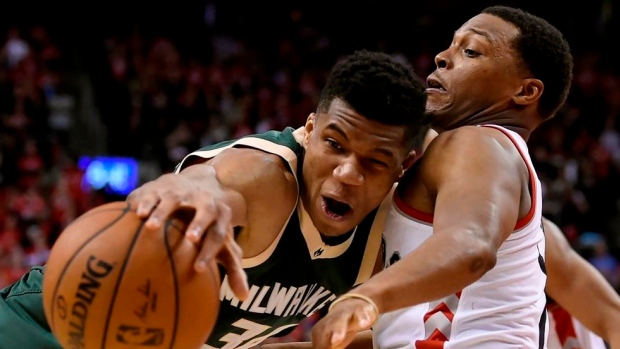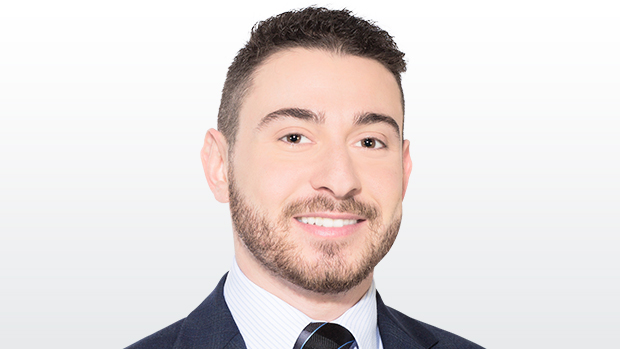 TORONTO - A week ago most Raptors fans didn't know much about the Milwaukee Bucks.
Most were familiar with their best player, even if they couldn't pronounce or spell his name correctly. Most remembered their head coach as the guy that beat Toronto in a 2014 playoff series and once spilled soda on the court, intentionally.
They're a young, small-market team without many household names or much post-season success and, as a result, they are easily overlooked. So, for most, they were. Some people were of the belief that the Raptors would make quick work of them and cruise past the first round but, after two games, it's clear Milwaukee deserves a whole lot more credit.
Catch Game 3 action LIVE tonight on the TSN Network at 8pm ET/5pm PT.
"They play really hard," said forward P.J. Tucker following Toronto's Wednesday afternoon practice. "They're really good at what they do and they're gonna keep coming. They don't stop playing. They play really hard the whole entire game. They shortened their lineup a little bit so they're playing most of their guys 40 minutes a game, and they're gonna come at you."
So far, they have and, at least internally, no one is surprised. Whether fans or even members of the media can say the same, the Raptors expected a competitive series, which is exactly what this is shaping up to be. After the Bucks ran away with an upset victory in Game 1, Toronto bounced back to even the series on Tuesday, albeit in nail-biting fashion. With the series shifting to Milwaukee for Thursday's Game 3, the underdogs have stolen home-court advantage. If they didn't have it already, they are earning your attention.
The Raptors looked much better in Game 2, although they set the bar pretty low three days earlier. They moved the ball, held Giannis Antetokounmpo in check - relatively speaking - and got big performances out of their struggling stars, Kyle Lowry and DeMar DeRozan, who both hit clutch shots in the final 90 seconds to seal the win. For most of the night it felt like their lead should have been bigger but every time they started to pull away, the Bucks fought right back.
That's what has impressed about this Milwaukee team, perhaps as much or more than anything they did in the first game. They didn't face much resistance in Saturday's opener, so the question going into the rematch was: how would they respond when Toronto finally turned up the heat? Neither the 22-year-old Antetokounmpo or his young team looked their age.
Although the Raptors were the better team on Tuesday, there's a sense that they were fortunate to come away with the win, and the reality is the game could have certainly gone the other way. Malcolm Brogdon, who was excellent in Game 1, and Matthew Dellavedova both missed wide-open threes in the final minutes and Antetokounmpo failed to take advantage of a mismatch with Lowry on the switch. With a break or two in the opposite direction, the Bucks surely feel like they could have been going home up 2-0 in this series, and it's hard to argue with that logic.
Alas, the Raptors should also feel pretty good about where they're at. Word on the visiting side - from Bucks reporters, broadcasters and even their coach Jason Kidd - is that Game 1 was some of the best basketball they have played all season, if not the best. Have we seen Toronto at its best in this series? No, probably not.
That's not to say Milwaukee won't continue to rise to the occasion, or that the Raptors will ultimately reach their ceiling, but - with the series evened up - one team seems to have more room for improvement. As Lowry continues to work his way back and get in sync with Tucker and Serge Ibaka, the hope is that their best is yet to come.
"For us, we see a little bit of how we can play," Tucker said. "We don't feel like we played a great game. We won and that's great, but we want to get better. For us, it's just taking it to another level still."
The pressure has been and will continue to be on the favoured Raptors while the Bucks look to play spoiler. If nothing else, you can count on Milwaukee putting up a fight and making things interesting. This is still Toronto's series to lose but now, more than ever, it's clear: if they're not careful, it's far from a lock.
"It's going to be a battle," Dwane Casey said. "We've got to be ready for war. It's not going to be easy. The game is not going to be pretty. We don't want a pretty game. You talk about execution, that's what the playoffs are about: playing after the execution is not there. Teams are going to take away your first option and probably your second option. After that it's just about playing basketball. I thought our physicality was better. We're going to have to take it up to another level to make it a grind-it-out game.
"Like I told the guys, it's not going to be a picnic and if anybody's looking for a picnic they're in for the wrong type of party. It's going to be a battle, a war and we've got to go in with that mentality. The only friends they're going to have is the guys in the film room earlier."