Raptors may have to sell a veteran on reserve role
First-year head coach Nick Nurse says that Kyle Lowry and recently acquired superstar, Kawhi Leonard, are the only players on the roster that are locked into a starting spot. Josh Lewenberg has more on the other three spots up for grabs.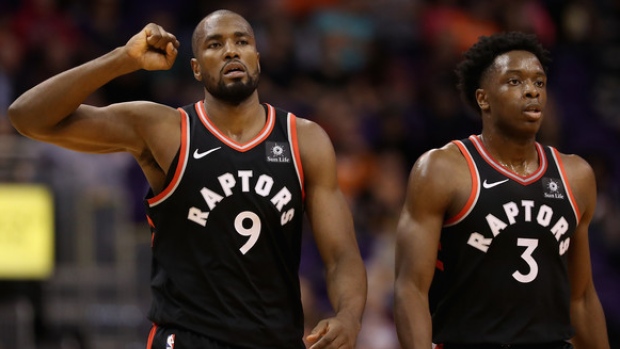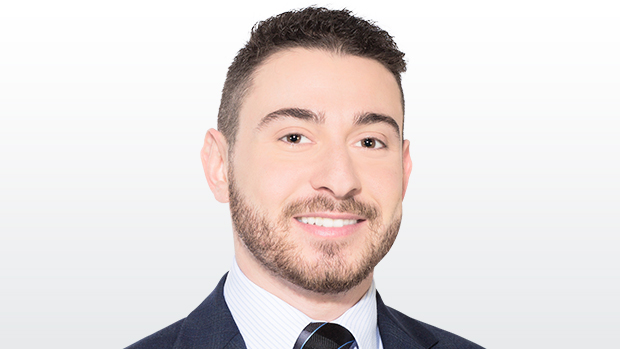 LAS VEGAS – As the dust settles from the aftermath of biggest trade in franchise history and the opening-night roster begins to take shape, Raptors head coach Nick Nurse has done the math.
Toronto currently employ five players that started at least 60 games last season, and that's not including newly acquired superstar Kawhi Leonard, who has started all but two of the 343 games he's played since his sophomore campaign.
"We've got six starters right now," Nurse told TSN and the Toronto Star in an extensive interview from Las Vegas this week. "We've got six guys that are used to starting, and we've got probably three more that could start, maybe more."
It remains more of a luxury than a problem – the Raptors were one of the NBA's deepest teams last season and have arguably gotten more talented over the summer – but it will be an interesting challenge for the first-year head coach to navigate.
"I've already talked to a couple of these guys about it, but I want us to be more open minded other than saying, 'Well, I'm a starter, and I'm not going to be happy unless I start every game'. If we all [say] that then we'll certainly have somebody that's unhappy. Somebody [would] be really unhappy, because we have six and I think we can only start five, right?"
Correct.
As it stands now, Leonard and Kyle Lowry – the team's all-stars – are the only two players locked into a starting spot, according to Nurse. The other three spots are still up for grabs, and could even remain fluid throughout the season.
Of the other four players with starting experience – Serge Ibaka, Jonas Valanciunas, OG Anunoby and Danny Green – you might think one of Anunoby or Green would be the logical odd man out. Soon-to-be-sophomore Anunoby is the youngest of the four, and Green is newest to the team, and is coming off a groin injury that slowed him in San Antonio last season.
However, provided good health, it shouldn't take long for Green to endear himself to Nurse. He's a 40 per cent career three-point shooter and is one year removed from being selected to the NBA's All-Defensive second team. He would seem to be a nice fit in Nurse's system and should step into DeMar DeRozan's vacant spot alongside Lowry in Toronto's backcourt. Meanwhile, Nurse shifted Anunoby to power forward in Summer League, and liked what he saw. Anunoby may be better suited as a small-ball four as long as his outside shooting and ball handling remain a work in progress.
A year ago at this time, Valanciunas seemed like he was destined for a bench role – a throwback centre on a team that wanted to play faster and spread the floor. However, he showed significant progress in several facets of the game last season, proving he could adapt and fit into Toronto's new system. He also has a fan in Nurse, who has spent more time with the 7-footer than any coach since taking over as an assistant under Dwane Casey in 2013.
"I'm still on the JV train, for sure," Nurse said. "I thought he made his biggest leap forward last year. I don't know if his numbers were that much better, I don't think they were, but just overall you felt better about him being on the floor. He felt better, he looked better, he just felt like more of a basketball player, [rather] than just running up and down, posting up and not getting the ball, and running back, and running down. He's moving, and he's swinging, and he's rolling, he's catching, he's kicking. He just looks like more of a basketball player."
That leaves Ibaka as the most likely candidate to open this season coming off the bench.
Nurse, who's had a busy summer traveling around to meet with each of his players, stopped in Vegas for roughly 24 hours on Friday to watch the second day of USA Basketball's minicamp and catch up with Lowry, but he spent most of the previous week in Miami visiting with Ibaka.
One of the things they spoke about is the possibility of Ibaka transitioning to a new role this season, something Nurse said the nine-year veteran was open to.
Ibaka has started 551 straight regular season games and hasn't come off the bench since 2011 - his second year in the league, although he briefly lost his starting job in the playoffs last spring.
Ibaka's first full season as a member of the Raptors was an inconsistent one, to put it generously, and ended with a disappointing showing in the playoffs. Nurse raved about the work Ibaka has put in this summer, the obvious caveat being that this is the time of year when most players are said to be in the best shape of their lives.
He can still be a valuable player when he's at or close to his best, and with nearly $45 million remaining on his contract over the next two years he's probably not going anywhere anytime soon. So, the question is: how do you get the most out of him?
At this stage of his career, and with the way the NBA game has evolved, the Raptors have long believed Ibaka's optimal position is at centre. However, with three full-time fives on the roster last season – Valanciunas, Jakob Poeltl and Lucas Nogueira - Ibaka saw just 13 per cent of his playing time at centre, down from 33 per cent during his 23-game stint with Toronto the year before.
With Poeltl off to San Antonio, and as the roster stands today, Ibaka projects to see more time there this season, whether he starts or comes off the bench.
That said, the Raptors have never been sold on the Valanciunas-Ibaka pairing. Moving Ibaka to the second unit – where he could anchor the defence and space the floor next to Delon Wright, Pascal Siakam, Fred VanVleet and C.J. Miles – would allow Nurse to stagger his two bigs.
Expect to see plenty of lineup variations with one traditional big and four interchangeable guards or wing players, as Nurse looks to capitalize on the team's newfound versatility. Leonard and Green can both play three positions and comfortably defend or switch onto at least four. Siakam can do the same. Their four point guards – Lowry, Wright, VanVleet and Lorenzo Brown – are all plus-defenders and can share the floor, with Wright even playing some small forward.
There was a time when the Raptors would have been reluctant to throw Valanciunas out there as the lone big in those smaller lineups, but that is no longer the case, especially under Nurse, and especially with better perimeter defenders around to take the pressure off of him.
"They sent me over, I don't know how many years ago, to Lithuania for a couple weeks to work him out and I said, 'No post-ups, two weeks of no post-ups'. And he's like, 'What do you mean?'. And I'm like, 'Well, I know you're going to do that stuff, everybody who coaches you chains you to the block and throws you the ball, and you do your little running hook'. I said, 'I wanna have you trail on the plays, I wanna have you dribble the ball, I wanna see what you can do in (dribble handoffs), I wanna see how you can shoot, let's shoot some threes, let's expand a little bit just to see what it looks like'. So I kinda knew a few years ago he could do a lot more of that stuff, and we just didn't do the system change until last year."
"I think he'll come back with such a far head start this year, because I don't think we were even sure he was going to be able to handle handling the ball that much. And now we know he [can], and now he knows he's capable of doing it."
It should also be noted that opening night is still two and a half months away, and they are not yet a finished product. The Raptors are open to making another significant move, should the right one present itself. Even if they stand pat, they still have up to two spots open, although they're only expected to fill one, allowing them to go into the season with 14 roster players and another two on two-way deals (one of which will be guard Jordan Loyd, as first reported by Blake Murphy of Raptors Republic earlier this week).
With 13 players on guaranteed or partially-guaranteed deals, the Raptors are looking to fill that 14th spot with another big and have shown interest in a number of available players, including former Pistons centre Greg Monroe, according to league sources. Monroe, one of the biggest names left on the market, wouldn't address their most pressing frontcourt need - rim protection - but could give Toronto another experienced and gifted scorer, and some more depth, off the bench. They can use the smaller mid-level exception of up to $5.3 million to sign another player, if they choose, although they're already projected to pay a sizeable luxury tax bix, and may decide to fill out the roster with more cost efficient options.
They haven't completely ruled out bringing back Nogueira, an unrestricted free agent, but a reunion seems unlikely at this point. The Raptors also have Montreal's Chris Boucher coming to training camp on an Exhibit 10 deal. While his future may end up being in the G League with Raptors 905 - as either an affiliate or two-way contract player - he impressed Nurse at Summer League, especially once the head coach started using him at centre. Word is the Raptors aren't in a rush to fill that spot, so maybe Boucher gets a real look in camp. How they go about putting the final touches on their roster should ultimately determine what Nurse decides to do to balance out his units.
Regardless of what the starting lineup looks like on opening night, Nurse doesn't intend to be married to his rotation. He wants to use the first few months of the season to experiment in preparation for the playoffs, not only with how they play, but also whom they are playing and when. He understands that there will be a time to run his best units out there and force other teams to adjust to them, but there will be others when they're better off matching up – something the Raptors learned against Cleveland last spring, when Kevin Love (starting at centre for Tristan Thompson) exposed Valanciunas on the perimeter. Things can, and likely will change throughout the season.
"Maybe it's a night Serge goes to five and JV doesn't start," Nurse said. "Maybe there's a night OG comes in and starts for Serge at the four."
In some cases, having those conversations can be challenging, telling veteran players they may end up coming off the bench, but Nurse is a firm believer in setting realistic expectations from Day 1, and has already started delivering that message to his players.
It's a policy he picked up after his first season coaching the Iowa Energy - D-League affiliate of the Chicago Bulls at the time. When the Bulls would send him players on assignment, he quickly realized his regular players were getting irritated with being bumped to the bench in favour of guys who had never played or even practiced with the team before. From there, he learned to lay down the law at the start of each season. He prepared his locker room for that reality: NBA players are going to be sent down, those guys are going to start for as long as they're around, and then you get your job back. What he noticed was his players were far more accepting of that reality going forward.
Nurse's ability to deliver a compelling sales pitch shouldn't be underestimated. The man is a smooth talker and, by all accounts, has good relationships with his players. Still, those were D-League guys he was charming. These are NBA players, with bigger salaries and bigger egos. Most of them want to start, regardless of how well you spin the importance of buying into a role off the bench.
Nurse plans to be upfront with his Raptors players. If it's Ibaka that's sent to the bench to begin the season, that won't come as a surprise to him. If Valanciunas, Green and Anunoby may end up inheriting a reserve role sometime during the season, that won't be a surprise to them. At least it shouldn't be.
Chemistry has been a strength of Toronto's for years, but with DeRozan – the team's longest-tenured player – gone and Lowry sulking over his departure, their once tight-knit locker room has already been shaken up. Whether or not Nurse can sell his players on their new roles will go a long way in determining how that chemistry holds up throughout what should be a fascinating 2018-19 season.