Raptors not expected to be major players at trade deadline
Toronto would love to add a shooter, but unlike last year they're not in great position to pull off a big move, Josh Lewenberg writes.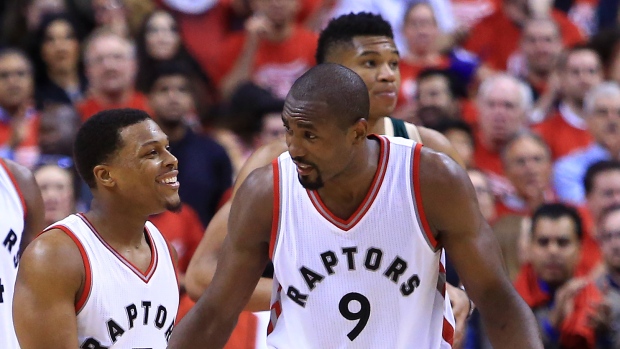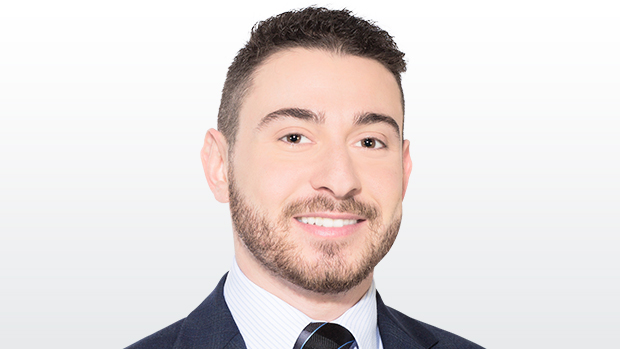 TORONTO – A year ago around this time Masai Ujiri made an exception to a loose rule he's had since becoming an NBA executive.
By his own admission, Ujiri prefers to do his heavy lifting during the summer when more teams are open for business, there's more financial flexibility and you've got a full training camp to work in new players.
In-season trades are a rarity for the Raptors' president.
His first deal as Denver's general manager came at the deadline and it's one he had little choice but to make, shipping disgruntled star Carmelo Anthony to New York in 2011.
Years later, shortly into his first season with the Raps, he sent Rudy Gay to Sacramento. Like the Melo trade before it, the deal worked out a whole lot better than anybody could have imagined, but it was also one he felt compelled to pull the trigger on at the time.
For the purpose of this discussion, we can probably go ahead and pretend like the Austin Daye for Nando de Colo deadline day anti-blockbuster of 2014 never happened. Moving on.
That leads us to the extenuating circumstances of last February. The Raptors appeared to be in the midst of a major mid-season collapse, having lost 11 of 15 games. They had a glaring hole at the power forward position, their defence was a mess and they were starting to lose the locker room.
"Help is always welcomed, for sure," DeMar DeRozan said at the time. "If help is an option, why not?"
"Something gotta give, something gotta change," Kyle Lowry echoed, albeit less diplomatically. "I have an idea, but I'mma keep my mouth shut, keep it professional."
While Ujiri isn't one to get strong-armed into making personnel decisions, he also knows it's not a good idea to alienate your best players, especially before one of them hits free agency. Besides, they had a point. It was clear the Raptors weren't good enough to get back to the conference finals, not with LeBron's Cavaliers atop the East and Boston lurking.
So, they made a couple of moves – both no-brainers, given their needs, expendable assets and the cost. First, they nabbed Serge Ibaka from Orlando for Terrence Ross and a first-round pick, and then they beat the buzzer in acquiring P.J. Tucker from Phoenix for Jared Sullinger and a pair of second-rounders.
Now, with this season's trade deadline approaching – scheduled for 3 p.m. ET on Thursday, Feb. 8. – the Raptors find themselves in a very different situation and, unlike last year, they're not expected to be major players.
What's changed? For starters, they're playing well. At 34-15, they've got the franchise's best record through 49 games. Ibaka has filled their need at the four and, thanks to the emergence of their young supporting cast, they've got more depth and positional balance than they did a season ago.
"I mean, yeah, it feels different overall," DeRozan said earlier this week. "The young guys are a lot more experienced, you see that confidence in them. The way we're playing this year is much different from last year. Just so much has changed that's been beneficial for us this year [and] we can continue to grow."
Of course, that shouldn't stop them from taking and making calls. Sitting just a game and a half behind first-place Boston – as of Thursday morning – and with Cleveland looking more vulnerable than ever having just lost Kevin Love for up to two months, there is a window of opportunity in the East. If there was ever a time to take a big swing and go for it, this might be it.
Like every other team, outside of maybe Golden State, they've got areas they need to improve. At the top of their wish list: they would love to add another shooter.
However, the most notable difference from last year and the greatest obstacle standing in the way of them making a big splash next week – even if they wanted to – is what they have to work with.
Draft Picks
Last year: The Raptors had all their picks at their disposal, plus the 2017 Clippers first-rounder, which helped make the Ibaka deal possible.
This year: Most conversations will begin and end with their lack of available draft picks. The Raptors' 2018 first-rounder belongs to Brooklyn – they had to include it to dump DeMarre Carroll's contract over the summer. Per league rules, teams are restricted from trading away future first-round picks in consecutive years, meaning Toronto can't deal its 2019 first until after the 2018 draft in June or unless they acquire someone else's 2018 first-rounder. In other words, the earliest first-rounder the Raptors can offer right now is their 2020 pick.
That's a huge sticking point at this time of the season. If a team is selling at the deadline they're almost certainly in rebuild mode, or they at least have an eye on the future.
There's been some debate over whether or not the Clippers got fair value for Blake Griffin – an all-star calibre player, when healthy. While Tobias Harris and Avery Bradley are good players and help L.A. justify the move in the short-term, that deal doesn't get done without Detroit's first-round pick.
Depending on what they're selling, some teams won't even entertain an offer that doesn't include a first, which is reportedly the current asking price for Grizzlies guard Tyreke Evans – a player who fits Toronto's needs. As long as someone is willing to pay it – and someone should be – they will beat anything the Raptors could, or would, offer.
Without those picks, the Raptors' most enticing assets are their prospects. Of all the calls they receive, their most asked about players are rookie OG Anunoby, sophomore Jakob Poeltl and third-year point guard Delon Wright, according to team sources, but – barring an overwhelming offer – they have no intention of moving those guys.
Expendable Contracts
Last year: Beyond what Ross did or didn't bring on the court, his $10.5 million contract was a valuable asset for salary-matching purposes. The emergence of Norman Powell made him expendable and his salary made the Ibaka deal work, money-wise.
This year: With a top-heavy payroll structure and so many rookie scale contracts, it would be very tough for Toronto to match the salary of an impact player (they can only take back 125 per cent of the outgoing salary in a deal). So, say they're getting back a $10 million player; it would cost them C.J. Miles ($7.94 million) and one of the kids, or at least three of the kids.
When Powell's new deal kicks in over the summer, it will pay him $10.5 million annually and become a useful bargaining chip in the same way Ross was. However, after signing his extension in October, the Raptors are unable to trade him until the off-season. That's one less asset they have to work with now.
It's no secret that they shopped Jonas Valanciunas over the summer, to no avail, and while he is playing some of the best basketball of his career, that doesn't change the demand (or lack thereof) for traditional big men around the league right now.
If anything, his recent strong play makes it less likely he is traded next week. There's never been a larger disparity between his internal value (how important he is to the team) and his trade value (what they could get for him). They may have to revisit the idea of unloading his salary over the summer – when Powell's new contract takes into effect, Fred VanVleet hits free agency and Wright is eligible for an extension – but there's no benefit to doing it now.
Their most expendable player is sparingly used third centre Lucas Nogueira but he only makes $2.95 million in this, the final year of his contract. They could look to package him with a second-round pick in the hopes of adding a shooter at the end of the bench. Whether that would interest anyone enough to part with a player that Raptors could actually use remains to be seen.
Would Nogueira, the expiring contract of Bruno Caboclo ($2.45 million) and a second-round pick be enough to pry Marco Belinelli ($6.61, also expiring) from the Hawks? Perhaps, but that's the sort of minor, low-leverage move that seems most conceivable
All that is to say, if the Raptors are going to make a push for the first seed or if they're going to get over the hump in the playoffs, they're probably going to have to do it with the roster they have now. The expectation is that this will be a quiet trade deadline in Toronto.