Raptors plan to expand Valanciunas' late-game responsibilities
Toronto centre Jonas Valanciunas is working hard to gain the trust of head coach Dwane Casey and earn key fourth-quarter minutes this season. TSN Raptors reporter Josh Lewenberg has more.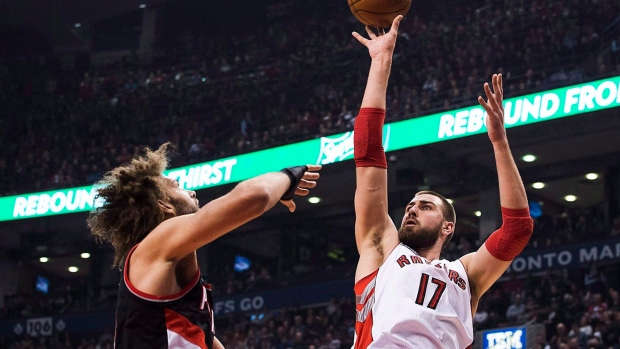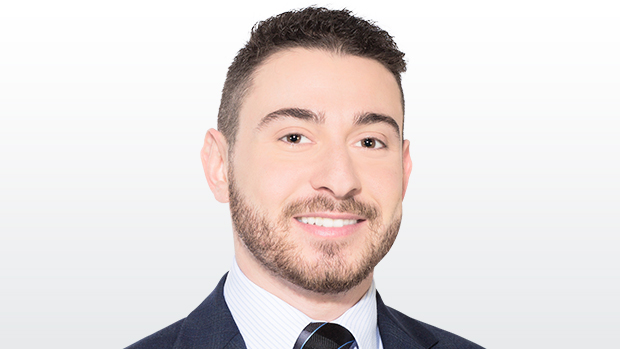 TORONTO - The Raptors have 64 million reasons to get more out of their starting centre and, with training camp underway, it appears that's exactly what they intend to do.
To the dismay of the fan base, Jonas Valanciunas, who recently signed a lucrative long-term extension with Toronto, has often been a spectator during the most crucial moments of his team's games but, according to Dwane Casey, that could change this season.
"You know, there's been a lot made about [Valanciunas] finishing games," said the head coach, unprompted, on media day last week. "Well, he's getting to the point of his career, with the experience, that he should be able to do that."
"We plan to use him, especially offensively, down the stretch. Father Time is a great teacher and developer [in] those kinds of situations."
Last season, his third in the NBA, Valanciunas did not log a single fourth-quarter minute in almost a third of the games he played (23 of 80). He averaged just over five minutes in the fourth quarters he did appear in, ranking ninth among Toronto's regulars.
Agree or disagree with the rationale, Casey has been consistent and steadfast in his preference to go small, matching up with the opposition and using quicker, more versatile defenders to close games. But with one of those defenders, Amir Johnson, gone and their substantial investment in the 23-year-old pivot as motivation, the Raptors are hoping Valanciunas is ready to take on a bigger role going into his fourth campaign.
"He's been in the NBA long enough," Casey told reporters after practice in Vancouver on Thursday. "He understands everything we're doing so that gives him a level of confidence in everything he does on both ends of the floor. He's getting older; he's been battle-tested so that confidence level is the main thing you see from him, that I've seen the last couple days."
For the most part, it's been defensive concerns that have kept Valanciunas on the bench in these situations, a result of both inexperience and the natural limitations a 7-footer faces in today's changing NBA.
As the league goes smaller and teams spread the floor with one or two jump-shooting big men in their lineup, many coaches are faced with Casey's dilemma: Do you match-up with the opposition or fight speed with size and hope to impose your will?
Most would argue that there is no correct answer, not definitively. It depends on the quality of opponent and, most importantly, how much confidence you, as a coach, have in your size advantage. Does the potential reward of staying big outweigh the inherent risk?
Offensively, there's an obvious advantage to having Valanciunas on the floor. Ranked second in the league in field goal percentage last year, he can get you easy buckets around the rim. He's also a tremendous free-throw shooter at the centre position and has improved his rebounding percentage in each of his three seasons as a pro. Problem is, with the ball in the hands of DeMar DeRozan and Kyle Lowry down the stretch, these advantages are often rendered moot.
Meanwhile, he's vulnerable on defence. Statistically, the Raptors were a better defensive team with Valanciunas on the bench for the second straight season in 2014-15, allowing 1.6 points fewer per 100 possessions than when he was on the court.
"The offence is not a problem, the problem is the defence," Valanciunas admitted. "I've got to get quicker, that's what we're working on. I've got to move my feet. I've got to be able to stop the smaller guys."
The challenge for Casey, as the Raptors aim to keep their centre on the floor, is maximizing that reward while minimizing the risk. They've spoken about tweaking some of their defensive schemes to assist in that process.
"We've changed some things to hopefully help him that will help keep him closer to the bucket," the head coach said. "It's not rocket science or anything earth-shattering, but we're doing some things to keep him closer to the bucket. Number one, to help him in the pick-and-roll situation. Number two, to help him rebounding-wise on the defensive end."
The Raptors feel strongly about the progress their young centre made this summer. Valanciunas worked on his jump shot and face-up game with retired NBA great Jack Sikma, he defended smaller players in practice - per the team's instruction - to help expand his mobility and he led Lithuania to a second-place finish and Olympic berth at EuroBasket, where he averaged 16 points and 8.4 rebounds.
"I've just got to gain the trust of the coach," said the Raptors former fifth-overall pick. "I'm working hard. We're talking about that. Anything can happen, you know. Sometimes teams go small so we have to go small. But I think everything's going to be good."
"A lot of it is a function of both - improving defensively, and I think he's done that this summer, and also matchups," Casey said. "At the end of games you've got guys with speed that are quicker and I told him this summer, 'Once you demonstrate that you can get down and guard those 6-foot-7, 6-foot-8 small centres you're going to be out there all day.'"
"So there's never been a disagreement or anything controversial amongst the team. Everybody understood that we're going to put the best defensive players with the defensive numbers out there. The summer is the time to develop and get better speed and quickness-wise defensively. So there's never been a misunderstanding and once he gets out there I promise you he'll be out there in the fourth quarter doing those things."