Raptors searching for solution to third-quarter woes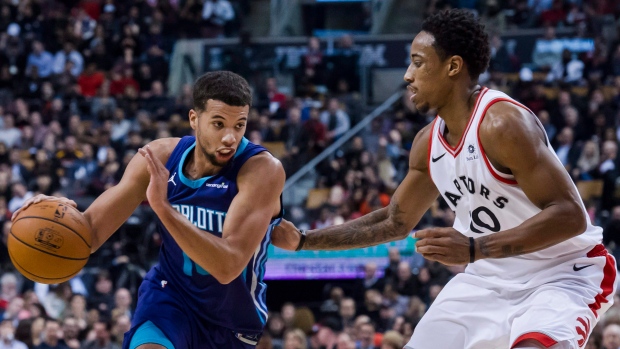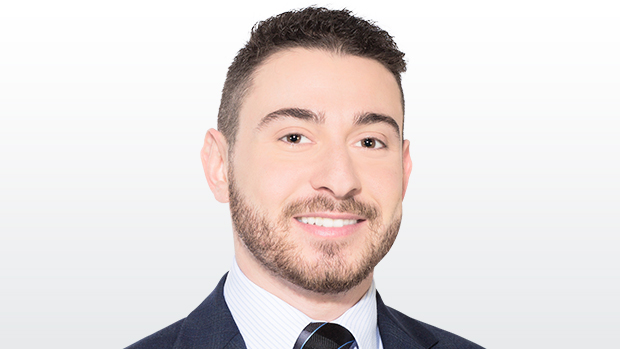 TORONTO – The Raptors defeated the Charlotte Hornets by 13 points on Wednesday, a night in which Kyle Lowry hit a career-high eight three-pointers and teamed up with DeMar DeRozan to score a combined 66 points, but you wouldn't know it from listening to their head coach after the game.
Dwane Casey spoke to the media for less than two minutes – one of his shortest and most animated post-game press conferences in recent memory, following a relatively comfortable win no less. His gripe was with the team's uninspiring performance in the third quarter, an ongoing trend he described as "mind-boggling" and "unacceptable."
While the message he delivered to his players moments earlier would have been similar, Casey had the Open Gym (a weekly team-created, behind-the-scenes documentary) producers turn off their cameras, according to DeRozan, so it's safe to assume it was an R-rated version.
"It's the same as what he's saying to you guys," Fred VanVleet told reporters after practice the following afternoon. "There are no secrets. His language is probably a little bit better with you guys than with us, but other than that we've just got to figure it out."
Despite besting the Hornets by 24 points in winning the other three frames, Toronto was outscored 33-22 during another listless third quarter. Charlotte scored the first 10 points and 19 of the first 21 to cut a 19-point halftime deficit down to two before the Raptors weathered the storm and pulled away, but not without giving Casey a series of unpleasant flashbacks.
Since being outscored 72-30 in the third quarters of consecutive losses to the Knicks and Pacers last week – which included a 28-0 New York run you had to see to believe – Casey has been emphasizing the importance of getting off to better starts in the second half.
He's stressed it in practice. He's tried changing up their halftime routine. They've turned music on and dimmed the lights to simulate a casual pre-game vibe. Conversely, they've also tried to tighten the screws and be all business. They switched to a more structured layup line during warm-ups in between halves. They even reset the locker room scoreboard to read 0-0. The results have been the same.
Wednesday marked the ninth time in the last 11 games the Raptors have lost the third quarter. They've been outscored by 53 points over that stretch; granted, most of that damage came from the losses in New York and Indiana. Worst of all, there doesn't appear to be a discernible cause or an obvious solution, at least not a tangible one. More than anything else, Casey believes it comes down to mental focus, or a lack thereof.
"It's something I know we can be better at," he said. "We've got those veteran players that are in the game in that situation, there's no reason to be making some of the mistakes. And I don't think it's [a lack of] effort, it's more focus, attention to detail, doing the little things, not taking shortcuts offensively, not taking shortcuts defensively and being comfortable with a double-digit lead. Our older players know better."
With the exception of rookie OG Anunoby, the rest of Toronto's starters have at least six years of NBA experience so, to Casey's point, this would seem like an odd problem for a veteran group to have. However, it's one that has plagued them before. The Raptors are routinely among the league's best teams in the second (plus-135 this season, first in the NBA) and fourth quarters (plus-31, sixth), but have struggled in the first (plus-8, 10th) and third (minus-28, 22nd), when their starters generally see the most court time.
Making changes to that group on a full-time basis would be a last resort, but Casey has put them on notice. If they can't figure it out, he insists he's open to experimenting with his rotation until he finds a unit that can.
Although Casey is often criticized for a perceived reluctance to tinker on the fly, he has shown a willingness to make tough, unorthodox decisions in similar situations. In Indiana last Friday, he went small to open the second half, going with the energetic and more defensively-sound Pascal Siakam in place of Jonas Valanciunas (they were still outscored by 11 points in the third). When third quarters became problematic towards the middle of last season, he used different lineups to begin both halves in eight of 10 games, something that's almost unheard of in the NBA (Siakam was starting at the time and would be replaced by Patrick Patterson, Terrence Ross or Lucas Nogueira to open the third).
"I would hate to be in his position because there's really nothing he can do from a coaching standpoint other than shuffle subs and that's not an end-all be-all as well," VanVleet said. "So it's on the players. We've got to figure it out as a group. All the guys that step on the court have to figure it out. We've got to take ownership and responsibility."
The Raptors are actually scoring more than they did last year, when they were an above-average third-quarter team. The numbers indicate that the root of the problem is on the defensive end, where they're allowing a league-worse 115.3 points per 100 possessions, 10.7 more than last season. Opponents are shooting 50 per cent in the third, including a ridiculous 46 per cent from three-point range. While that's probably not sustainable, it's also not a number that inspires much confidence. If they're going to become a more consistent team, especially at this crucial juncture of games, they've got to do it on that side of the floor.
"A lot of teams come out with an extra, new-found energy than they had in the first half," DeRozan noted. "By the time we catch on to it, they've got a rhythm going. Now we're fighting against that. It's tough when they see shots go in and we start putting them on the line. Once they start getting out in transition, we slow down our style of play and it kind of fits into the other team's hands."
"It's a mental thing," said C.J. Miles. "It's not talent. The sets and stuff we are doing are stuff we do throughout the rest of the game. We're just not doing it at the same speed. Then in the fourth quarter we tell on ourselves. We bring defence back into the game and you see guys turn it on."
Friday's rematch with the Pacers, this time on home court, should be a good test. The Raptors led by as many as 12 points in Indiana last week before an ugly third quarter forced them to play from behind in the fourth when turnovers, Lance Stephenson's heroics (and physicality) and a couple of missed calls did them in.