Raptors will have their hands full with Sixers' Embiid
The Toronto Raptors know the Philadelphia 76ers have multiple players capable of taking over a game but starting centre Joel Embiid – arguably the league's best and most dominant player at his position – will be tough to defend against, Josh Lewenberg writes.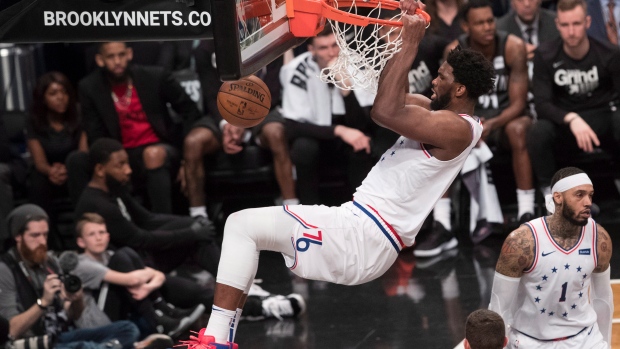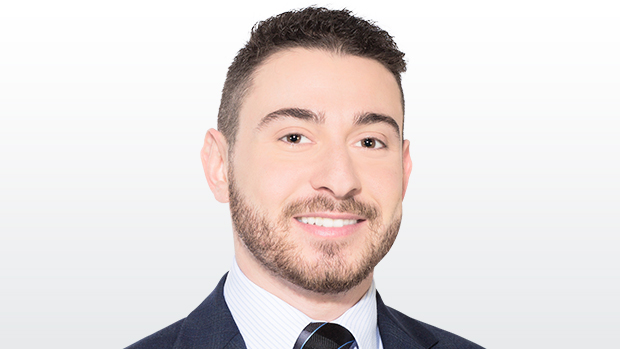 TORONTO – The Toronto Raptors and Philadelphia 76ers have been on a second-round collision course for a while now.
With both teams virtually locked into the East's second and third seeds, respectively, for the better part of the last month, this matchup seemed inevitable.
Up until a couple days ago they had other things to worry about – getting through the regular season and taking care of business in Round 1 – but make no mistake, the preparation didn't start this week.
Scouting the Sixers is no easy task, no matter how long the Raptors have been doing it. Featuring one of the most talented starting lineups in the NBA, Philadelphia has multiple players capable of taking over a game. On any given night a different guy could beat you, which makes game planning for them very difficult.
"Obviously they're a very talented team, so that might make it a little harder," Raptors guard Danny Green said following the team's Thursday morning practice. "[It's the] same preparation for any game, any team, You're going through the same steps, process. Watch film, go over each individual player, figure out how you want to guard them individually and as a group. Because they have so many threats, that might make it a little tougher, but we'll see."
Regardless of how thorough their scouting report is, you can bet it's topped by Sixers starting centre Joel Embiid – arguably the league's best and most dominant player at his position.
From the time Philadelphia selected the talented seven-footer with the third-overall pick in 2014, the only thing that's been able to stop him is injury. Of a possible 410 regular season games since he became a Sixer, he's only played in 158, missing two full years to start his career. However, whenever he's on the court he's typically excellent.
He's big, he's physical, he's relentless on the boards, has a soft touch around the rim and he's got arms that go on forever, which comes in handy on the defensive end of the floor.
Sure enough, he enters this series at something less than full health. Embiid has been dealing with a left knee injury since late in the regular season. It cost him Game 3 of the Sixers' first-round series with Brooklyn, which they won in five games. His availability was in question going into each of the other four games.
How much did the injury impact his game when he was able to play? He averaged 24.8 points, 13.5 rebounds, 3.5 assists, 2.8 blocks and 1.0 steal on 51 per cent shooting – on par with his regular season numbers, despite logging almost 10 minutes fewer per contest.
The undersized Nets simply didn't have an answer for him. The Raptors do, at least theoretically. Toronto acquired former Defensive Player of the Year winner Marc Gasol at the February trade deadline, in part for matchups like this.
In the first round, Gasol played a crucial role in neutralizing the Orlando Magic's best player, Nikola Vucevic. The all-star centre averaged 11.2 points and 8.0 rebounds on 36 per cent shooting, down from 20.8 points and 12.0 rebounds on 52 per cent shooting during his breakout regular season.
Gasol served as the primary defender and had success using his size and physical strength to get and maintain positioning on Vucevic, pushing him off the low block, where he's most comfortable. The Raptors would routinely send a second defender at him on the catch and Vucevic, generally a good passer, couldn't recover.
With all due respect to Vucevic, who has developed into a really good player, Embiid is in a different class. He's more dynamic than either Vucevic or Gasol, but don't count the crafty 34-year-old out. He usually seems to find a way defensively.
"Just like any great player, you try to make everything as uncomfortable as possible, be as physical as they allow you," said Gasol. "Same kind of mindset that we had with [Vucevic]."
The Gasol trade was a couple days after Toronto's final regular season meeting with Philadelphia, so the Sixers haven't seen Gasol with the Raptors, like the Raps haven't seen Philly with Tobias Harris. There's some unknown surrounding the matchup, but Gasol has had success against Embiid in the past.
In five career games against Gasol's Memphis Grizzles, Embiid averaged just 14.0 points and 4.4 turnovers on 34 per cent shooting, including 1-for-16 from three-point range.
Of course, that's a pretty small sample scattered over the course of the last three regular seasons. It's encouraging, sure, but how much does it mean going into a best-of-seven playoff series? Just a couple weeks ago we noted that Magic forward Jonathan Isaac was one of the only players to shut down Pascal Siakam during the regular season, and we saw how that turned out. The playoffs are a different beast, and one way or another great players seem to find a way to put their stamp on a series.
The Raptors feel they're equipped to challenge Embiid, and they should, but it's going to take more than one man, as head coach Nick Nurse pointed out on Thursday.
"At this point I have confidence [Gasol can guard Embiid in single coverage]," Nurse said. "He's a very physical, smart defender. I would imagine they are going to test him, I'd imagine we are going to test him out as well. But it's like with anything, these guys are so good. You thinking that one guy could stop one guy or one coverage could stop one guy over a series, that's probably not the case. It's at least a two-man job, him and Serge [Ibaka], and then it becomes a team job as well."
While Ibaka has had some success against Embiid as well, he's giving up some size and strength in the matchup. Gasol is expected to get the bulk of the assignment, provided he can stay out of foul trouble (which was a bit of an issue in Round 1 and could be an even bigger challenge against Embiid).
Outside of Gasol and Ibaka, the Raptors don't have a ton of viable options against a player like Embiid. Nurse has shown a willingness to shift Siakam to centre in certain matchups, but while he has the length to challenge most fives, he's probably not strong enough to handle Embiid for long stretches. The same could be said for Chris Boucher, who's also been dealing with a back issue. Recently signed centre Eric Moreland makes more sense as an emergency third option against Embiid, but he's only appeared in seven games with Toronto this season.
Quietly, Gasol was one of the Raptors' most valuable players in the previous round and he'll be one of the most important going into this one. You're not going to stop Embiid, at least as long as he's healthy enough to be on the court, but the Raptors would have a major advantage in this series if they're able to slow him down.