Ray out 4-6 weeks with partially deflated lung
Toronto Argonauts quarterback Ricky Ray will miss the next 4-6 weeks with a rib fracture and a partially deflated lung.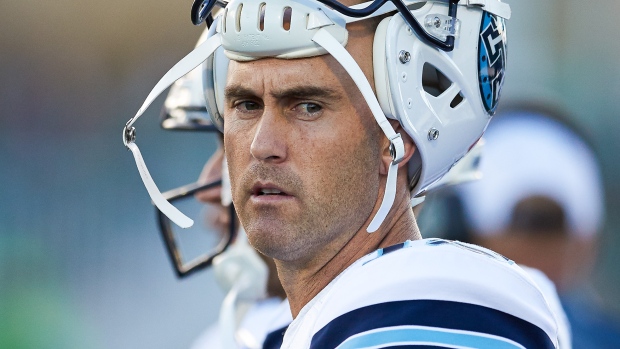 TORONTO — As he left Tim Hortons Field on Monday night, head coach Scott Milanovich suspected he might have to make due without Ricky Ray for the Toronto Argonauts' next game.
Turns out Milanovich will be without his starting quarterback for significantly longer.
Ray was in attendance but didn't practise Friday as veteran Dan LeFevour took snaps with the starting offence. Milanovich said Ray suffered a fractured rib and partially deflated lung in Toronto's 49-36 loss to the Hamilton Tiger-Cats on Monday night.
Milanovich added Ray's lung has since returned to normal but he'll miss four-to-six weeks. LeFevour will start Sunday when Toronto (4-6) looks to snap a four-game losing streak as it hosts Hamilton (5-5) at BMO Field.
Milanovich said Ray figured he was injured after throwing the first of his two interceptions late in the third quarter. Amazingly, the 36-year-old finished the contest.
"He's a tough guy . . . he wanted that win," Milanovich said of Ray. "I walked off the field behind him and was watching him walk.
"I didn't know what the injury was but I suspected then he was going to have a hard time playing in this game because he could hardly walk through the tunnel."
Ray has battled injuries since being acquired by Toronto from Edmonton prior to the 2012 season. Ray helped the Argos win the Grey Cup in his first season but has appeared in 58-of-82 games with the club — starting 50 — and is out for the third time in less than two seasons.
Ray missed most of 2015 recovering from off-season shoulder surgery. He was on the sidelines for three games earlier this year with a knee injury.
"I hate to put words in his mouth but (Ray) is very disappointed," Milanovich said. "He feels like he's let people down.
"He's not feeling reliable for our team and that hurts. It's not what he envisioned when he came here . . . I think he envisioned great things and he's just had a tough go of it."
Milanovich added veteran tackle Josh Bourke won't play Sunday due to an unspecified injury.
LeFevour joined Toronto's practice roster last month after being released by the NFL's Tampa Bay Buccaneers. The six-foot-three, 230-pound native of Downers Grove, Ill., has previous CFL experience with Hamilton (2012-14) and Montreal (2015) but also suffered major injuries — knee and shoulder, respectively — with both clubs.
"I haven't played in two years, you think I'm excited," LeFevour said. "It is what it is, it's football.
"I wouldn't have done it any differently. I've tried my best. I've prepared hard, I've trained my body hard. Stuff happens. You just can't predict that stuff."
When healthy, LeFevour has shown to be a dual threat. Not only can he make all the throws, but LeFevour also can scramble to escape the rush and either head upfield or give receivers more time to get open downfield.
"He's got some gamer in him," Milanovich said. "He has the ability to run better than you'd think for a guy that's as big as he is.
"He throws well on the run, he seems to be a bit of a playmaker. That's what we're looking for. We're looking for a spark, we're looking for him to get out there and if things break down in protection take off and run or scramble and find somebody down the field."
Ray played just two games after missing time with his knee injury but LeFevour still learned plenty watching Ray on the field and in the film room.
"He's really good at going through the reads and not just one to two, then throw it away," LeFevour said. "He gets to his fifth progression, sometimes even a sixth and on time too.
"The way he prepares, having him in the meeting room (and) how helpful he is not guarding information and helping guys, even when he is or isn't playing, it's been a blessing for someone like me who just got here four weeks ago."
But not all was rosy Friday. Afterwards, defensive co-ordinator Rich Stubler didn't mince words with his unhappiness regarding how his unit performed.
"He didn't say anything that was wrong," veteran defensive end Ricky Foley said. "He didn't say anything that wasn't true.
"I feel the exact same way."