Quarterback Ray re-signs with Argonauts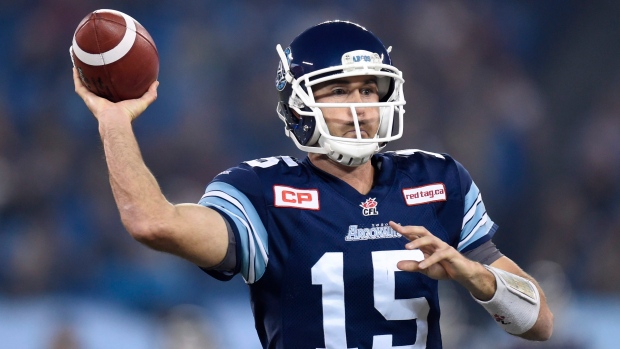 The Toronto Argonauts signed quarterback Ricky Ray to a new two-year contract on Thursday.
Ray, 36, was set to become a free agent next February.
The 13-year veteran spent the first half of the 2015 season recovering from off-season shoulder surgery before returning as a backup to Trevor Harris, who is also a pending free agent.
TSN's Farhan Lalji added the deal is for 2016 and 2017 and could be worth up to $490,000 with incentives, which is reportedly half the new deal. Lalji reports Ray is excited by the team's new ownership and stadium and hopes this deal puts the team in a position to sign quarterback Trevor Harris while addressing other needs.
TSN's Matthew Scianitti also reported that Harris was offered a deal from the Argos prior to the Grey Cup and then again a few days ago. Up to this point, Scianitti says Harris and his representatives are reviewing their options.
Ray played in just three games this season, throwing for 423 yards and two touchdowns. The three-time Grey Cup champion (2003, 2005, 2012) has thrown for 52,486 yards and 281 touchdowns in 13 CFL seasons.
Other Argonauts set to hit the free agent market include slotback Chad Owens and defensive end Ricky Foley.
The Argos posted a 10-8 record last season and lost 25-22 to the Hamilton Tiger-Cats in the East Division semifinal.
Ray joined the Argos in 2012 after being dealt by the Edmonton Eskimos and capped his first year in Toronto leading the club to victory in the 100th Grey Cup.