Ray's career day leads Argos past Ticats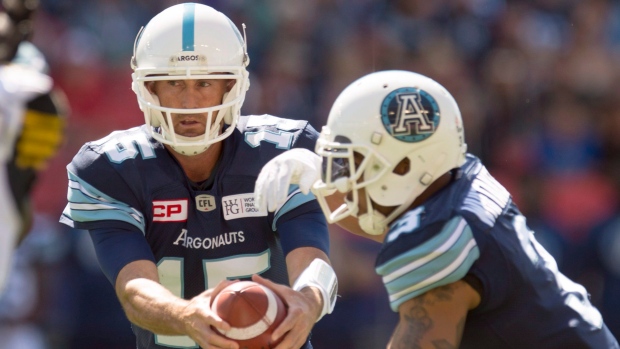 TORONTO — Ricky Ray wasted no time excelling in Marc Trestman's offence.
Ray threw for a career-high 506 yards and a TD as Toronto beat the Hamilton Tiger-Cats 32-15 on Sunday. The 37-year-old quarterback, in his 15th CFL season, finished 32-of-41 passing in Trestman's debut as Argonauts head coach before a sparse BMO Field gathering of 13,583.
"Obviously it feels good to get off to a start like this and be able to build some confidence," Ray said. "You try and build it during camp but until you go out there and do it in a game, it really doesn't matter.
"It's only one game, we're a long way away from the kind of team we want to be. But it's a good start."
Trestman joined the Argos, along with GM Jim Popp, this off-season after four seasons in the NFL. In his first CFL head-coaching stint, Trestman, with veteran quarterback Anthony Calvillo in tow, led the Montreal Alouettes to three Grey Cup appearances and two wins from 2008-12.
Trestman sees many similarities between Ray and Calvillo, now Montreal's quarterbacks coach.
"They're such low-maintenance guys obsessed with detail preparation," Trestman said. "Every little thing matters to Ricky in terms of his preparation.
"He's even keeled and emotionally intelligent, he just never wavers. He leads the way just like Anthony's demeanour led the way in Montreal and I expect that will be the same throughout."
Ray finished short of Toronto's single-game record of 524 yards, set in 1960 by Tobin Rote. But the Argos, who outscored Hamilton 17-3 in the second half, won't have much time to enjoy the win as they host the B.C. Lions on Friday night.
Hamilton has a bye before visiting the Saskatchewan Roughriders on July 8.
Argos' sophomore DeVier Posey had seven catches for 147 yards, including a crucial 79-yard TD grab to open the second half. But veteran S.J. Green was impressive in his Toronto debut, registering seven receptions for 124 yards in his first game since suffering a serious knee injury early last season with Montreal.
"A.C. is a first-ballot Hall of Famer and when Ricky is done playing this game he'll be the same," Green said. "Ricky throws an easy ball, man, it's real easy to catch. All I have to do is adjust and put my hands on it."
Ray and Green clicked despite limited pre-season action. Ray played just one series in Toronto's two exhibition games while Green didn't dress for either.
Newcomer Jeff Fuller had 104 yards on three catches for Toronto.
Hamilton starter Zach Collaros was 26-of-39 passing for 242 yards and an interception. The Ticats also lost Terrence Toliver, a 1,000-yard receiver last year, to an apparent knee injury in the first quarter.
"We were anaemic on offence," Hamilton coach Kent Austin said. "I don't know how many second-and-long conversions they had, they might've set a record.
"We didn't make a single play on the ball in the air the entire day. They just flat-out beat us."
Toronto opened the second half emphatically with Ray hitting Posey on the 79-yard TD strike on the first play. It came after Posey dropped Ray's 17-yard pass in Hamilton's end zone late in the first half, leading to Hamilton's Richard Leonard returning a blocked field goal for a stunning TD with just seven seconds remaining that cut the Argos' half-time lead to 15-12.
"It (TD pass to Posey) wasn't by design but I'm grateful he had the chance to make that play," Trestman said. "We talked about it in the locker-room how we were never going to stop giving a player a three-point chance because he missed a three . . . we're still going to give everybody an opportunity to overcome situations like that."
Cody Fajardo scored Toronto's other touchdown. Lirim Hajrullahu booted two converts, five field goals and a single. The other points came on a safety.
Brian Tyms registered a two-point convert for Hamilton while Sergio Castillo added two field goals and a single.
After Leonard's heroics, Collaros hit Tyms for the two-point convert to make it a three-point game. Will Hill started the late fireworks by blocking Hajrullahu's 24-yard field goal try, resulting in a big 15-point swing.
And that put Hamilton back into the contest despite Toronto's domination to that point. The Argos outgained Hamilton in total yards (265-88) and first downs (25-13) while holding the ball for 19 minutes.
Ray was 18-of-25 passing for 253 yards and Green had four catches for 95 yards while Posey registered six receptions for 68 yards. But Fuller couldn't haul in Ray TD strike in the first before Posey's costly drop.
Toronto's special teams, under first-year CFL coach Kevin Eiben, also surrendered a blocked punt.
"We came back from adversity, I thought that was really good," Trestman said. "But it's evident we've got some things we need to do better that down the road can hurt us so we're going to work on those things."