Read has three points, Mason has shutout as Flyers blank Islanders
Steve Mason stopped 20 shots for his third shutout of the season and led the Philadelphia Flyers to a 4-0 win over the New York Islanders on Saturday.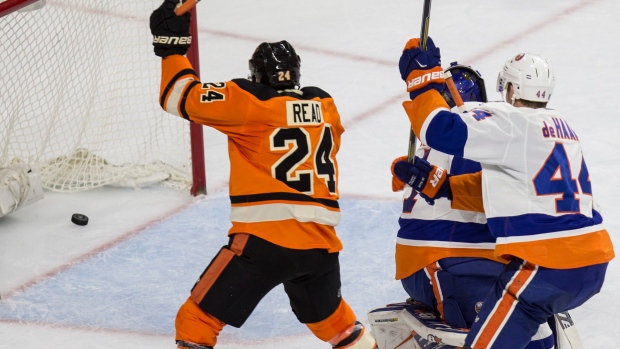 PHILADELPHIA - Back on home ice, the Philadelphia Flyers are ready to gain ground in the East.
Opening a stretch of 10 straight conference games, the Flyers know this is the time to find some sort of hot streak to make a push toward their first playoff berth in two seasons.
Steve Mason and a potent offence got the Flyers off to a fantastic start.
Mason stopped 20 shots for his third shutout of the season and led the Flyers to a 4-0 win over the New York Islanders on Saturday.
Michael Raffl, Evgeny Medvedev, Matt Read and Sean Couturier scored to help the Flyers beat the Islanders for the first time in three games this season.
"Everybody knows it's huge for us," Raffl said. "Every single game is almost a must-win for us from now on. Our starts have been good, we just have to keep going."
Mason had his 29th career shutout and the Flyers won their third straight.
Read picked up assists on Philadelphia's first two goals, then added his sixth goal of the season in the third period.
Over this Eastern Conference stretch, the Flyers play Boston twice, the New York Rangers, Detroit, Toronto, Pittsburgh, Washington, Montreal and another date with the Islanders.
All of those teams are ahead of the Flyers in the standings. Counting Saturday, the Flyers play four of five games at home.
"You have to take advantage of teams in your own conference, in your own division," Mason said. "These guys have already taken a few games from us this season so it was nice to get a couple points back."
The Islanders, who had allowed 14 goals over the past three games, never generated much offence against Mason. They attempted only two shots in the first period and had eight shots in the second.
"We looked a bit off, sluggish, nothing was crisp and we paid for it," Islanders forward Kyle Okposo said.
Without a Stanley Cup since 1975, the Flyers are outside the playoff picture in former college coach Dave Hakstol's first season. They lost three straight games on their California road trip that slowed some momentum they had rolling since late November.
At home, where the Flyers are 7-1-1 over their past nine games, they found some of their needed offensive spark.
After a scoreless first period, Raffl made it 1-0 just 1:27 into the second. Couturier was about to get hit against the boards behind the net when he dumped a pass to Raffl, who scored his sixth goal of the season.
Medvedev scored a 4-on-4 goal at 8:33 on a wrister through Jaroslav Halak's legs for his third goal of the season.
Mason made the lead stand and the Flyers gave him two more goals in the third.
Read's shot from the circle trickled through Halak's legs and landed softly in the net for a 3-0 lead. Read, benched just three games ago, had his eighth career game of three or more points and his first since Dec. 4, 2013. He's done it three times against Islanders.
"I had to get back to playing smart and with speed, and that's something that maybe I've lacked this last little bit," he said. "I just kind of focused on skating well out there and supporting my linemates."
Couturier capped the scoring with his ninth goal of the season at 15:14.
The Islanders have six more points than the Flyers in a crowded Eastern Conference race.
"It's just unacceptable about some of the way certain guys are playing right now," coach Jack Capuano said.
"We've got some guys that have got to find their game. We can't go consecutive games without having any offence. For whatever reason right now, we aren't scoring any goals here."
NOTES: Islanders D Travis Hamonic sat out with a lower-body injury. ... Flyers D Shayne Gostisbehere also sat out with a lower-body injury and could return in the next week. ... The Flyers haven't lost at home since Dec. 8 vs. the Islanders.