Reaves: Wilson 'ran into a lion in the jungle'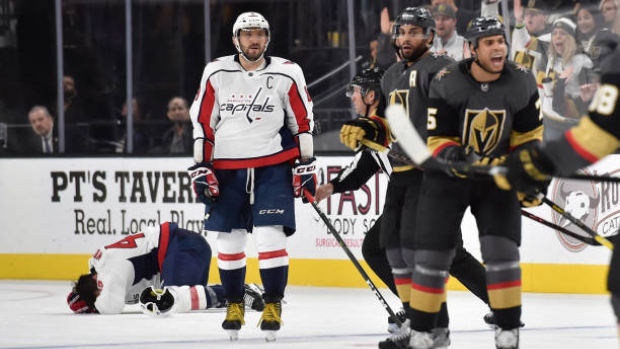 Washington Capitals forward Tom Wilson left Tuesday's loss against the Vegas Golden Knights in the second period after taking a blindside hit from Ryan Reaves.
The two traded hits throughout the first two periods, but both their nights came to an end when Reaves caught Wilson as he was watching his pass up the ice with five minutes left in the second period. Wilson, who had skated back into the Capitals zone, tapped the puck past the blueline with a backhand and while watching the puck was hit in the shoulder by Reaves. Wilson's helmet came off and he appeared to hit his bare head on the ice.
Reaves got a five-minute major penalty for interference, while Wilson received aid from a trainer before leaving the ice and was ruled out for the remainder of the game a short time later.
Reaves, 31, will not face supplemental discipline for the hit.
"That was a man's game out there...I thought he was just looking at his pass, and he ran into a lion in the jungle," said Reaves. "If he sees me, I know he's gonna try and lay me out and I'm not gonna let that happen. I thought it was shoulder to shoulder and I didn't think it was that late."
Golden Knights head coach Gerard Gallant agreed with Reaves' assessment.
"I think we [have] all seen the hit and video, it's a clean hit, there's nothing wrong with the hit," he said. "Unfortunate a player got hurt, but it was a clean hit."
Capitals head coach Todd Reirden said Reaves was going after Wilson throughout the game before delivering the knockout blow.
"That was something that he targeted him," Reirden said. "Reaves targeted him the entire game. You could hear it on every faceoff, you could hear the things that were being said and it's a blindside hit where an unsuspecting player hits his head on the ice. That's disappointing.
"You can put two and two together but he targeted him the entire game."
The Capitals failed to convert on their five-minute power play and dropped Tuesday's game 5-3.
Reirden said Wilson would be re-evaluated on Wednesday. The 24-year-old has eight goals and 14 points with a plus-8 rating this season in 11 games, having sat out the first 16 games of the season due to suspension.