Red-hot Skinner enjoying life with surging Sabres
Jeff Skinner is tied for the league lead with 19 goals and is on pace to score 62 times this season.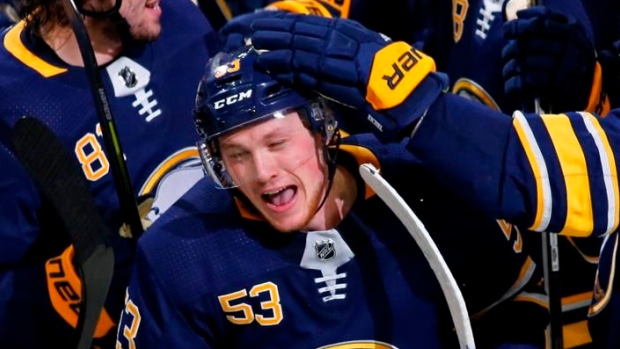 Jeff Skinner was answering questions after practice earlier this week when it was mentioned long-suffering Buffalo Sabres fans would probably like to see the pending unrestricted free agent stick around beyond this season.
All he could do was smile.
"I know, I've heard," said the red-hot forward. "I'm having a lot of fun."
And so is a hard-luck sports city craving a winner.
It was widely assumed that Buffalo, a team thought to be at least one season from legitimate playoff contention, would flip Skinner at the NHL trade deadline after acquiring him in a deal with Carolina in August.
But 25 games into the schedule, the Sabres sit 17-6-2, have won 10 straight games and were first in the overall standings ahead of Wednesday's action.
Skinner, meanwhile, is tied for the league lead with 19 goals and is on pace to score 62 times this season.
"My team's playing well, so individuals start to have success," he said conservatively. "I'm thankful Buffalo gave me an opportunity to get a fresh start."
That reset has come on Buffalo's top line with captain Jack Eichel and veteran winger Jason Pominville.
Skinner scored 204 goals and added 175 assists for 379 points in 579 games over eight seasons with Carolina — a tally that led to exactly to exactly zero playoff appearances.
The Toronto native has those 19 goals (with five coming in his last four games) this season to go along with eight assists for 27 points, one back of Eichel's team-leading 28 (five goals, 23 assists) and 10 ahead of Pominville's 18 (nine goals, nine assists).
There were some parting shots vaulted Skinner's way after he left Carolina, but the 26-year-old insists there are no hard feelings toward the club that picked him seventh overall at the 2010 draft.
Instead, he's happy to fit in on a team that finished last in 2017-18 and has missed the playoffs seven straight springs, but is now on a 10-game winning streak for the first time since the Sabres claimed the Presidents' Trophy with the NHL's best regular-season record in 2006-07.
"You're not going to have success unless all five guys on the ice are pulling the same rope," said Skinner, who has a salary cap hit of US$5.75 million and will likely be due a hefty raise if Buffalo want to retain his services.
Nine of the 10 victories in the Sabres' current run — the longest in the NHL since Columbus won 16 straight in 2016-17 — have been by one goal, with seven coming after 60 minutes, including Tuesday's 3-2 overtime decision against San Jose that saw Skinner grab the winner.
Buffalo's defence was boosted by the arrival of Rasmus Dahlin, the first pick in the 2018 draft, while free-agent goalie Carter Hutton has steadied a troublesome crease for a franchise that is already just eight wins short of last season's total.
"Every night there's a guy stepping up making a big play at a big moment," Skinner said. "Everyone talks about the parity in the league and how tough it is to win and what the margin of error is."
The Vegas Golden Knights stunned the hockey world last season as a 109-point expansion team that made an improbable run to the Stanley Cup final.
It's still early, but these Sabres are starting to have that type of feel.
"There's a lot of one-goal games, a lot of overtime," Skinner continued. "The trick is to try and find a way to come out on top of more of those than you don't."
While the NFL's Bills made their first playoff appearance in 18 years last season, the Sabres have not won a post-season series since 2007. Buffalo would go on to lose in the Eastern Conference final that year, miss the playoffs twice and then fall in the first round in both 2010 and 2011 before going on the franchise's current seven-year drought accented by three last-place finishes.
For a part of the world that endured four consecutive Super Bowl losses and Brett Hull's controversial toe-in-the-crease goal that ended Buffalo's last trip to the Cup in 1999, the surprising Sabres are keen to end their fans' string of heartbreak.
"They've been desperate for a winner," Eichel said. "It's a great sports city."
PHENOMENAL FINNS
A scan of the NHL's individual leaders reveals a trend — lots of Finns. Winnipeg's Patrik Laine is tied with Skinner and Boston's David Pastrnak, who is Czech, for goals at 19, Colorado's Mikko Rantanen tops the points (40) and assists (30) races, and Nashville netminder Pekka Rinne ranks first in both save percentage (.938) and goals-against average (1.77).
KOVALCHUK'S DWINDLING ROLE
When Los Angeles lured Ilya Kovalchuk back from Russia, this probably isn't what the team had in mind. Due $6.25 million each of the next three seasons, the 35-year-old winger doesn't have a point in the last 10 games and has seen his ice time slashed by new head coach Willie Desjardins. Kovalchuk played a paltry 4:50 at even strength in Sunday's 5-2 loss to Edmonton before getting a slight increase to 7:20 in Tuesday's 2-1 overtime victory in Vancouver.
---
Follow @JClipperton_CP on Twitter
Joshua Clipperton's weekly NHL notebook is published every Wednesday