Red Sox, Yankees set for rubber match
The Boston Red Sox try to carry over the thrill of Saturday night's win into Sunday's rubber match against rival New York at Yankee Stadium.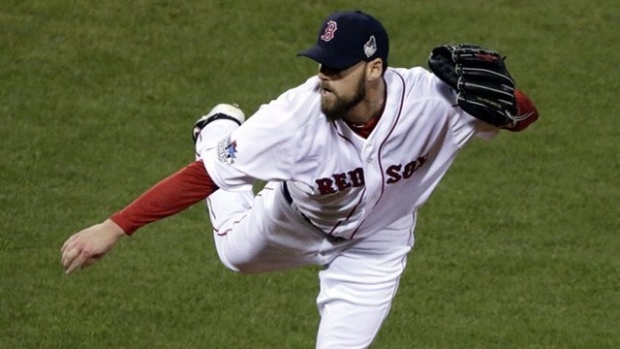 The Boston Red Sox try to carry over the thrill of Saturday night's win into Sunday's rubber match against rival New York at Yankee Stadium.
With scoring chances few and far between for both sides yesterday, the Red Sox needed the long ball to get over New York. First, in the top of the third inning, David Ross connected on a one-out, solo shot to put the visitors on top by a score of 1-0, although in the bottom of the frame Derek Jeter brought in Brian Roberts on a groundout.
Neither side gave an inch over the next five innings.
It wasn't until the top of the ninth that Mike Napoli stepped to the plate and with two outs notched his 10th home run of the season. Unlike the third inning, the Yankees went in order in their final at-bat, leaving Boston with the thrilling 2-1 road victory.
"The sign was for a breaking ball," Yankees starter Masahiro Tanaka said through an interpreter of his fatal pitch to Napoli. "But I actually wanted to go hard outside with my fastball, so that's why I shook him off and threw a pitch. The fact was that I missed my spot and it just kind of got into a spot where it was rather easy for the batter to hit. He asked for a splitter and also for a slider, and I shook off both of them."
Tanaka went the distance for the Yankees, permitting those two solo home runs, along with five other hits. He walked one and struck out eight as he made yet another quality start.
For the Red Sox, who are still just 17-25 away from home and in fourth place in the AL East, Jon Lester was credited with his ninth win of the season as he allowed just one run -- unearned -- on five hits and two walks. Lester also struck out six over eight innings, before giving way to Koji Uehara, who struck out a pair in his one inning en route to his 17th save.
"I knew yesterday that Tanaka was pitching," said Lester of the sterling matchup. "I try not to pay attention to that. I've got to worry about how I'm going to go out and execute my game. Obviously, if you have a chance to hit, that's a little bit of a different story. But I can't worry about who I'm facing or anything like that. You've got to go out and worry about the nine guys who are in the lineup, not anything like that."
Dustin Pedroia accounted for three of the seven hits by Boston, while former teammate Jacoby Ellsbury notched a couple of singles for his new club.
Ellsbury and the rest of the Yankees will now have to contend with another top-notch pitcher on Sunday as John Lackey heads to the hill for the series finale for the visitors. Lackey, who has a career mark of 11-11 to go along with a 4.82 ERA in 29 appearances versus New York, is seeking his first win since June 13.
The right-hander was crushed in his most recent outing against Seattle Monday when he was charged with seven runs on seven hits and a couple of walks in just 3 2/3 innings. Lackey struck out just three in the meeting as his ERA jumped from 2.96 to 3.45.
Answering the bell for the Yankees, a team which is now two games out of first in the division, will be rookie Chase Whitley. Like Lackey, the right-hander was also in action on Monday and beaten up pretty badly by the competition.
The Alabama native faced off against the Blue Jays at Rogers Centre and was knocked around for eight runs on 11 hits and three walks in a mere 3 1/3 innings of work. In suffering the first loss of his major league career, Whitley watched his ERA inflate from 2.56 to 4.07 after the debacle.
Boston, which won the season series last year against the Yankees rather comfortably at 13-6, is trailing by a count of 6-3 entering play on Sunday.