Red Wings' Athanasiou negotiating in KHL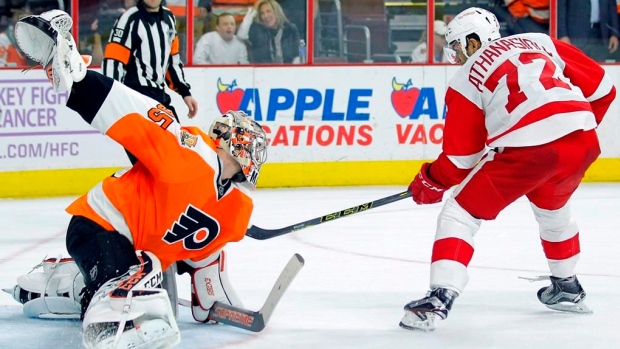 The KHL appears to be a realistic landing spot for Detroit Red Wings restricted free agent Andreas Athanasiou.
According to TSN Hockey Insider Darren Dreger, Athanasiou is in ongoing contract talks with KHL teams and barring a change in Detroit's negotiation stance, indications are the 23-year-old will jump to the Russian league.
Athanasiou's agent, Darren Ferris, said last month the forward had received multiple offers from the KHL which were worth more than the top offer from the Red Wings.
Athanasiou scored 18 goals and added 11 assists in 64 games with the Red Wings last season. He debuted during the 2015-16 campaign and scored nine goals and 14 points in 37 games.
Red Wings general manager Ken Holland said in August he's given Athanasiou multiple offers this off-season.
The Red Wings are currently $3 million over the cap and will have only $900,000 in space once Johan Franzen is placed on long-term injured reserve. Holland has already said he expects the team to have to make a move to be cap compliant by the season.
Athanasiou, a 23-year-old London, Ont., native, would be eligible to play for Canada at the 2018 Olympics, should he sign in the KHL.
A fourth-round pick in the 2012 NHL Draft, Athanasiou is one of 15 restricted free agents yet to re-sign this off-season. Should he move to the KHL, the Red Wings would retain his NHL rights and if he were to return to the league, he would once again be a restricted free agent with the club.