Redblacks' Harris leaves with apparent shoulder injury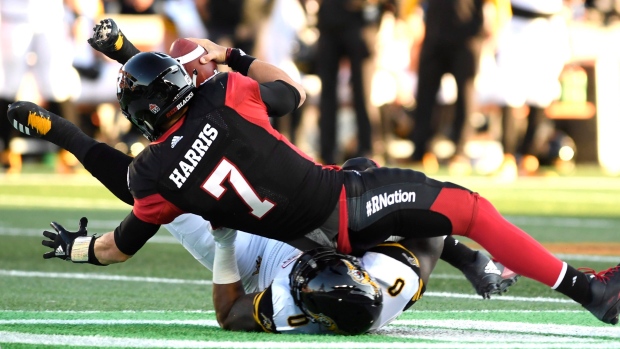 Ottawa Redblacks quarterback Trevor Harris incurred an apparent right shoulder injury in the third quarter of his team's game with the Hamilton Tiger-Cats Saturday evening.
After exiting the game, Harris attempted to test the strength in his shoulder on the Redblacks' sideline by doing routine QB exercises, but was unable to do so because of the pain in his shoulder.
Harris was replaced by backup pivot Drew Tate with the Redblacks trailing the Tiger-Cats 23-15.
In the fourth quarter, Harris was no longer in uniform, and was wearing a sling on his right shoulder.
Tate, who's in his ninth season, had not attempted a pass for Ottawa before Saturday's game. He was acquired by the Redblacks in a trade this past off-season with the Stampeders.