Reloaded Jones rink team to beat at revamped 2018 Scotties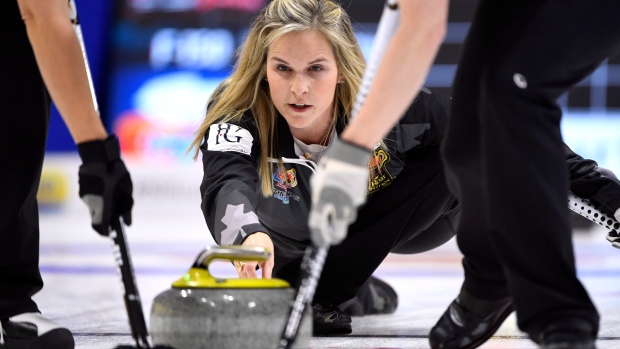 Some of the best female curlers in Canada will soon converge on beautiful Penticton, B.C., for the 2018 Scotties Tournament of Hearts.
And this year's tourney, running Jan. 26 to Feb. 4, will have a completely different look.
After three years of the very unpopular "pre-qualifier" round, in which lower-ranked teams had to compete in order to advance to the main draw, resulting in some teams being eliminated prior to the start of the Scotties, Curling Canada implemented new rules that give every province and territory, plus one wild-card entry, a full week of curling.
This is how it breaks down: The 16-team field will be divided into two pools of eight teams. Throughout the week, each team will compete in round-robin play (seven games) within their pool. From there, the top four teams in each pool will advance to the championship pool. In this round, every rink will play four games against teams in the opposing pool. The top four teams make it to the regular page playoff where the Scotties champion will be determined.
Here's a look at the two pools and each team's seeding.
Scotties Tournament of Hearts Teams
| Pool A | Pool B curling |
| --- | --- |
| (1) Manitoba - Jennifer Jones | (2) Alberta - Casey Scheidegger |
| (4) Wild-Card Entry* | (3) Team Canada - Michelle Englot |
| (5) Northern Ontario - Tracy Fleury | (6) Ontario - Hollie Duncan |
| (8) Nova Scotia - Mary-Anne Arsenault | (7) British Columbia - Kesa Van Osch |
| (9) Saskatchewan - Sherry Anderson | (10) Newfoundland and Labrador - Stacie Curtis |
| (12) New Brunswick - Sylvie Robichaud | (11) Prince Edward Island - Robyn MacPhee |
| (13) Northwest Territories - Kerry Galusha | (14) Quebec - Émilia Gagné |
| (16) Yukon Territory - Chelsea Duncan | (15) Nunavut - Amie Shackleton |
* Team to be determined Jan. 26
Missing from this year's competition will be defending champions Team Rachel Homan of Ottawa. The Homan rink is preparing to represent Canada at the Winter Olympics next month in Pyeongchang, South Korea, so last year's runner-up, Team Michelle Englot, will compete as Team Canada in Penticton.
The field also includes the return of five-time national champion Jennifer Jones who didn't qualify for last year's tournament due to a surprise upset in the Manitoba Scotties. New blood will come from Alberta's Casey Scheidegger, Ontario's Hollie Duncan and 18-year-old Emilia Gagné of Quebec who are all making their Scotties debut.
Veterans such as Mary-Anne Arsenault of Nova Scotia, Sherry Anderson of Saskatchewan and Kerry Galusha of Northwest Territories will be there, too.
With the new format comes more opportunities for teams usually not in the thick of things to be in the mix further into the week.
Let's look at all the rinks set to compete in Penticton.
Wild-Card (4) – Chelsea Carey (Calgary) vs. Kerri Einarson (Winnipeg)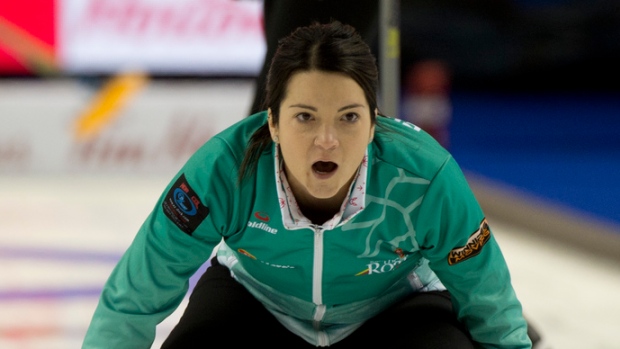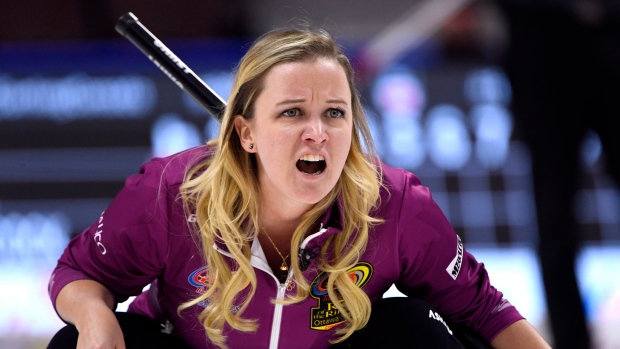 Carey's Record: 45-16
Einarson's Record: 51-23
Thanks to new rules in place for this year's Scotties Tournament of Hearts, Calgary's Chelsea Carey and Winnipeg's Kerri Einarson will have one more chance to qualify for the main Scotties draw despite losing in their respective playdowns. The two sides will battle in a wild-card game on Friday night (Jan. 26) before the start of the Scotties for the 16th and final spot in the field. It's a contest that could go either way as both teams have plenty of experience and wins under their belts. Carey's crew is coming in hot, having won this past weekend's Canadian Open Grand Slam event in Camrose. However, their only lost all week came by the hands of Team Einarson in the opener. Team Carey, the 2016 national champs, is also coming off an impressive showing at the Olympic trials where they rattled off eight straight wins before losing in heartbreaking fashion to Team Homan in the final. Team Einarson, on the other hand, has won a pair of World Curling Tour events this season, including the Tour Challenge Tier 2 on the Grand Slam circuit. This one will be a complete tossup, with the winner having a real shot at Scotties gold.
Pool A
Manitoba (1) – Jennifer Jones (Winnipeg)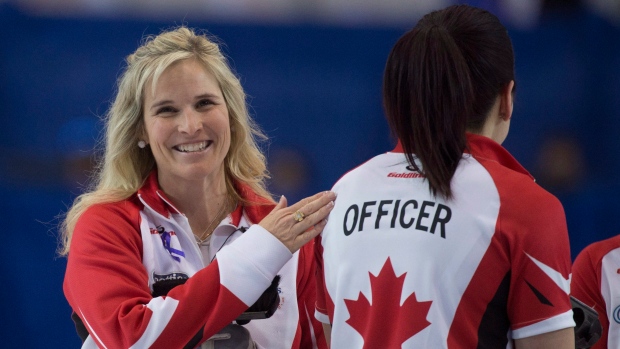 Skip: Jennifer Jones Third: Shannon Birchard Second: Jill Officer Lead: Dawn McEwen
Record: 54-18
Jennifer Jones is back! After an upset at last year's Manitoba playdowns, Team Jones has returned to the Scotties Tournament of Hearts, with the 43-year-old skip looking for her sixth national title. They should be plenty motivated to do so as the 2014 Olympic champions had a disappointing showing at the Roar of the Rings Olympic trials. After winning their first five games in the nation's capital, Team Jones dropped four in a row, capping it with a semi-final defeat to eventual champion Team Homan. The rink will look a little different this time around as third Kaitlyn Lawes is prepping for Olympic mixed doubles action and will not compete. The team has added Winnipeg native Shannon Birchard, a skip in her own right, to fill in at third. Birchard, 24, is a two-time Canadian junior finalist. She played in a couple round robin games with the team at the Canadian Open this past weekend before the regular foursome lost in the semis to Team Englot. Team Jones has played well on tour in 2017-18, winning both the National and Masters of Curling on the Grand Slam circuit with perfect 7-0 records.
Final Word: It could be a little concerning adding a new player ahead of a massive event such as the national championship. Team Jones might be a little rusty at the start of the week, but once they find their groove with Birchard, they should be the No. 1 team to beat.
Northern Ontario (5) – Tracy Fleury (Sudbury)
Skip: Tracy Fleury Third: Crystal Webster Second: Jennifer Wylie Lead: Amanda Gates
Record: 24-14
For the first time since 2015, Tracy Fleury is heading back to the Scotties. The Sudbury crew defeated two-time defending champion Krista McCarville in the Northern Ontario final, 6-4. Team Fleury won the Gord Carroll Curling Classic in Whitby, Ont., this season. They also made it to the semis of the National.
Final Word: Team Fleury finished with a 6-5 record, just missing the playoffs, at the 2015 Scotties and should be in contention once again in Penticton.
Nova Scotia (8) – Mary-Anne Arsenault (Halifax)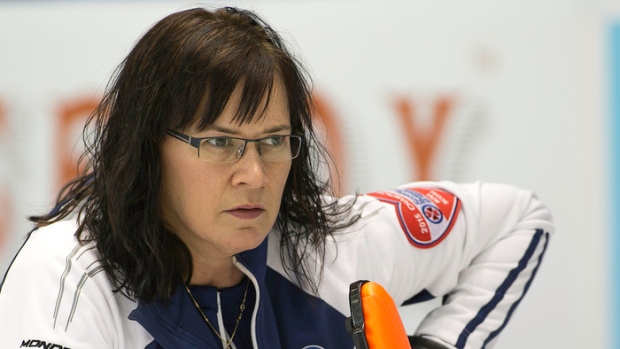 Skip: Mary-Anne Arsenault Third: Christina Black Second: Jennifer Baxter Lead: Jennifer Crouse
Record: 21-13
Five-time Scotties champion Mary-Anne Arsenault topped Kristen MacDiarmid in the Nova Scotia final and will compete in the 13th national championship of her career. The 49-year-old, who had much of her success playing for Colleen Jones, last appeared at the Scotties in 2015, finishing with a 5-6 record. They have failed to get past the quarter-final round in six WCT events this season.
Final Word: Arsenault is no stranger to this event, and with the expanded field, this Halifax foursome could work their way to the championship pool.
Saskatchewan (9) – Sherry Anderson (Saskatoon)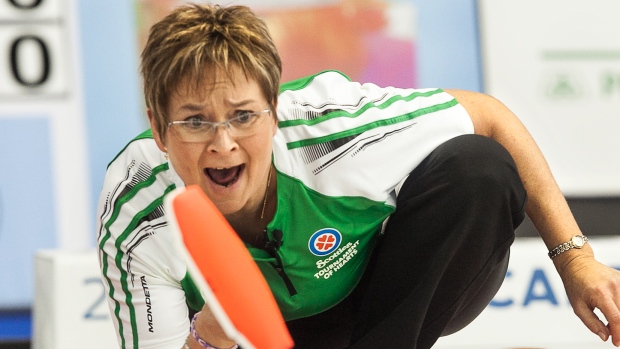 Skip: Sherry Anderson Third: Kourtney Fesser Second: Krista Fesser Lead: Karlee Korchinski
Record: 20-22
For the ninth time of her career and the first since 2015, 54-year-old Sherry Anderson is returning to the Canadian championship. Anderson beat out Robyn Silvernagle in the Saskatchewan final with a young squad that includes 23-year-old twin sisters Kourtney (third) and Krista (second) Fesser. Anderson won the 2017 Canadian seniors championship as well as silver at the 2002 Scotties in Brandon and the 2001 Olympic trials in Regina.
Final Word: Anderson may be leading an inexperienced squad into these Scotties, but her experience as skip might keep Saskatchewan competitive out west. Let's see how long Team Anderson can stay in the mix.
New Brunswick (12) – Sylvie Robichaud (Moncton)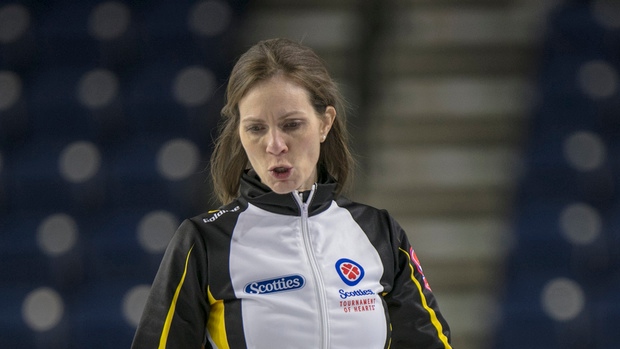 Skip: Sylvie Robichaud Third: Melissa Adams Second: Nicole Bishop Lead: Kendra Lister
Record: 15-5
Sylvie Robichaud won New Brunswick for the third time in four years in early January. This time, however, she is bringing Melissa Adams, the skip who won the provincial title last year, along to play third in Penticton. Adams failed to win the Scotties' pre-qualifying round last year after Robichaud finished last with a 2-9 record in 2016. Besides provincials, Robichaud does have one win under her belt this season, taking the WFG Jim Sullivan Curling Classic in January.
Final Word: New Brunswick has struggled at the last three Canadian championships. Will the combination of Robichaud and Adams get the East Coasters closer to a .500 record? Time will tell.
Northwest Territories (13) - Kerry Galusha (Yellowknife)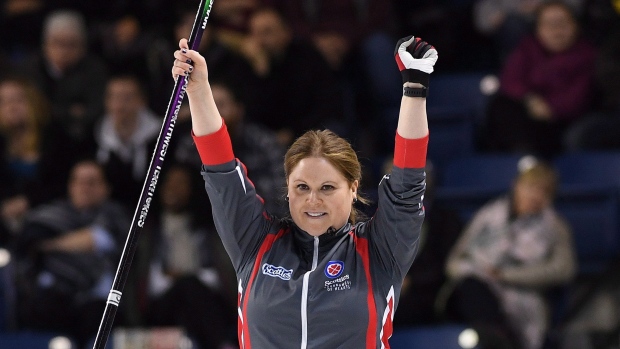 Skip: Kerry Galusha Third: Sarah Koltun Second: Megan Koehler Lead: Shona Barbour
Record: 8-6
Kerry Galusha is no stranger to the Scotties Tournament of Hearts. This will be her 15th – and fourth straight appearance – at nationals. After losing in the pre-qualifying round two straight years, Galusha finally got back into the main draw in 2017 and put together a solid week, finishing with a 5-6 record. Team Galusha added former skip Sarah Koltun to the team this year as a vice.
Final Word: With one automatic playoff spot gone, thanks to Homan competing in the Olympics, and adding a talented youngster in Koltun, Galusha could see herself in the Scotties playoffs for the first time with a strong week of curling.
Yukon (16) – Chelsea Duncan (Whitehorse)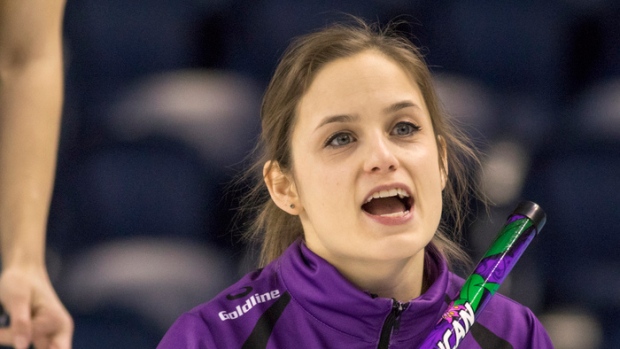 Skip: Chelsea Duncan Third: Jenna Duncan Second: Kara Price Lead: Jody Smallwood
Record: 0-3
Chelsea Duncan will make her third appearance at the Scotties, but first as a skip. It will also be her first time playing the whole week as the pre-qualifying round no longer exists. Team Duncan went winless at the Driving Force Abbotsford Cashspiel in November.
Final Word: Team Duncan won't be in contention, but it should be a great experience for this young squad on the national stage.
Pool B
Alberta (2) – Casey Scheidegger (Lethbridge)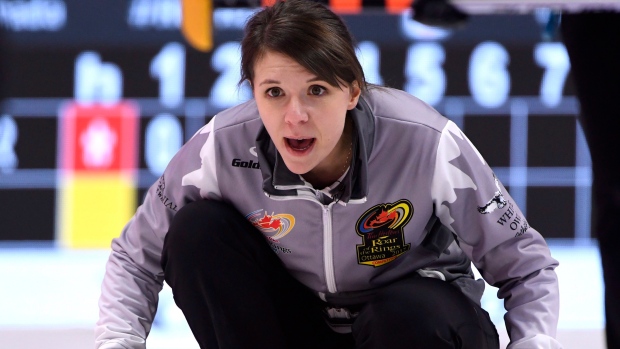 Skip: Casey Scheidegger Third: Cary-Anne McTaggart Second: Jessie Scheidegger Lead: Kristie Moore
Record: 27-21
Casey Scheidegger and her Lethbridge rink are quickly working their way up the curling ranks. After winning her first career Grand Slam last year at the Canadian Open, the 29-year-old competed on the national stage at the Olympic trials in December, posting a 3-5 record. This rink will cross another first off their list in B.C. with their inaugural Scotties showing. Team Scheidegger went 6-1 at the Alberta Scotties, beating the likes of Val Sweeting, Carey and defending champion Shannon Kleibrink in the final with a steal of two in the extra end. They also made it to the final of the Grand Slam's National earlier this year, losing to Team Jones.
Final Word: Even though this will be the first appearance for Scheidegger and company at the Canadian championship, they must be considered playoff or, at the very least, championship pool contenders. They've proven they belong over the past year or so, and they are seeded No. 2 for a reason.
Canada (3) – Michelle Englot (Winnipeg)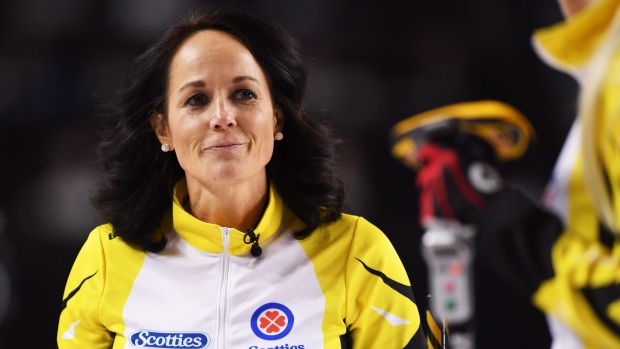 Skip: Michelle Englot Third: Kate Cameron Second: Leslie Wilson Lead: Raunora Westcot
Record: 29-29
Despite losing the Scotties final last year, Michelle Englot, 54, and her Winnipeg crew will wear the red and white jackets in Penticton. Homan, the 2017 Scotties champ, has bigger fish to fry with the Olympics in South Korea. After a surprising run last season, Team Englot has taken a slight step back in 2017-18. They hold a .500 and had a disappointing result at the Roar of the Rings Olympic trials, finishing near the bottom of the standings. However, they are picking up their play as of late, making the final of the Canadian Open (beating Team Jones in the process) where they lost to Team Carey. They've made two other finals on the World Curling Tour, losing to Einarson at the Mother Club Fall Curling Classic and Victoria Moiseeva at the Crestwood Ladies Fall Classic.
Final Word: Team Canada is always a top contender at the Scotties, and Team Englot should be no different if they can continue their level of play from the Canadian Open. However, if they drop to how they were playing earlier this season and fail to recapture their excellence from a year ago in St. Catharines, Ont., this rink will be on the outside looking in by the end of the week.
Ontario (6) – Hollie Duncan (Toronto)
Skip: Hollie Duncan Third: Stephanie LeDrew Second: Cheryl Kreviazuk Lead: Karen Sagle
Record: 20-17
As Homan is busy with the Olympics, the Ontario Scotties field was wide open this season and Team Hollie Duncan of Toronto took full advantage. Duncan beat Danielle Inglis, 10-7, to punch her first ticket to the Canadian championship. The foursome hasn't won a WCT event this season, but made the semis at the Shorty Jenkins Classic and StuSells Toronto Tankard. Homan fans will notice familiar names on this team as second Cheryl Kreviazuk and third Stephanie LeDrew have both been alternates for Team Homan in the past. Kreviazuk won Scotties and world championship gold in 2017 with Team Homan while LeDrew was on the bench for their national victories in 2013 and 2014. This will be the first Scotties as a regular curler for the 25-year-old Kreviazuk. LeDrew played third for Newfoundland and Labrador in 2010.
Final Word: Team Duncan hold a record hovering around the .500 mark this season without facing many big hitters. Some of those big hitters will be missing at the Scotties, giving a lot of teams, like Duncan's squad, a chance in B.C. Team Duncan is another wild card for the 2018 Scotties.
British Columbia (7) – Kesa Van Osch (Nanaimo)
Skip: Kesa Van Osch Third: Marika Van Osch Second: Kalia Van Osch Lead: Amy Gibson
Record: 23-19
It will be a family affair for Team Kesa Van Osch at the 2018 Scotties. Not only will the Nanaimo rink be playing in front of fans in their home province, the Van Osch clan will also be represented well, to say the least. Skip Kesa is joined by sisters Marika (third) and Kalia (second) as well as lead Amy Gibson. They dominated defending B.C. champs Team Karla Thompson, 11-4, in the provincial final. It will be Kesa's second appearance at nationals.
Final Word: Team Van Osch will be in tough to makes the playoffs, but it would be quite the story if they can stay competitive all week in front of B.C. fans, friends and family.
Newfoundland and Labrador (10) – Stacie Curtis (St. John's)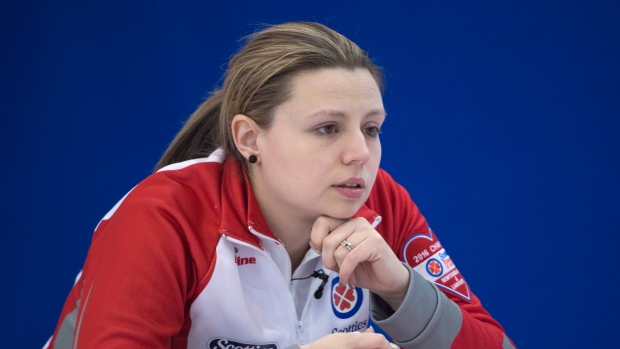 Skip: Stacie Curtis Third: Erin Porter Second: Julie Devereaux Lead: Erica Trickett
Record: 16-10
Once again, Stacie Curtis is going to the national championship and will once again look to improve. Her St. John's squad posted a 5-6 record in St. Catharines last year, a two-win improvement from 2016. Team Curtis has played in three WCT events this season, making the playoffs in two of them.
Final Word: If Team Curtis can continue getting better and pick up a few more wins, they'll surely be in the championship pool.
Prince Edward Island (11) – Robyn MacPhee (Charlottetown)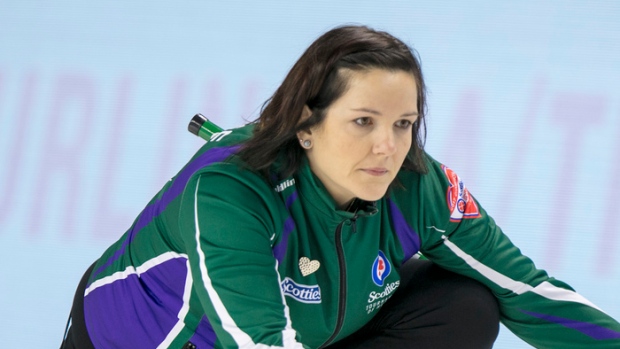 Skip: Robyn MacPhee Third: Sarah Fullerton Second: Meaghan Hughes Lead: Michelle McQuaid
Record: 20-11
Robyn MacPhee is making her third straight appearance at the Scotties and the ninth of her career. She finished with a 3-8 record last year and had a 4-7 showing in 2016 as third for Suzanne Birt. Playing for Birt, MacPhee, 34, won back-to-back Canadian junior titles in 2001 and 2002 as well as a world junior championship in 2001. For an East Coast rink, Team MacPhee has been busy in 2017-18, playing in five World Curling Tour events.
Final Word: Team MacPhee should be a middle-of-the-pack team in Penticton.
Quebec (14) - Emilia Gagné (Alma)
Skip: Émila Gagné Third: Mélina Perron Second: Marie-Pier Harvey Lead: Chloé Arnaud
Record: 3-3 (Juniors)
Out of all the Scotties playdowns across Canada this year, the result in Quebec might be the most surprising. Emilia Gagné, just 18, and her young crew fell in the semi-final of the Quebec Juniors just a few weeks ago. They sure made up for that by winning the Quebec Scotties to punch their first ticket to the national championship. Team Gagné finished the round robin at 4-3, forcing them to win a tiebreaker to qualify for the playoffs. They then beat nine-time provincial champ Marie-France Larouche in the semis before stunning defending champion Eve Belisle in the final, 7-6.
Final Word: Team Gagné will be on cloud nine playing at a Canadian championship so early in their careers. It will be hard to put them down as contenders, but they've proven they can compete with notable names thanks to their win in Quebec.
Nunavut (15) - Amie Shackleton (Iqaluit)
Skip: Amie Shackleton Third: Geneva Chislett Second: Denise Hutchings Lead: Robyn Mackey
Geneva Chislett skipped the past two Nunavut rinks, posting a 1-5 record in the pre-qualifying round. With Nunavut now slated to compete the full week, the territory added Amie Shackleton, a native of Stratford, Ont., to lead the team this year.
Final Word: It will be great for Nunavut to play an entire week on the national curling stage, but they're likely to get blown out in almost every contest.