Blues D Parayko files for arbitration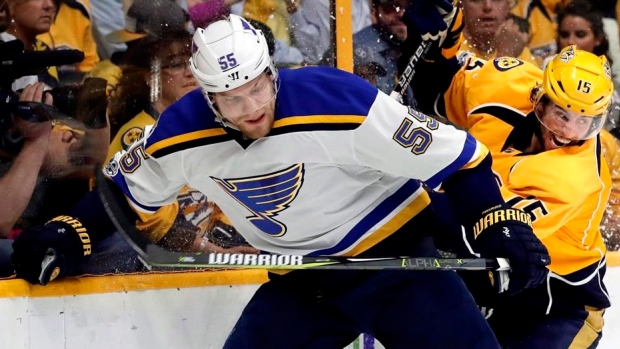 St. Louis Blues defenceman Colton Parayko has filed for arbitration, the team confirmed Wednesday.
The deadline for players to file is Wednesday at 5pm et. Jeremy Rutherford of the St. Louis Post-Dispatch reports the Blues would have filed for arbitration if Parayko had not.
The St. Albert, Alberta native has played only two years in the NHL but quickly moved up the ranks to become one of the Blues most reliable defenceman. He logged 21:12 of time on ice per night last season.
The 24-year-old had four goals and 31 assists for 35 points in 81 games in 2016-17.
Parayko added two goals and three assists in 11 playoff games with the Blues. He then joined Team Canada at the world hockey championship, scoring three goals and posting seven points in six games as Canada won silver.
The team release said the two sides would continue to work on a long-term contract before the arbitration hearing, which will take place between July 20 and August 4.
The 6-foot-6 defenceman was drafted in the third round (86th overall) in the 2012 NHL Entry Draft. He was also named to the 2015-16 NHL All-Rookie first team. In his rookie season Parayko scored nine goals while adding 24 assists.
In total, he owns 13 goals and 68 points in 160 games at the NHL level.