Report: Cardinals eye Jays 3B Donaldson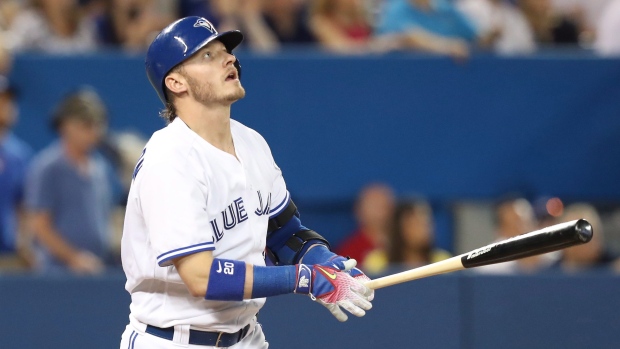 The St. Louis Cardinals are interested in acquiring third baseman Josh Donaldson ahead of the trade deadline, according to Jon Morosi of MLB Network.
Morosi notes, however, that there have been no formal trade talks between the two teams.
Donaldson, the 2015 American League MVP, is batting .238 this season with eight home runs and 20 RBI in 42 games. He missed significant time early in the season due to a calf injury.
Donaldson, 31, is in the final season of a two-year, $28.65 million contract signed in 2016. The two-time Silver Slugger is arbitration eligible this winter and could hit free agency in 2019.
The Blue Jays, 38-45, are reportedly ready to start selling ahead of the trade deadline after reaching the playoffs in each of the past two seasons.
The Cardinals, 40-43, sit 4.5 games back of the Milwuakee Brewers in the NL Central. St. Louis released third baseman Jhonny Peralta earlier this month, with Jedd Gyorko getting the majority of starts at the hot corner. Gyorko, 28, is batting .301 with 12 home runs and 41 RBI in 73 games this season.