Report: Eichel won't re-up if Bylsma remains coach
Jack Eichel isn't willing to commit his future to the Buffalo Sabres as long as Dan Bylsma remains the team's coach, reports WGR 550's Paul Hamilton.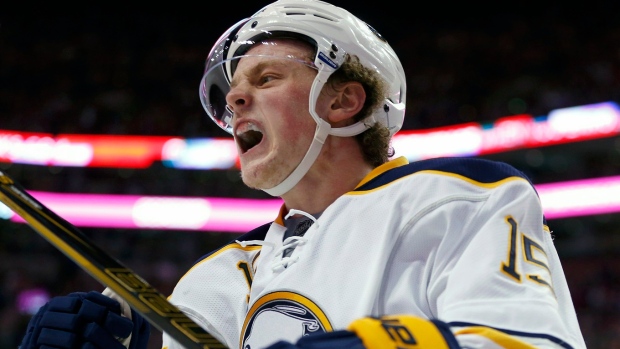 Jack Eichel isn't willing to commit his future to the Buffalo Sabres as long as Dan Bylsma remains the team's coach, reports WGR 550's Paul Hamilton.
The 20-year-old Eichel just completed the second season of his three-year, entry-level contract.
Hamilton reports that the 2015 second overall pick in the National Hockey League Entry Draft had an end-of-the-season exit meeting with general manager Tim Murray last week and was candid in his assessment of a disappointing season in which the rebuilding Sabres finished dead last in the Atlantic Division with 33-37-12 record. They finished 17 points adrift of the Toronto Maple Leafs for the final playoff spot in the Eastern Conference.
Eichel's agents denied the report on Wednesday.
Murray is expected to meeting with Sabres owners Terry and Kim Pegula in Florida on Wednesday.
Eichel has not hidden his displeasure with the team over his young NHL career.
"It's been a mediocre two years," Eichel told the Buffalo News in early April. "More than anything, it's a bit disappointing, a bit embarrassing for us as players that we can't be better for them. You want to please the fans because of all they've been through and all they continue to put up with. You just want to be better."
Eichel continued on that theme during the team's final media availability of the season on April 10th.
"I think guys want to win but there is a difference between saying you want to win and actually wanting to win," Eichel said. "Putting the work in, dedicating your life to it. When you do that and it doesn't work it is pretty frustrating."
Last week, Murray noted that there would be a full review of the organization in the coming days and would not speculate on Bylsma's job security other than to offer that he currently remains coach.
"I am the general manager today, [Bylsma] is the coach today, I haven't had any thoughts of firing him up to this point and the reason I always say today is something could happen tomorrow, so he's the coach, yes," Murray said.
Below is the full interview between Eichel and Buffalo News Editor John Vogl.
So when the call with Eichel got past the hellos, the opening question was: Where do you even want to start?
Eichel: "Wherever. I'm playing for the U.S. in the world championships. Obviously, that's a good thing for me.
"I think a lot of things have been written today about me and about things that are not true, to be honest with you. Reading some of these things, I was a little bit bombarded this morning with a lot of articles that I think are pretty inaccurate. I'm just reading things in the last few days that are a little bit out of whack and not true. It just bothers me more than anything that it's not coming out of my mouth and somebody's writing things that's not true at all."
The Buffalo News: "Let's start with this morning then. I talked to your agent and he said you're hurt by all this stuff. I can imagine if, like you're saying to me, it's stuff you didn't say and it's being reported that you said it. How hurtful is that and what were you thinking when you starting seeing these things?"
Eichel: "First, when you see that people are writing these things and saying that you said these things, my first thought is where are they getting this information? If it's not coming out of my mouth and I didn't verbally say it to you or anybody, then where are you getting this information? Second of all, why are you writing it and trying to back yourself up on it?
"I was just more than anything bothered because I thought leaving Buffalo last week, obviously frustrated with the way the season ended. If I were to do over my press conference at the end of the year, I probably should have shown some better body language. It's just so fresh in your mind. Mentally, it's quite frustrating, and it's quite frustrating for all of us on the team. If I showed that frustration a little bit more than other guys in my end-of-the-year meeting, then that's how I am. I think my agent said that I wear it on my sleeve, and I do to a point. I'm an emotional guy. When you want to succeed and you want to do well and that doesn't work out for you, it definitely takes a toll.
"Like I said, I would have liked to have handled my end-of-the-year meeting a little differently, my exit press conference with you guys, but it is what it is. Just hearing these things that people are writing after I have a meeting with Tim and a meeting with Dan, I thought both of them went well. None of anything that I've read so far has been accurate of what was said in those meetings with them. It's a bit frustrating and a bit disheartening because I thought things were heading in the right direction leaving Buffalo. As much as we didn't have a great year, you've got to just look forward to the future. Speaking to Tim and speaking to the Pegulas, just expecting big things for next year. It's just frustrating to still be dealing with this more than anything."
TBN: "Without getting into specifics about the meetings, what did you like? You mentioned leaving hoping for big things. What was the feeling leaving those meetings and what did you like that you heard?"
Eichel: "Just some change in terms of our overall culture and wanting to instill more of that winning atmosphere. As management and coaches, they were saying that they need to expect more out of us as players. I think what maybe got a little bit misunderstood was I don't think anybody said they want anybody to leave, but there was definitely changes that everybody had brought forward.
"I'm not the only guy. Speaking with other guys, everybody wanted change. In order to do that, you've got to voice your opinion to the coach and to the GM, and I think we did a good job of that as a group. You have more of a grasp of what we think as an organization we need to do to put ourselves in a better position at the end of the year. I think that was said. The message got across. I don't think there was any pointing the finger or anything. I think we came together as a collective and said what we think we need to change to be better. I think that's where we left it.
"Tim had voiced his opinions of what he thinks he needs to do, and I said the same thing with mine. I know that Dan did the same thing. As a coach, he said he needs to be better. As a player, I said I need to be better. The same for Tim.
"What I said at my end-of-the-year meeting was I think today more than anything was a self-reflection to look in the mirror. I said it to you guys, and that's what it is. I was frustrated with myself at the end of the year. I'm not the kind of guy to point the finger at people, and I feel like people are saying that I'm doing that. That's where I get most frustrated and most disappointed. I myself, I need to become a better player. I need to become a better player. I need to become a better teammate, a better leader. I think that's all in the works. You can't do anything but try to improve yourself, to improve a team. That's the way I look at it."
TBN: "I've been doing this for 15 years, and it's changed so much in how fast things move. I see it just writing it. I can't imagine being part of it."
Eichel: "Yeah."
TBN: "When it moves so fast, what is it like for the person involved with it?"
Eichel: "Yeah, it's tough. It's try and get a grasp on it, then it spreads like wildfire. As soon as one person writes it, another person reads it and it really hits the fan. Like I said, it's frustrating more than anything that I think the wrong message is being put out about me and about our organization and team. That's why I think my agent did a good job of calling you and putting the right message forward about what my real opinions are because I want to be a Sabre and I want to be a Sabre for a long time and I want to be a part of Buffalo when we win. I know it's an organization that is capable of doing that, and I want to be a part of it and I want to be a centerpiece of it.
"I want to be here for a long time. That's the way I look at it. I don't want to go anywhere else. I don't want anybody to think that I want to be somewhere else. I want to be here, and I want to help this team win in any way that I can do that. I just want all the people there to know that.
"I definitely am not the type of guy to point the finger and blame other people. I said in my exit interview and I'll say it again, it's self-reflection. You've got to look yourself in the mirror before you can call out other guys. I said it all year, if you want to be a leader and be vocal, you've got to play well yourself. For me, I don't think I was good enough this year, so I need to be better. The onus is on me."
TBN: "I've got to ask about Dan specifically. As you mentioned, he said he has to be better, everyone said they have to be better. How was it with Dan?"
Eichel: "As a coach, he asked me about my season. We go through our meeting, and I thought things went pretty well. By the end of it, I thought we were on the same page. In terms of hockey specifics, we talked a lot about the team, the play and my play and what he thinks I can do better and what I want to work on in the offseason. I think it was a pretty normal exit meeting, and one that you leave saying I want to work on this stuff and this stuff and be better for next year. That's the way I took it.
"For him, I think I told him some things that I think as a group we can all improve on. He was very receptive. I don't think what's being said about the way things ended is accurate in any way."
TBN: "Obviously, Tim talked after you guys and talked about Dan and said he'd meet with Terry and they'd decide some things. How closely did you watch that or are you paying attention to that?"
Eichel: "I had seen a few quotes online, but in terms of watching that, that's not my side of things as a player. My job is to work hard and try to get better as a player every day and be the best guy I can to all my teammates. I think that they realize that.
"I'm not on the management side of things. And I've said it before and people take it the wrong way, but I'm also not the coach. Obviously, I speak with them and have a relationship with them, but that's their job. I look at it as that's not my job. My job is to play and try and perform every night. That's kind of my mentality and the way I look at it."
A native of North Chelmsford, Massachusetts, Eichel is arbitration-eligible after his fourth season in the NHL.
Eichel was the Sabres' leading scorer this season, despite missing 21 games with injury. In 61 games, Eichel tallied 24 goals and 33 assists.