Report: Irving willing to commit to Spurs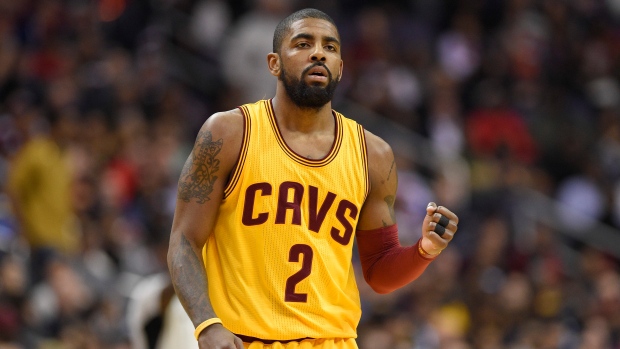 Point guard Kyrie Irving is reportedly willing to commit to a long-term deal with the San Antonio Spurs according to ESPN's Adrian Wojnarowski if he is traded there.
However, the Cleveland Cavaliers are seemingly not interested in the return offered by the Spurs.
What sort of return San Antonio was offering is unclear, but Wojnarowski says the Cavaliers want a young cornerstone piece to build around should LeBron James decide to walk in free agency after the season. While the Cavaliers have every intention of keeping James past 2018, they believe there is a significant chance he may sign elsewhere.
Some of the names Wojnarowski said the Cavaliers are intrigued by are Canadian Jamal Murray, New York's Kristaps Porzingas, Phoenix's Josh Jackson or the No. 3 overall pick of the Boston Celtics, Jayson Tatum.
The Knicks reportedly have one non-negotiable demand in a potential Irving for Porzingas swap and it's Joakim Noah. New York wants the Cavs to take on all of Joakim Noah's three years and $54 million remaining on his contract.
Prior to last season, the Knicks handed the former Chicago Bulls star four years and $72 million dollars in free agency, but Noah underwhelmed dramatically last season. He averaged just 5 points per game with a dismal free throw percentage of 43.6.
Whether discussions have taken place between the Cavaliers and any of the remaining teams regarding a potential Irving deal is unclear.
Irving is under contract until the end of the 2018-19 season, at which point he can decline the final year of a five-year, roughly $95 million deal and become a free agent.