Report: McCullers Jr. to throw bullpen Saturday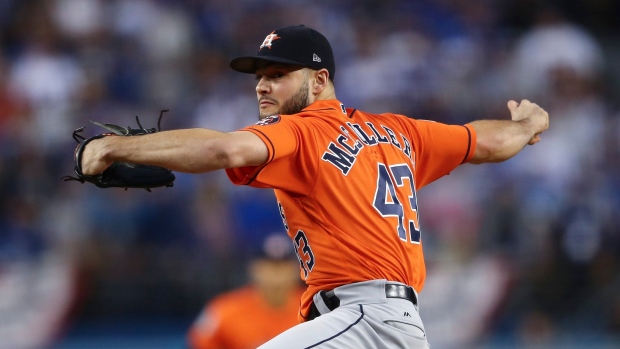 Houston Astros starter Lance McCullers Jr. threw two simulated innings at Comerica Park Tuesday and is scheduled to throw a bullpen Saturday in Florida as he works his way back from a forearm strain according to Jake Kaplan of The Athletic.
McCullers, who threw 40 pitches in the simulation, called Tuesday's outing "very positive."
"I threw about 40 pitches in the 'pen split over two different sections, so I got up and threw about 15 or 20 [pitches], sat down for five minutes, got back on the mound and threw another 15 or 20 and simulated a batter at the end, threw all my stuff -- fastball, sinker, changeup, curveball. Everything felt good coming out. Really happy with how it went," he told Brian McTaggart of MLB.com.
McCullers was 10-6 with a 3.93 ERA in 22 starts for the defending champs before hurting his elbow on Aug. 4.
"Our hope for him is the ability to bounce back, and if you start thinking about scenarios, I would need to use him in a game if he needs to come in and get a hitter out, I'd like him to go back out to the next inning," Astros manager A.J. Hinch said. "It's literally just building him up to the point of being able to sit down in between -- have high intensity, a sitdown, high intensity again. A two-inning stint is something we're gearing for."
He is expected to pitch out of the bullpen for the rest of the regular season and the post-season if all goes well with his recovery.
The Astros lead the American League west division by three games entering play Wednesday.