Report: MLB looking into base issue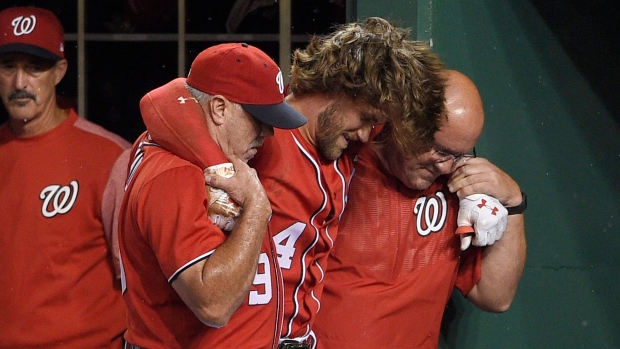 Major League Baseball is looking for ways to improve their bases in response to Bryce Harper's injury, according to Bob Nightengale of USA Today.
When Harper went down last week with what appeared to be a severe knee injury, everyone around baseball held their breath. He has since received a favourable diagnosis and will attempt to return this season, but that hasn't stopped the issue from coming under the microscope.
Harper was injured while trying to leg out a ground ball and slipped on the base. While MLB commissioner Rob Manfred initially dismissed it as a "freak" incident earlier in the week, people around baseball appeared to have a more serious tone Thursday.
"We're going to have to do something," said Nationals owner Mike Rizzo on 106.7 the Fan. "I think MLB has recognized that this isn't the first nor the last injury of this sort. We've had two horrific ones this year with Eaton and Harper."
Adam Eaton went down earlier in the year with an injury stemming from contact with first base running out a ground ball, but it wasn't because he slipped. He landed awkwardly on the front part of first base and was forced to miss the rest of the 2017 season with a torn ACL.
But some are calling on the MLB to visit other issues relating to player safety. A number of pitchers around baseball have missed significant time with injuries, including the Blue Jays' Aaron Sanchez and the Dodgers' Rich Hill. Blue Jays' righty Marcus Stroman thinks the MLB should take a closer look.
"I feel like it's an epidemic that's happening across the big leagues now, a bunch of pitchers getting blisters, guys who have never had blisters before. So for MLB to turn their back to it, I think that's kind of crazy," Stroman said in July.
Stroman took it a step further Thursday, liking a tweet former Oakland Athletics pitcher Dallas Braden posted on the issue.
"1 guy blows knee on a wet bag & we scramble for change. MULTIPLE guys/Orgs lose time w/ blister issues & we get fed a "paid for" analysis." tweeted Braden.