Report: Ohtani has damaged UCL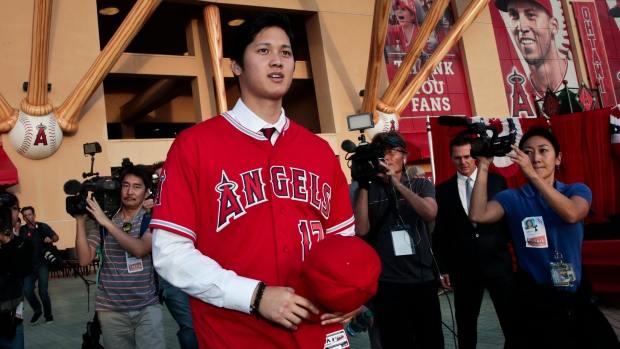 Los Angeles Angels star Shohei Ohtani has a damaged right ulnar collateral ligament (UCL) according to Jeff Passan of Yahoo Sports.
The 23-year-old underwent a procedure in October in hopes of treating elbow pain and has a first-degree sprain of his UCL per a Nov. 28 medical report obtained by Yahoo Sports. While the injury is not as severe as other UCL issues, further damage could lead to Tommy John surgery, which typically sidelines pitchers for up to a year.
"We are pleased with the results of the physical and we are very happy to have the player," Angels general manager Billy Eppler said. He also called the procedure preventative.
The Angels confirmed that Ohtani had a platelet-rich plasma (PRP) shot on Oct. 20 that was used to promote healing. The report indicates that Ohtani "will be most likely available to start his throwing program a month from the PRP." Passan notes that this report was distributed to MLB teams during the recruitment process that saw him land in Anaheim last week. Ohtani passed his physical last Thursday prior to the signing becoming official.
"Although partial damage of UCL in deep layer of his right UCL exists," the report said, " … he is able to continue full baseball participation with sufficient elbow care program."
The report adds that a "small free body" floats in Ohtani's elbow near his UCL.
Ohtani's fastball has reached 102 MPH, which Passan notes could be problematic considering the strong correlation between fastball velocity and elbow injuries.
The Angels signed Ohtani to a signing bonus of $2.3 million and paid his former Japanese team, the Nippon Ham Fighters, a $20 million posting fee.