Report: Phils 'clear-cut' favourite for Harper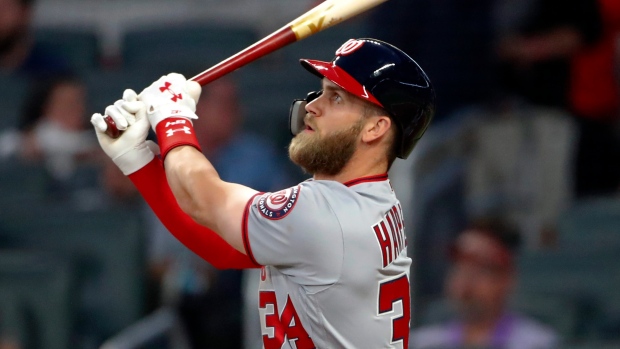 The Philadelphia Phillies have emerged as the "clear-cut" favourite to land free agent outfielder Bryce Harper according a report from Bob Nightengale of USA Today.
The two sides met for five hours Saturday in Las Vegas and Nightengale adds that the Phillies have become the most aggressive team in the Harper sweepstakes while the Washington Nationals' interest appears to be waning. Nats executives are now calling a reunion with Harper a "long shot" and have not had contact with Harper in over a month according to the report.
Harper reportedly turned down a slightly deferred 10-year, $300 million deal from the Nationals in September.
The Phillies have yet to make an official offer to Harper but are confident they will sign at least one of the two free agent megastars as they've also been connected to infielder Manny Machado all off-season. They are expected to make an official offer to Harper within a week.
The Chicago White Sox also showed strong interest in the 26-year-old outfielder but have yet to make him a formal offer. The report states they appear to have turned their focus to Machado and recently made him a $200 million offer. Chicago also traded for his brother-in-law Yonder Alonso and signed close friend Jon Jay to a one-year deal this week.
Nightengale adds that there is no formal deadline to sign either player, but both the Phillies and the White Sox would like to sign their respective superstars sooner rather than later to maximize season ticket sales.
Harper hit .249 with 34 home runs and 100 RBI in 159 games last season while Machado batted .297 with 37 homers and 107 driven in.