Report: 'Real possibility' Bell sits out season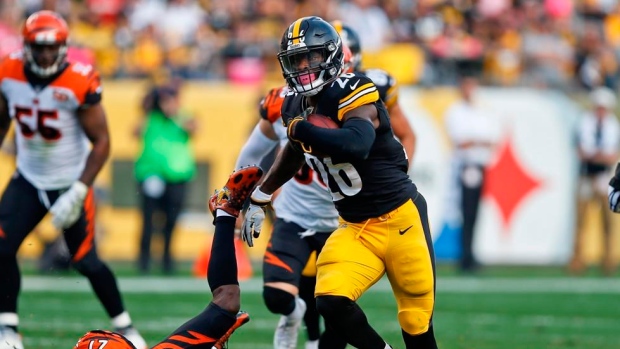 Le'Veon Bell has less than a week to report to the Pittsburgh Steelers in order to play this season, but it appears he's still debating signing the franchise tag.
Mark Kaboly of The Athletic reports there's a "real possibility" Bell will simply let next Tuesday's deadline to sign the franchise tag pass and sit out the season.
Bell would surrender the final $6.84 million of his salary if he elects not to sign the franchise tender. There have mixed reports dating back to the preseason on when Bell would report to the team, with an expectation he would return to the team during their Week 7 bye. That, however, did not happen.
The Steelers placed the franchise tag on him for the second straight year last March and failed to reach a long-time deal by the summer time deadline. Whether or not he reports this season, the Steelers would need to use a $25 million franchise tag to keep him in 2019, which is not expected to happen.
He rushed for 1,291 yards with nine touchdowns over 15 games in 2017 with the Steelers, his fifth year in Pittsburgh.
The Steelers selected the Michigan State product in the second round of the 2013 NFL Draft. Bell is a three-time Pro Bowler.
Pittsburgh is 5-2-1 on the season and sit first in the AFC North, while Bell's replacement, James Conner, sits second in the NFL in rushing yards.