Report: Red Wings to retain GM Holland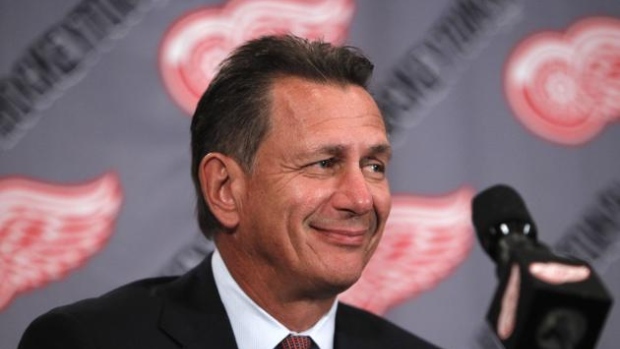 Detroit Red Wings general manager Ken Holland is expected to remain with the franchise for a 36th straight season, Ansar Khan of MLive reports.
Holland has served as the Red Wings general manager since the 1997-98 season, but is currently working on the final year of his contract.
According to Khan, Holland will return with or without a contract in place as the Red Wings' ownership has decided to let him continue the team's rebuild.
Khan adds that head coach Jeff Blashill is also likely to stay for the fourth and final year of his contract.
The Red Wings (28-38-11) have been eliminated from playoff contention for a second straight season after making the postseason for 25 straight years dating back to 1991.
"As Ken always says ­- and he's right - we do have to try to put a team on the ice," Red Wings senior vice-president Jimmy Devellano told NHL.com last week. "People pay good money to see us play. We have a coach that wants to win. He's trying to keep his career alive and going. You've got character people like Zetterberg and Kronwall, just as an example. I'll put [goaltender] Jimmy Howard in that mix. You owe them that you have to try to try, and we've done that.
"But if you look at the job Ken did the last two years, once the team fell out, he was active in going out to pick up additional draft choices to give us a chance to get rebuilding and get some real good talent in the system. Ken's done a terrific job in picking up draft picks.
"To be fair to our coach, Jeff Blashill, he came in at a tough time. He was following Mike Babcock, and the team was starting to decline. We knew that. Jeff knew that. So it's been hard taking over a team that's used to being so good and yet being on the decline. But that's not Jeff Blashill's fault. It's just where the team's at.
"And to be fair to Jeff, he's pushed the team hard to try to compete. Most nights, we do. I know we lose a lot now, but if you watch the Red Wings play, for the most part, they play hard, they compete and we lose a lot of close games. We don't get whipped out, so to speak."
Blashill has a 102-104-35 record in three seasons with the Red Wings.