Report: Russian hockey coaching legend Tikhonov passes away in Moscow at age 84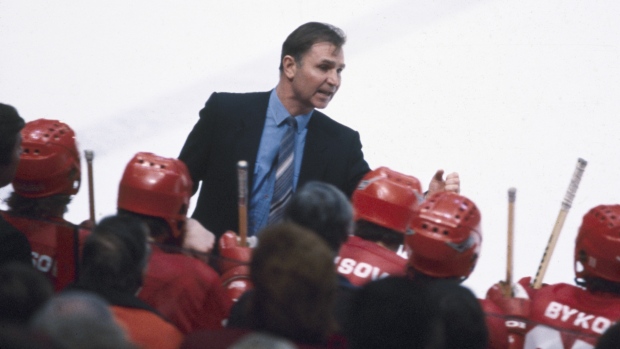 Former Soviet hockey coach Viktor Tikhonov has died at the age of 84 according to reports out of Russia.
Moscow Times reporter Gabrielle Tetrault-Farber tweeted the news early Monday.
Tikhonov, 84, was behind the bench for the most dominant period of Russian international hockey as head coach of both the Soviet Union national team and CSKA Moscow, better known as the Red Army Club between 1977 and the mid-1990s.
He led the Soviet national team, and later the Commonwealth of Independent States and Russian teams until 1994. He would stay on at CSKA until 1996.
Under Tikhonov, the nation won three Olympic gold medals (Sarajevo 1984, Calgary 1988, Albertville 1992) as well as one silver (Lake Placid 1980). He led the Soviets to nine IIHF World Championships over the span of 13 years between 1978 and 1990. He also guided the USSR to victory at the 1981 Canada Cup, defeating a Canadian team loaded with talent including Wayne Gretzky, Mike Bossy and Guy Lafleur.
He has been lauded with many honours both in Russia as well as on the international stage. In addition to appointment to several national Orders under the former Soviet Union, Tikhonov was named to the IIHF Hall of Fame in 1988.
Tikhonov was also head of the Soviet program for its most tumultuous period. In the late 1980s – as the USSR opened itself to the Western world with the programs of Glasnost and Perestroika – the star players that had laid the foundation for its 1980s success and a burgeoning wave of new talent started to turn its eyes towards the NHL.
Starting with Alexander Mogilny's defection to the Buffalo Sabres in 1989, the core of the Russian team began pursuing careers in North America. That wave of talent included Hall of Famers Igor Larionov, Viacheslav Fetisov and Pavel Bure as well as long-time Soviet standout Sergei Makarov and all-time NHL Russian scoring leader Sergei Fedorov.