Report: Sens want to keep Duchene, Stone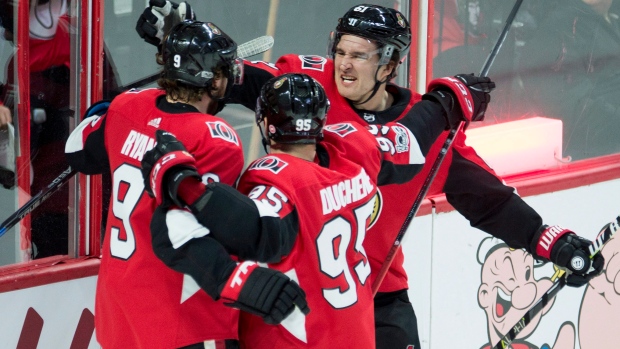 Ottawa Senators owner Eugene Melnyk promised major changes to the team's roster over the next two seasons on Monday night, but it appears two key pending free agents may not be among those heading out of town.
According to Bruce Garrioch of the Ottawa Sun, it's "believed" that the Senators want forwards Matt Duchene and Mark Stone to be part of the solution moving forward, though the decision to stay or leave will ultimately fall to the players.
In a video posted to the team's Twitter page Monday night, Melnyk said the Senators view this season as a "watershed year" as they enter into a rebuild.
"It is a cliché kind of term but we take it seriously," Melnyk said. "I think we're gonna have 10 players that are new, meaning rookies or played maybe under 10 games last year. The following year it'll go up to 15, maybe 16. That's a total turnover, which is exactly what should be in a rebuild.
"At this point I think we have the base, that's critical."
Senators captain Erik Karlsson is expected to be moved this season, perhaps as soon as this week. His relationship with the team has deteriorated over the past year, with the trade rumours swirling around the defenceman since February's trade deadline.
Stone, 26, is the team's highest-paid forward this season, set to earn $7.35 million on his one-year deal signed in August. Duchene, 27, was acquired last November from the Colorado Avalanche in a three-way deal that sent Senators centre Kyle Turris to the Nashville Predators. Both players are scheduled to become unrestricted free agents in July.
Stone tied Karlsson for the team lead in points last season with 62, while Duchene was fourth with 49 points in his 68 games in Ottawa. Mike Hoffman, who ranked third in scoring for the team, was traded earlier this summer.
Melnyk said the team's focus this season will be growing as a group and not relying on the team's stars.
"I believe the group that we have now believes in the team," Melnyk said. "It's not about individuals anymore because you're not going to win. One player, two players, three players in the dressing room aren't going to do it. You get leadership and then you build under that and we're going to build that with young prospects that are now coming through.
"We're loaded up with draft picks for the next four, five or six years. Right now, I think it will be very exciting."