Report: Steelers' Bell will play Week 1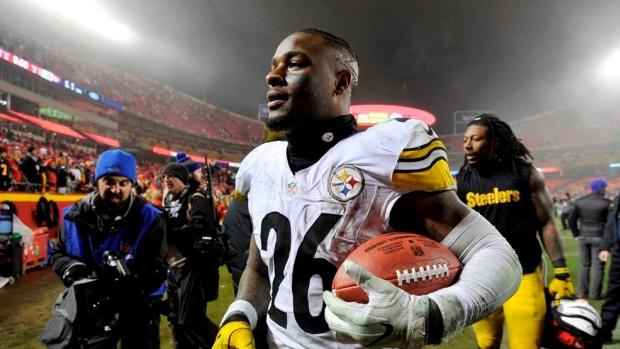 Pittsburgh Steelers running back Le'Veon Bell will report to the team before the start of the regular season but an exact date remains unknown, according to ESPN's Adam Schefter.
Bell, who was franchise tagged by the Steelers in February, has been holding out of training camp and, prior to that, off-season activities. He has no option other than to sign the tag and play or miss the season since the July 17 deadline for an extension passed.
"Unfortunately, we were unable to agree to terms on a long-term contract with Le'Veon Bell prior to today's deadline," general manager Kevin Colbert said at the time.
"Le'Veon is scheduled to play this year under the Exclusive Franchise Tag designation. We will resume our efforts to address his contract situation following the 2017 season."
He will make $12.12 million this season, but with no long-term security he is avoiding any risk of injury before the season.
Bell rushed for 1,268 yards and seven touchdowns, adding another 616 yards and two scores through the air, in 12 games for the Steelers last season. The 25-year-old has 4,045 yards and 26 touchdowns on the ground, and 2,005 yards and five touchdowns through the air in four seasons with the Steelers.
Bell, selected in the second round in 2013, has missed the team's off-season work recovering from groin surgery, and it's unclear if he'll show up at the start of training camp or wait to sign his franchise tag.
The Steelers will open their season on Sept. 10 against the Cleveland Browns.