Report: Wings committed to signing G Howard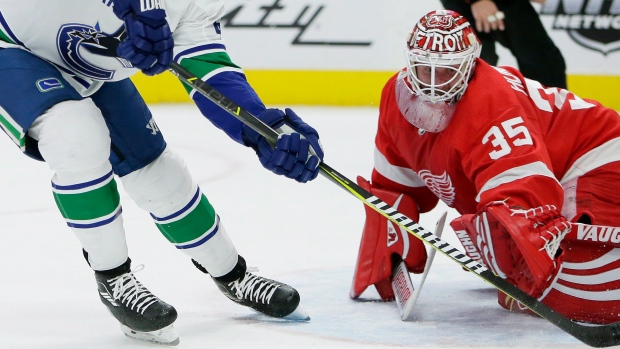 Detroit goaltender Jimmy Howard is set to become an unrestricted free agent in July, but Ansar Khan of MLive reports the Red Wings have no plans to let him hit the open market.
According to Khan, the Red Wings are "committed to keeping Howard," and adds the team will likely sign him to a long-term deal.
Jimmy Howard is off to a strong start this season despite the Detroit Red Wings 5-8-2 record.
The 34-year-old has a 4-5-2 record with 2.93 goals-against average and a .917 save percentage in 11 games this season.
Howard carries a $5.29 million cap hit on his expiring deal - a six-year contract he signed with the Red Wings in 2013. He has spent his entire career with the Red Wings, joining the team as a second-round draft pick in 2003.
The Red Wings signed Jonathan Bernier to a three-year, $9 million contract over the summer and Khan reports the team plans to have Howard and Bernier share the net for the next few seasons. He adds Detroit does not have any NHL-ready goaltending prospects in the system and Howard remains their best option.
According to CapFriendly, the Red Wings are projected to have $14.29 million in cap space next season.